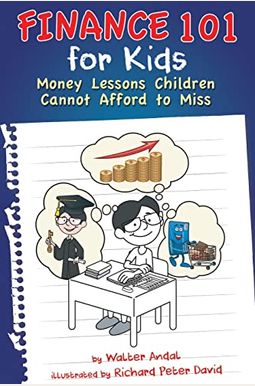 
 
Finance 101 For Kids: Money Lessons Children Cannot Afford To Miss
Book Overview
How do we equip the next generation with money management skills that they can carry forth into their adult lives?

One of the most important lessons that you can teach your kids is how to handle their money. Unfortunately, for most parents, giving their kids a sound financial education is an afterthought at best.

Frustrated by the lack of resources that apply the concept of finance to real life situations for his own children to learn from, author Walter Andal was inspired to create an informative and entertaining book to help children get on the right path to making smart personal financial decisions.

In Finance 101 for Kids, children and parents will explore:
How money started
How to earn and make money
Saving and investing
What credit is and the dangers of mishandling credit
What the stock market is
Economic forces that can affect personal finance
What currencies and foreign exchanges are
The importance of giving back to the community

And much, much more
Frequently Asked Questions About Finance 101 For Kids: Money Lessons Children Cannot Afford To Miss
Books like Finance 101 For Kids: Money Lessons Children Cannot Afford To Miss

Book Reviews
(7)
Did you read Finance 101 For Kids: Money Lessons Children Cannot Afford To Miss? Please provide your feedback and rating to help other readers.
The age estimates are off..

Derived From Web

, Sep 16, 2020

Only in the past few weeks have I seen the rating go up, to 4 stars. There are two places on the list where the recommended age range for readers is listed as 5 to 17 years old. There are two age groups recommended by the NIH: 16 and 17 years. She understood all the concepts with no problem, but the book was above that of a 8 year old, even one reading level above their level. Might need to bump it up to a 11 or 12 year old as well. In fairness the book was excellent itself, but age recommendation is off.
Great starter book for kids on finances!

Derived From Web

, Jul 5, 2020

Great starter financial book for my 8yo and 12yo boys. So far they've read half the book and already have a basic idea of budgeting and investing. I wish I had this growing up, but I had to learn on my own because my parents were not the best financial coaches to teach me or give me sound advice, she said.
Perfect reading material for a young child

Derived From Web

, Aug 1, 2019

This book is too thick, but just the perfect amount of pages with the most valuable information about money for a young child. The book is short, but it has pictures to keep the child engaged. My son got some good information out of this book, and I highly recommend it to anyone.
Important topic for young learners!

Derived From Web

, Apr 29, 2019

I bought this book to begin teaching my children basic financial concepts. One big issue is that kids are growing up without ever knowing about economics or financial discipline. Credit card debt is hampering their ability to get ahead and this book really does a great job of introducing key concepts such as saving, investing, and living within one's means, he said. It has been recommended to me that it be read to children as young as 7 and reviewed annually until they learn it. I would also recommend opening a savings account for the youngster and allowing them to invest their money via an Acorn or similar app. Great job by the author!
Great book for middle schoolers.

Derived From Web

, Mar 18, 2019

I would encourage middle school teachers to include financial literacy in the curriculum. Young readers, too, would find this book useful.
Perfect for a young reader.

Derived From Web

, Nov 18, 2018

It was a blast to read this book with my 10year old. We read a chapter a day and would have really good conversations, Mr. Rule told us.
Best finance for kids book!

Derived From Web

, Oct 6, 2018

We're huge fans of Nancy Reagan's books, and we loved this book. This book is very easy to read and get right to the point. It's just that we're not going to get into a fight. But finance is not a fun subject. Finance 101: The Whole Nine Yards teaches you why, how and how to finance your dream home. However, it may not dig deep enough to give us all the answers we are looking for. It's great to be back home, said Blair.