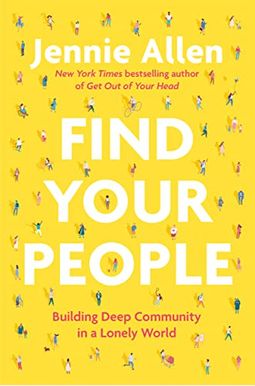  
Find Your People: Building Deep Community in a Lonely World
Frequently Asked Questions About Find Your People: Building Deep Community in a Lonely World
Book Reviews
(15)
Did you read Find Your People: Building Deep Community in a Lonely World? Please provide your feedback and rating to help other readers.
An introverts nightmare - ha ha!

Derived From Web

, Mar 11, 2022

The heart of the book is wonderful. I like the practical tips it gives. It's necessary for our society to be convicting. Despite laughing about how we might struggle, we are still okay. She answers many objections that may be raised to her vision of community, and while I found those to be helpful, I still can't help but wonder what this book would have looked like if an introvert wrote it. I think that people's community habits can look different than hers with still depth and meaning, but I found some of her scenarios hard to relate to. It is just food for thought. I don't think I'll ever be able to go as far as she encourages without dying of trauma and exhaustion. I think that's true.
Game Changer

Derived From Web

, Mar 7, 2022

The book is needed in today's world. We need each other. I am so thankful that the message was placed on her heart.
Need each other

Derived From Web

, Mar 1, 2022

My soul listens to the writing of Jennie. She approaches the issue from a completely biblical perspective. In a world where we can easily isolated, she brings the best word. If you are considering picking this up, don't hesitate. It is worth your time.
Community

Derived From Web

, Feb 24, 2022

It was knocked out of the park by Jennie Allen. This book has given me the tools to find my people in each location I find myself in, as someone who often finds herself relocated in various areas of the US. Thank you, Jennie!
The book we all need after 2020

Derived From Web

, Feb 23, 2022

This is the book we need the most after 2020. We live in a world where we know everything that is going on around the world, but we don't know our neighbors. Jennie gives us practical and tactical tips to build community. We need people, but first we have to find them. Jennie shows us how to do that. Purchase a fire pit and have your people over!
Absolutely amazing!

Derived From Web

, Feb 23, 2022

This book is one of my favorites. The art of community is back. We need a tribe, a village, and a community. We can bring back what was in my lifetime with biblical truths. I call it the Wonder Years because I realized I have been missing something for a long time. This book is a must read. God is using Jennie in ways that will help us fight the darkness that is taking our lives. Get this book. It is a real life.
MUST READ

Derived From Web

, Feb 23, 2022

I finished the book in a few days. I feel like I am sitting next to her and she is giving me a pep talk. It is 1000000% real. This book will show you how to find your people and how to be a good friend to them. It all ties back to Jesus. Buy it now!
A Must Read!!

Derived From Web

, Feb 23, 2022

This book is very popular. We need each other! We need a community. It's not healthy for us to walk through this life alone or with other people that don't know us. Today's culture requires something written by Jennie Allen. If you are lonely, this book is for you. This book is for people who have already found their people. It gives practical tools to build community. I was able to read before it was released. I bring my hard copy with me on vacation.
Buy this book if you've been feeling a bit lonely or just want deeper friendships!

Derived From Web

, Feb 22, 2022

This is a book! I moved to a new city before the Pandemic. I was able to meet people, but the connections weren't very deep. I was holding onto any relationship I could with a delicate thread, but most of them dissolved over the course of a year after Covid happened. This book revived my hope that we all have our people out there, and gave instructions on how to find them. I was recharged by the fact that we weren't just built for community but we were built because of it. I want to continue pursuing real, vulnerable, and true relationships. If you are curious about how to go deeper with people, this book is for you. Thank you, Jennie!
Buy two copies and read with a friend!

Derived From Web

, Feb 22, 2022

It is no wonder that we are experiencing an epidemic of loneliness as division seems so prevalent. It is no wonder that we get discouraged when we do not have overnight friends. We want connection, community, and friends but we have forgotten what it takes to cultivate those things in our lives. In her newest book, she reminds us of how we were created from and for community and challenges us to fulfill that longing we have for it. Tangible ways to accomplish this, examples of what this can look like, and encouragement you need to do the hard things and have the awkward conversations that are necessary to yield the community and connections you desire. If you buy two copies, give one to a friend, and read through it together, you can do it alone. You won't be disappointed.