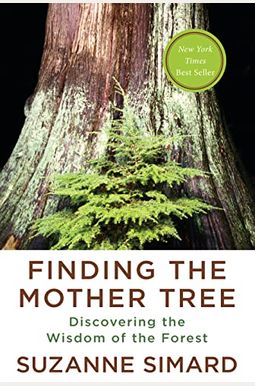  
Finding The Mother Tree: Discovering The Wisdom Of The Forest
Frequently Asked Questions About Finding The Mother Tree: Discovering The Wisdom Of The Forest
Book Reviews
(14)
Did you read Finding The Mother Tree: Discovering The Wisdom Of The Forest? Please provide your feedback and rating to help other readers.
Book is a great read, who knew?

Derived From Web

, Feb 5, 2022

It was a gold mine in research. The Canadian government should give her a medal. The forest service looks like rookies.
Wonderful

Derived From Web

, Dec 26, 2021

A nice story about the life of Suzanne Simard and how she learned about trees along the way.
Everyone who cares about the environment needs to read this book

Derived From Web

, Sep 7, 2021

There is a documentary about the scientific method of analyzing the forests and the impact of global warming.
This book has changed my entire perception of the forest.

Derived From Web

, Aug 30, 2021

Ms Simard's discoveries are valuable. Most people think that vegetation is in competition for water and light. I see that cooperation and shared responsibility are the only hope for survival in the long run.
Underwhelming

Derived From Web

, Jul 20, 2021

I really wanted to read this book, but I couldn't. The science of how the forest is structured is fascinating. The scientific story is more interesting than the personal story, and the latter takes up more space than I thought appropriate. I like the author's life journey, but the science is what interests me. The author comes across as a curious person, but also as passive, isolated and defensive. The honesty of her story is moving, but pales in comparison to the science of the forest.
Learn best practices for nurturing forestry with applications that translate to home garden care

Derived From Web

, Jun 24, 2021

The biographical style of the book keeps the reader interested in the scientific fact that is critical to the understanding of how underground fungi facilitate the interaction and growth of a variety of plants and trees
Tolkien was right !

Derived From Web

, Jun 23, 2021

Suzanne Simard blends her research and personal story into a readable book.
Well written, and very important information for us to know about forests.

Derived From Web

, Jun 14, 2021

The book confirms my sense of the trees and plants in the forest. Everyone should read this book. Any biology program should have a core book.
An inspiring story of someone doggedly pursing answers to hints and questions nature presents.

Derived From Web

, Jun 11, 2021

Suzanne Simard weaves her biography into her pursuit of the clues her fellow workers ignore as they clear their way to profits. Dr. Simard is determined to find solutions that may help save us all. An exciting read!
Hard going but worth the effort.

Derived From Web

, Jun 2, 2021

There are 12 books about the forest and 2 books about the mother tree. A skilled editor could help this manuscript.