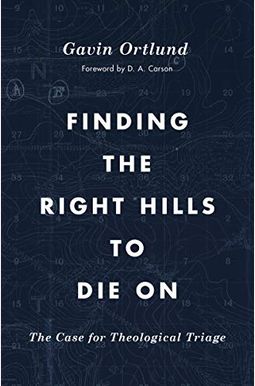 
 
Finding the Right Hills to Die on: The Case for Theological Triage
Book Overview
This is a wise and needed book.
--Russell Moore, President, The Ethics & Religious Liberty Commission of the Southern Baptist Convention
In theology, just as in battle, some hills are worth dying on and others are not. But how do we know which ones? When should doctrine divide, and when should unity prevail? Just as a medic on a battlefield treats the severely wounded first and then moves on to the less serious injuries, we must prioritize doctrine in order of importance. Pastor Gavin Ortlund implores us to cultivate humility as we prioritize doctrine into four ranks--essential, urgent, important, and unimportant--so that we will be as effective as possible at advancing the gospel in our time.
Frequently bought together
Frequently Asked Questions About Finding the Right Hills to Die on: The Case for Theological Triage
Books like Finding the Right Hills to Die on: The Case for Theological Triage
Book Reviews
(8)
Did you read Finding the Right Hills to Die on: The Case for Theological Triage? Please provide your feedback and rating to help other readers.
Convicting

Derived From Web

, Dec 31, 2021

I think functionally I know there are theological hills to die, but practically there are relationships I have failed to pursue or people I have written for second rank and sometimes third rank doctrines. Overall, this book revealed my tendency to love theology more than I love people. As Gavin points out, if we must fight for sound doctrine, we must also remember that the unity of the Church is very important. It was important enough that Jesus died for it and prayed to make it happen. The final prayer at the end is one that I will often pray in my life.
Helpful and quick.

Derived From Web

, Jan 6, 2021

I bought this to help me settle the answer to the question how bad can someone's theology be and still be saved in my own mind? Can they claim that Christ died for them and deny virtually everything else? Essentially, this book helped me organize my thoughts. It is a quick read and is pretty accessible as a lay person. I have already passed it to several friends. It is highly recommended.
An important read.

Derived From Web

, Nov 29, 2020

For all the believers, having an approach to deal with theological questions and a structure for assessing their importance is so vital. There are so many nuggets and deep truths, like the dangers of doctrinal minimalism. And as good as the book was, the last chapter on humility and the balance between humility and strength was so good. I would recommend this book to anyone, but especially elders, pastors, and others in the Church of leadership.
Good, sound, wish it was a bit more practical

Derived From Web

, Oct 15, 2020

A sensible framework for putting theological questions into categories from necessary for the gospel '' to other issues ''. And a strong reminder to be careful where there are differences, as unity is kind of important. But a framework doesn 't necessarily answer the question. In some ways, it moves the discussion to what category is this issue in? In fairness, the author recognizes this and gives some practical examples from his theological understanding and how he got there. But I fear the argumentative people who need to learn from this are not going to be the people actually reading it. As we say in my denomination, wherever two or more are gathered, there are three or more strong opinions.
Very helpful book

Derived From Web

, Sep 28, 2020

Our Baptist children began to attend a Presbyterian affiliated Christian school. We absolutely love the school, but almost immediately the kids began questioning us on doctrinal differences based on some of the things they learned at school. This book has been incredibly helpful in framing our discussions about where the differences lie and how Christians can disagree on some issues in good faith. The idea of Christian triage is particularly useful in multi-denominational situations, especially in schooling or youth groups, Christian charities, mission trips, etc. For this resource, many thanks to the author!
HERESY

Derived From Web

, Sep 21, 2020

Here is the subject matter heretical. All scripture is to be cherished and likewise adhered.
Unity in Theology and Church Life

Derived From Web

, Jul 10, 2020

This book is perhaps one of the most important books written for the church, as it crosses the choppy waters of the conflict. Not only was a audibly saying Amen '' while reading, I ended up ordering the book for all our elders and leaders in the Church. If people, myself included, were able to teach half of this book, the church may become that visible apologetic of the gospel that Jesus taught in John 1334-35. The book is not just important, but is clearly written, hopeful and has a number of useful tools.
Theological Triage

Derived From Web

, May 24, 2020

I can identify with Gavin's journey of theological triage and do. I am therefore grateful that he took the time to document it. While he gives us four categories to work with, they are not simplisitic, but they still require us to wrestle with the issues for oursleves. My favourite chapter is perhaps the concluding one, where he calls for humility and grace. The author so wonderfully models this book right through the book! Here is part of his closing prayer, Give us softer hearts. For those of us who tend to feel too little over theology, help us to fight our need for courage and resilience. Help us to be people who tremble at your word and therefore fear nothing but you.