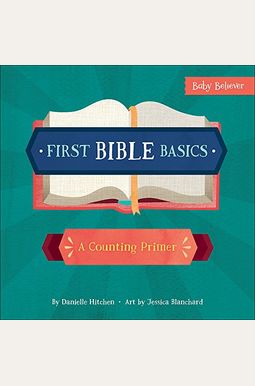 
 
First Bible Basics: A Counting Primer
Book Overview
Teach Your Child Counting and Bible Basics
Your family will love this totally unique board book Each page features colorful, engaging artwork, reframing abstract, but vitally important biblical content into the manageable concept of basic numbers (1-10) for your young child.
For your child.
They will delight in the bright illustrations and counting along with you. Also, they will be exposed to the vocabulary of basic theology in a format that will help them categorize and retain the information.

For you.
You'll appreciate the artistic design, engaging content, and helping your child learn to count. And who knows? You might even learn something about the Bible you didn't know before


***
Baby Believer
primers are designed to grow with children, from early infancy through elementary school. In addition to basic Bible theology, Baby Believer board books are filled with quotations from the Bible, creeds, hymns, church fathers, and other articles of faith to help reinforce the content and provide intellectual handholds for older children who possess a greater capacity for learning and memorization.
Frequently Asked Questions About First Bible Basics: A Counting Primer
Book Reviews
(19)
Did you read First Bible Basics: A Counting Primer? Please provide your feedback and rating to help other readers.
Arrived scuffed up.

Derived From Web

, Dec 5, 2019

The book arrived scuffed and scratched, but I love the illustrations and content of the book itself, but the book arrived in poor condition with the cover. ETA I purchased another book like this from a different seller and was good. Love the content of the book but the quality of the material from which the pages are made is very easily damaged and scuffed.
Purchased a year ago. Reading it more often now

Derived From Web

, Mar 22, 2019

I bought it for her a year ago. At the time, I was impressed with the basic illustrations and the beautiful concepts portrayed. It is an excellent book. My daughter began to take more interest in it over the last 6 mo. She seems to be read and she loves to be above average in her understanding. This said we would lose interest in the book if we bought it first. She now enjoys the whole book and has memorize several of the listed items, however, including the names of Jesus, the fruit of the Spirit and the Ten Commandments. A great purchase and one we are now reading to pour 5 months old, as well.
Beautiful and biblical!

Derived From Web

, Mar 18, 2019

A wonderful book! One GOD, two Natures of Jesus, three persons of the Trinity, four Gospels, five Books of the Pentateuch, six days of creation, seven I AMs '' of Jesus, eight Beatitudes, nine fruits of the Spirit, Ten Commandments. The illustrations are nice and I love the matte finish, but it seems like the book is a little more solid, more prone to scuffs and damage because of the matte finish. I intend to collect the whole series for my baby.
durable books of truth for little ones

Derived From Web

, Feb 20, 2019

My husband and I ordered four of the Catechesis books for our son as a Christmas present. He is 10 mo old, so these strong board books are perfect in their durability. These are definitely the kind of books that grow up with a child. He can now appreciate the illustrations and simple concepts and eventually the larger truths. We are so pleased with these books and can not wait to order the newest, Holy Week An Emotions Primer. I can 't say enough about Catechesis books. Their heart for delivering rich books that are beautiful in truth is such a blessing. Can 't wait to see what they come up with next!
Our favorite book and go-to gift!

Derived From Web

, Feb 14, 2019

It is my new go-to gift for older babies and even for new birthdays of older children. It is a staple in our house and has made learning basic theology so fun for my three-year-old. He is incredibly proud to share what he learned from this book. It has given him a vocabulary that has helped us have many wonderful conversations, as we hear songs with similar themes and read Bible stories that relate to these truths. He even "reads " it to his one-year-old brother, who loves the illustrations and happily points out and says : "Jesus! Thank you for this book and for the others in the Catechesis Books series. We also buy any future books.
Presenting very 'big' and important facts in a simple, toddler-friendly way

Derived From Web

, Oct 24, 2018

We own all the Baby Believer books, and each is theologically sound. My 18 month-old twins understand what the Beatitudes are? But as everyone knows, toddlers are like sponges, soaking up everything they see and hear. I love that this entire series of books allows me to plant the seeds that will lead later to great discussions and a greater understanding of the immense love our Lord has for us. Baby Believer books are the most important books we read with our toddlers, apart from the Bible. The counting and illustrations, however, help to understand these ideas in order to make them simpler.
Highly recommend!

Derived From Web

, Jul 31, 2018

He is learning to count, and it is affirming to integrate this skill with the principles of our faith. I think this is a book that will also grow with him as he learns to read and such. Children have such sponge-like minds... why not teach them theology from a young age instead of just animal-based Bible stories?!?
Best Bible book for toddlers! Gorgeous illustrations and solid, gospel-centered bible truths on every page!

Derived From Web

, Jul 16, 2018

We love this book absolutely. I purchased online and stumbled upon it immediately. I have never seen a book like this ''. The illustrations are striking and captivating. My 3 year old daughter and I have been reading this all the time since we purchased it. She could read the 7 I AM '' statements in only about 2 weeks after reciting this book. She picked up many of the smaller numbers right away and has been building up the higher ones. I can not recommend this book enough! I think I've told everyone I know how wonderful it is and have had many friends purchase it based on our recommendation and have received awesome feedback that they love it too!
Beautiful artwork and beautiful theology

Derived From Web

, Jun 12, 2018

I saw this book across the room when we were traveling. A week later, we had our own copy. There is nothing infantile about the artwork, the copy or the theology. Right now, it makes great bedtime reading for my 18 month old. It is also easy to abbreviate for fussier occasions. As pointed out by someone, it also works as a catechism of sorts. And the Trinity is so central to the character of God and Christianity that it is a pleasure to see it here. I could have bought it for myself even if we didn't have a little book ; it is such a beautiful little book.
We love the "Baby Believer" series!

Derived From Web

, Mar 1, 2018

This is the first book in a brilliant series that helps parents teach Christian theology to very young children the basics. The most religious resources out there are Bible stories of some variety. And while there is nothing wrong with Bible stories, it is refreshing to have a book like this one that is engaging for babies and toddlers, but simultaneously introduces them to deeper concepts like the Trinity or the dual nature of Christ. It is a book that can be read at many different levels ; it grows with the child, and is valuable. We absolutely adore this whole series and can 't wait for more to come out!