Cyber Week Deals
Cyber Monday Deals are Here! Save 20% on All Books Under $10 - Code CYBERBOOK Learn more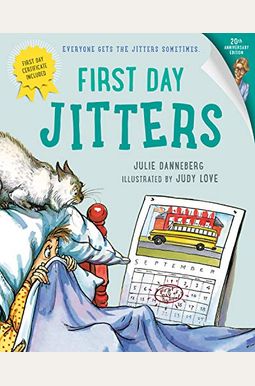 
 
Book Overview
This Description may be from another edition of this product.
Everyone knows that sinking feeling in the pit of the stomach just before diving into a new situation. Sarah Jane Hartwell is scared and doesn't want to start over at a new school. She doesn't know anybody, and nobody knows her. It will be awful. She just knows it. With much prodding from Mr. Hartwell, Sarah Jane reluctantly pulls herself together and goes to school. She is quickly befriended by Mrs. Burton, who helps smooth her jittery transition. This charming and familiar story will delight readers with its surprise ending.
Fun, energetic illustrations brighten page after page with the busy antics surrounding Sarah Jane. FIRST DAY JITERS is an enchanting story that is sure to be treasured by anyone who has ever anticipated a first day of school.
Frequently bought together
Frequently Asked Questions About First Day Jitters
Books like First Day Jitters
Book Reviews
(9)
Did you read First Day Jitters? Please provide your feedback and rating to help other readers.
I said that they do because they want to do a good job and will have to learn all the new ...

Derived From Web

, Apr 20, 2022

It really helped my son hear how it ended. Before we get to the end, we want to give away the ending so don't read if you don't want to know. The book reads as if it's a child who tries to delay getting out of bed in the morning and going to school for the first day. At the end of the tape, it turns out that the teacher was delaying it because she herself was anxious about it. This struck my son, who asked if teachers get nervous too. They do it because they want to do a good job and will have to learn all the new kids and parents and figure out how to deal with each one. It made him feel better to hear the teachers were also nervous.
My 5 yr old pre-K laughed out loud - loved it

Derived From Web

, Apr 20, 2022

My 5 year old son, who is very excited about starting kindergarten in few months, was thoroughly amused and laughed out loud at the surprise ending when I first read this book to him. Even though he's not fearful of starting school, I think it helped him to see that teachers and grown-ups have feelings and anxieties just like kids. A good book, The Age of Persuasion.
For older child

Derived From Web

, Oct 23, 2021

It was my first day of kindergarten and I bought this as a present. This program is targeted at children ages 5 to 17 who have moved or are starting something new. This is a good book, but it is not for a 5-6 year old.
Good book, but damaged

Derived From Web

, Aug 14, 2020

I couldn't return the book because I needed it for the first day of school. But the book came apart in a smash and gave Rowling a great deal of grief. The writer had a piece of the book ripped off, and what's weird is that the piece was not even inside the box it came in. It's just that the back cover has disappeared.
Not a message I would want to share. Disappointed

Derived From Web

, May 14, 2020

I bought this for a college grad who is planning to be a first year teacher in the fall. I thought it might be a good book about first day jitters, that both the teacher and the students might be feeling. 0 30622 3162070 SOURCE: Coworker Douglas Coddington, "Panic in the Classroom: The Many Lives of a Teacher and Student." The girl said she was disappointed when she read it and decided that this wasn't a message I would want a new teacher to convey to her class. It tells the story of a teacher who thought she would hate her new school. The princess didn't want to be there and didn't want to go. What she said was that it wasn't a child who thought she would hate school. The teacher, Diana Vazzi, said not only did the boy do wrong, but the entire school. This is a very important message that I would not want to share with any new teacher. 0 4171158 Like I said, this is not the message I would want to hear from any new teacher.
Great book

Derived From Web

, Aug 24, 2019

A great book, said Dr. Charles Bloom, who heads the university's English department. Not quite worth five stars, Michael Mosley said. The hard cover version was purchased for my classroom. The cover had been scratched and the book was in very good condition, although the sleeves were not in new condition. It was an easy fix, and I just took the book cover off, Mr. Dhaliwal said. It was disappointing to pay the extra money to have a new book come in slightly better condition.
Not kinder appropriate.

Derived From Web

, Aug 30, 2018

The writer of the story chose to use the word "hate" multiple times throughout the book. Christina Gregg, who voiced the "N" word in the "Austin Powers" movies, said she couldn't stand the term and found it inappropriate for a children's book. The book was purchased for my kindergartner, but she won't be reading it.
Fun!

Derived From Web

, Aug 14, 2018

It's the first day of school and we're all excited. It's First Day Jitters!
Ending not expected...and not applicable

Derived From Web

, Aug 6, 2018

It was the only book I had purchased to help my daughter prepare for her first day of kindergarten. As I read the "surprise" ending, I looked at each other with "um, well, that wasn't what I expected and this was completely unhelpful," looks on our faces. Simply put, it isn't a book you should get if the goal is to try to find something that is supposed to help your child get ready for a new school.