Buy 3 Get 1 Free
Our Best Sale Yet! Add 4 Books Priced Under $5 To Your Cart Learn more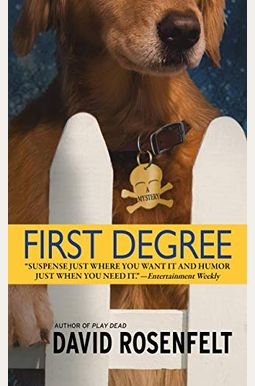  
Book Overview
A defense attorney and his beloved Golden Retriever work solve a murder and clear a his girlfriend's name in this entertaining cozy mystery.
No one can separate defense attorney Andy Carpenter from his golden retriever, Tara, who stands loyally beside him through every investigation, no matter how dangerous or puzzling-and he is about to be confronted with one of his most difficult cases yet.
When a cop's body is found burned and decapitated, the last thing Andy expects is for a stranger to waltz into his office and confess to the crime. For the wisecracking millionaire attorney suffering from lawyer's block, the case looks like a no-brainer, that is until the cops pick up another suspect: Andy's lead P.I., Laurie Collins, who happens to be the love of his life. Soon Laurie's case is looking bleak and Andy is becoming increasingly desperate. All he had wanted was a case to sink his teeth into. Now he gets one that's a kick in the head . . . and the heart.
Frequently bought together
Frequently Asked Questions About First Degree
Book Reviews
(16)
Did you read First Degree? Please provide your feedback and rating to help other readers.
I highly recommend this to anyone who likes warmhearted mysteries.

Derived From Web

, May 22, 2022

I have read three from this series at this point and find them delightful. The main characters are charming, but are most flawed in the most important ways. I would like for one of them to be my friend. The mystery is intriguing if sometimes it is a little far-fetched. Far-fetched is okay if it doesn't push your ability to believe too far and Mr. Rosenfelt does just enough to make it really interesting. I don 't like mysteries where the people I have grown to love are in mortal danger through most of the book because it forces me to go back to the book to bear the suspense. While the characters are sometimes in peril, it passes quickly so that I can read happily. I found no wheezed or trite phrasing ; in fact, I discovered many new and delightful ways to describe a situation. I would recommend this highly to anyone who likes warmhearted mysteries.
Not so good

Derived From Web

, May 22, 2022

I really like the series by Andy Carpenter. But I found out about a third if the way into this one, I got tired of his agonizing over his relationship with his girlfriend. It almost felt like there wasn't enough territory to make a full length book, and this was used as a filler. But I am still hooked to the series.
Andy Carpenter - lawyer and dog lover

Derived From Web

, May 22, 2022

I really enjoy all the books by Andy Carpenter. I love complexities in the cases he takes, and I love his love for his dog. In addition to all this, each of the characters has a distinct personality. I find myself engaged in the mystery, laughing at his way of describing people and events and enjoying the dogs in all a pleasurable reading experience.
I was waking up the neighborhood with my laughter

Derived From Web

, May 22, 2022

My mother had a friend named Erwin, who would say hello and you would laugh. In fact, no matter what he said, you would almost laugh. And his twists and turns in the courtroom make you wish you grew up with him, so that some of that wisdom would rub off on you. I enjoy his writing and if I were recovering from anything and needed to be lifted, this would be my go-to author.
First Degree

Derived From Web

, May 22, 2022

My wife reads extensively in bed that night. She got me interested in David Rosenfelt after reading his laugh and reading excerpts from his writings, as I was dozing off. David writes like people actually think and talk about. I found myself anxious to hear more ''. I read all his work and am convinced that there will be no dull moments.
I owe my sister

Derived From Web

, Feb 6, 2022

My older sister and I are strong devotees of crime fiction. As a dutiful younger sis, I still pay attention to what she tells me, though I am not young. She recommended David Rosenfelt's Andy Carpenter books and read the first one as a dutiful sister and then the second. WOW, what a great deal! I start working on the third soon. I'm hooked. I've blamed my sister.
Entertaining, Suspenseful & Enjoyable

Derived From Web

, Sep 20, 2021

As a golden lover, I tried it out and loved the series. This book is indicative of the series overall by presenting an entertaining, smartly written mystery with ongoing character development of likeable characters. It has suspense and is a believable plot for most of the time. And of course, it features golden retrievers as well as other furry friends.
just OK

Derived From Web

, Jul 28, 2021

The mystery was pretty major, but I did not much care for the solid character. The lawyer Andy Carpenter was just too flippant. I also didn 't like that the story was told in the present tense, and maybe SPOILER, he shouldn't have sent Laurie to check the murder location, given her previous dealings with the murder victim. The problem with doing so wouldn 't have dawned on me, but I am not a wily defense attorney.
DEFECTIVE CD'S WANT TO RETURN FOR A REPLACEMENT OF COMPLETE REFUND

Derived From Web

, Mar 24, 2020

Just completed the listening to this new audio book. They repeatedly replay the entire scene. You must push FORWARD to go on the starting scene for all the next discs in the set. This scene replays ad nauseum than. For the listener, much material is lost on each disc. This problem plagued at least three of the six discs. If you fail to move forward, the disc never moves on the next scene. It is just stuck on the one scene until it is stuck on the next scene and on the next scene. Would like a replacement. If not available, provide a full refund. Thank you ''. Susan Hitz is a Sharon Hitz fan.
A good final courtroom drama twist

Derived From Web

, Jun 16, 2019

Not very believable, but a nice style making it easy to like the main characters. The final courtroom battle is ended by a dangerous but successful overthrowing of what everyone believed.