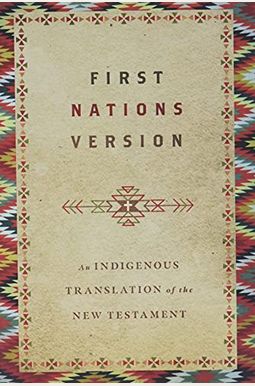 
 
First Nations Version: An Indigenous Translation of the New Testament
Frequently Asked Questions About First Nations Version: An Indigenous Translation of the New Testament
Book Reviews
(7)
Did you read First Nations Version: An Indigenous Translation of the New Testament? Please provide your feedback and rating to help other readers.
My father needed this ...

Derived From Web

, Nov 11, 2021

I grew up as a missionary son in the Dine lands near Four Corners. My father was a Choctaw from Mississippi, who had a burden for sharing the gospel with American Indians. He did not speak Navajo, but preached to an interpreter. I remember that a big part of his struggles was translating King James into a vernacular that was easier to translate and could be understood by the common everyday. As I read this version, I marveled at how a beautiful tool it would have been for him to have started his sermon preparations with the FNV! I could almost hear his voice reading it to me. So much thanks for this book!
Strangest Bible Translation as if Christianity has ever been complementary of Indigenous worldviews

Derived From Web

, Oct 17, 2021

This Bible translation borders on the downright offensive given the largely detrimental role that Christianity has played in native communities. It harkens back to the churches that forced the assimilation of Indigenous peoples throughout the Americas and minimizes Indigenous belief systems in an attempt to blend the tenants of Christianity with a vast array of indigenous world views, as if suddenly the trinity is not what makes Christianity Christianity. It reads more like you are in an alternate universe than a New Testament translation.
Profoundly beautiful

Derived From Web

, Sep 19, 2021

The New Testament version of the First Nations is an Equivalence Translation '', not to be word for word. Instead-and-I quote--... following the tradition of the oral culture of native storytellers... rich cultural beauty and simple cultural idioms... It is so far pretty and moving. I want to read and continue to read! It is like I can hear the words spoken in my head! I'm excited to continue reading it.
Enlightening, Revealing & Stirring

Derived From Web

, Sep 15, 2021

I've always appreciated the way in which the First Nations worship our Creator. Their love for him shines through the word pictures that they so beautifully paint. Their close connection to Creator Sets Free is amplified in their tie to the land that He created and this wonderful version brings this relationship to life. I supplement my traditional reading of a daily version with this FNV and it enlivens the Scriptures all the more. I've already shared numerous copies. This white man sends many thanks to my indigenous brothers and sisters in Christ for this amazing gift! May the Lord keep you and hold you.
New Wine and Wineskin for First Nations People! Healing and Hope!

Derived From Web

, Sep 13, 2021

There are so many excellent aspects of this first world version of the New Testament. Love the Heart Language and naming tradition '', which brings a fantastic fuller meaning to the Holy Scriptures. It has helped me to imagine that the Creator has set free walking on the land, visiting First Nation peoples and healing all their wounds. It also gives me joy when Creator sets free sour bread, which generates His presence in me.
Beautiful and thoughtful language, a valuable gift

Derived From Web

, Sep 4, 2021

Love love love the language, especially the translated biblical names for people and god. What a gift from the Native Americans!
A beautiful and meaningful new translation

Derived From Web

, Sep 2, 2021

This translation of the Bible is fresh and done beautifully. It is respectful of the Greek text, but speaks the truth about God in a way that is surprising and inspiring. Highly recommended, highly rated.