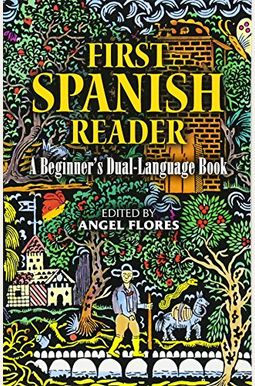 
 
Book Overview
Especially designed for the beginning student, this handy volume helps students learn Spanish by presenting simple, easy-to-read adaptations of classic Spanish stories and other material -- with complete faithful English translations on the facing pages.
The selections, by significant writers of the past and present (Don Juan Manuel, Luis Taboada, Juan Jos Milla, Eufronio Viscarra, Ricardo Palma, Lope de Rueda, Enrique Amorim, Juan Jos Arreola, and other noted writers), derive from the best and most genuine Hispanic tradition, and are revealing of the life and psychology of the Spanish-speaking peoples.
The dual-language book will enable those readers with the most limited knowledge of the language to enjoy reading in the original Spanish from the very first day of instruction. Vocabularies and exercises are included as special aids for the student.
Frequently bought together
Frequently Asked Questions About First Spanish Reader
Book Reviews
(14)
Did you read First Spanish Reader? Please provide your feedback and rating to help other readers.
Not useful for beginning students of Spanish, very misleading title

Derived From Web

, May 9, 2022

There is no way that anyone who is learning Spanish just will be able to read the Spanish text. The claim on the back of the book is that this is perfect for beginning students of Spanish, is in my opinion a blatant lie. This was one of those cases where buying online where you can not look inside the book led me to purchase a book that is useless to me at the moment. This book would be useful for a more advanced Spanish student, which is why I gave it 2 stars instead of just one.
Great place to start reading Espanol

Derived From Web

, May 9, 2022

The fun stories and proverbs are short, and it is very helpful to know that the English is on the opposite side.
Very Good Book for a Beginner

Derived From Web

, May 9, 2022

Great to think about and a great chance to work through why things are structured the way they are.
this makes a great supplement and is what I use after completing Pimsleur ...

Derived From Web

, May 9, 2022

For those who want to learn Spanish at their convenience, this makes a great supplement and is what I use after completing Pimsleur and Rosetta Stone.
It is exactly what I was looking for. I ...

Derived From Web

, May 9, 2022

I see that there is a second volume, which I order in the near future.
Not a First Reader

Derived From Web

, Apr 23, 2021

The verbs and vocabulary are not at all what I consider beginner level. Don 't think that you will receive basic stories. My Spanish is acceptable enough that I can get around in a Spanish speaking country. But I decided that it was time to practice my reading ability and hopefully improve my vocabulary. If I have to look at every other word in the English translation, it is then useless to me.
Antiquated stories and poor English

Derived From Web

, Mar 12, 2021

For English translation, poor language skills are necessary. The stories are antiquated. Likewise, fables and parables don 't translate well into the English language. Stories are non-sensical and hard to understand in English, which makes it difficult to know why I want to try to understand these in spanish. Better to spend money on books that are modern stories with short day language used.
Some offensive content

Derived From Web

, Oct 18, 2020

I also saw some inappropriate English vocabulary in the translations. The stories are a little more interesting than some of the other advanced beginner-type reading stuff I have found in books, which is why I rated it above 2 stars. Really, the whole thing needs a re-write edit to bring the language up to date, even if I have found tons of engaging video and audio content online for listening practice, I still haven 't found great reading material for beginning intermediate Spanish learning, other than reading Spanish versions of news articles... still looking!
Useful for intermediate students but not for beginners

Derived From Web

, Sep 6, 2020

I wouldn 't consider this a beginner's reader and most definitely not the " first " reader. It is more appropriate as an intermediate reader after the learner has already learned all the grammar rules and has a sufficiently large vocabulary of basic words. A true beginning student would find it necessary to frequently look up the dictionary and a grammar reference guide to the point of exhaustion, lacking this foundation. I imagine that most of the first students would lose interest quickly after reading the first three or so stories. This book is far from useless, said Taylor. I think it is ideal for a student who is transitioning from the beginning to the intermediate level. The book is a compilation of classic stories, fables, proverbs, and short essays by famous people. It is also useful for the advanced student learning the art of professional translation through the beautifully translated parallel texts in Spanish and English.
Offensive & Grammatical Errors

Derived From Web

, Nov 23, 2019

1) It is highly inappropriate and offensive to have jokes about lazy slaves. I enjoyed some stories, but many are lame. Perhaps advanced beginnersintermediate, but there is a lot of language we don 't need when we first learn to learn the language.