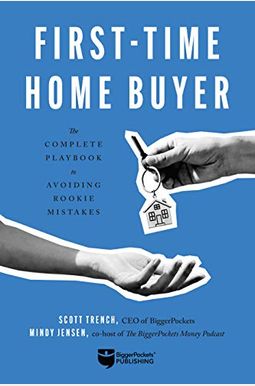  
First-Time Home Buyer: The Complete Playbook To Avoiding Rookie Mistakes
Book Overview
Buy your first house with your eyes wide open and outsmart the world's most common financial trap From BiggerPockets CEO Scott Trench and podcast co-host Mindy Jensen, learn how your home purchase can destroy your wealth. or generate even more.
Buying a house is more than just trading money for a deed. Between choosing your real estate agent and lender, picking the right neighborhood, and choosing the house itself, you're suddenly making more decisions than you ever thought possible. All this while trying to keep a level head for what may be the biggest purchase of your life
Plus, no matter how desperately you want to escape the renter's cycle, buying a house isn't always a good investment. Your home can destroy your wealth and freedom or generate the same--and this book will show you how to make a decision that gives you the most financial flexibility possible.
Scott Trench and Mindy Jensen of the BiggerPockets Money Podcast have been buying and selling houses for a collective thirty years. In First-Time Home Buyer, they'll give you a comprehensive overview of the home-buying process so you can consider all of your options and avoid pitfalls while jumping into the big, bad role of homeowner.
In this book, you'll learn:
How much house can you actually afford (AKA, not the breaking Read More chevron_right
Frequently bought together
Frequently Asked Questions About First-Time Home Buyer: The Complete Playbook To Avoiding Rookie Mistakes
Book Reviews
(10)
Did you read First-Time Home Buyer: The Complete Playbook To Avoiding Rookie Mistakes? Please provide your feedback and rating to help other readers.
So helpful and broken down in an easy-to-read manner

Derived From Web

, Jan 16, 2022

I'm a teacher and absolutely loved this book.
A great beginner's guide.

Derived From Web

, Jan 6, 2022

This is the first book I have read in the home buying process. I'm still learning but I must say the book made me feel much more comfortable with the process I'm about to undergo. The book is very comprehensible and I enjoy its humor and relatability, Raymond said. Another plus is that I was able to read it in a short amount of time given my busy lifestyle, he said. Thanks for the great advice!
good book but...

Derived From Web

, Dec 27, 2021

If you want to read a book for a business purpose for rentals this is not it, like the title says, is a great book with the info you need. The only thing I dont agree with when they say to have 700 plus credit to buy is that we can still qualify with just 630+ but that is a great book.
Essential!!

Derived From Web

, Oct 21, 2021

This book is a goldmine of information, Michael Schweer said. It's not only jam packed with everything I didn't know I needed to know about buying a house, it's also easy to understand and entertain. I never thought I'd read such a useful real estate book that has so many puns in it, but here we are. Thanks for the great podcast, Scott and Mindy. I highly recommend this book to anyone looking for a good read.
Spend $12 for your $200K+ Purchase

Derived From Web

, Aug 21, 2021

This book is very comprehensive, yet personable to the point that it becomes almost impossible to read. Made of such books, it reads much more like a conversation. I am in the process of potentially my first home purchase and feel so much more prepared after reading this book. There are still nerves with the process, but knowing I have the table of contents to read back on each process puts me at ease. Even if you think about it, I mean, $12 or whatever it is for a $200K purchase is a no brainer in my opinion.
Give this as a gift !!!!

Derived From Web

, Jun 3, 2021

As a BP devotee, I've read many books, but this one struck me as a great primer. After reading it, I'm glad I've given each of my college-aged kids a copy in case they need to buy their first house. Homebuyers beware: The book does a great job of scratching just about every itch of home-buying considerations. It's a great present, said Melissa, "especially for a baby."
Great Advice from Two of the Best!

Derived From Web

, Apr 24, 2021

This book is a great primer for anyone considering their first home purchase. It's also useful for second- and even third-time home buyers. Mindy and Scott are two of the best out there, and the advice and resources they provide are invaluable, he said. Together with Scott's earlier book, Set for Life, First-Time Home Buyer would make an excellent present for friends or family members who are serious about taking their next steps toward financial independence.
Realistic practical guide for home ownership

Derived From Web

, Apr 7, 2021

Like all BiggerPockets material, podcasts and books, this offers realistic actionable information to help buy your first house. Since I first purchased the book, I have purchased six more. I'm in the process of doing my first deal, so I can't say too much, he said. I hope to be a homeowner and landlord by the end of 2021.
Must read BEFORE buying 1st or next house!

Derived From Web

, Mar 28, 2021

Thanks for the compliment. This book gave me the courage and knowledge to jump into real estate investing and the confidence to learn as I go. I would recommend that this book be added to the high school curriculum.
Fantastic!

Derived From Web

, Mar 24, 2021

A great book, said BP Publishing UK. Perfect understanding of the decision to rent vs buy vs house hacking etc. This book is highly recommended for anyone buying their first home. Set Life free! If you think you're on the right path, these two books will set you on the right path.