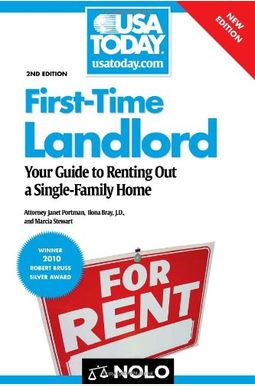  
First-Time Landlord: Your Guide To Renting Out A Single-Family Home
Frequently Asked Questions About First-Time Landlord: Your Guide To Renting Out A Single-Family Home
Book Reviews
(8)
Did you read First-Time Landlord: Your Guide To Renting Out A Single-Family Home? Please provide your feedback and rating to help other readers.
Good overview of landlord issues, easy to read.

Derived From Web

, May 26, 2022

I was an unintentional landlord so that I needed a crash course on the basics. This book has been very helpful in getting an overview of what is involved, including tax issues, handling money, how to treat tenants, etc. Solid book for beginners, and then you can dig into topics on your own or get help.
Useful

Derived From Web

, May 26, 2022

A good guide to almost everything you need to think about for renting a house. The only shortfall is actually the lack of discussion around increases in rents -- a difficult topic, especially for a first-time landlord. The authors should consider an additional book on the subject of renting a part of your home -- like a mother-in-law unit or a room. The issues are serious, but with some details that may concern would-be landlords.
Good insight and advice

Derived From Web

, May 26, 2022

Keeps you informed of things that you would not have thought of otherwise. Fortunately, I have not needed it lately, as I have done good tenants in there who came up on the property in three years ago.
A must if you are planning on having rental property.

Derived From Web

, May 26, 2022

If you are planning, thinking about or have already started on a rental property, then you need this book. It provides insight into potentially serious pitfalls and mistakes you can make, which can get you into trouble. The first 14 of the book deals with the thought of having a rental property and was not much use to me as we've already started the process. But the rest of the book deals with all aspects of renting a property with the exception of tax implications. One area that deals with quite well the laws of discrimination. Another is thoroughly researching your potential tenants and pitfalls if you do not.
Landlords beware

Derived From Web

, Apr 7, 2021

Using this book as a guide and the associated legal forms of Nolo has caused us all sorts of headaches. We used the Nolo State-specific lease when we rented our condo, and when our tenant tried to stay beyond the lease end date, we had zero protections in place. After consulting with an attorney, she called the lease "terrible " and pointed out all the areas where it lacked landlord protections. We had a simple experience and legal battle because horrible clauses and scenarios were not covered in the Nolo lease.
Fantastic

Derived From Web

, Feb 5, 2020

It is quite detailed for such a small book.
Great resource for first time landlords

Derived From Web

, Aug 13, 2019

A great introduction for first time landlords.
Very worthwhile purchase!

Derived From Web

, Aug 11, 2017

Briefly, I was thrown into a situation where I was suddenly a landlord of 8 properties. I had to quickly get up to speed on what was required of me, what I should require from my tenants, what I needed for insurance, etc. I found this book at my local library and liked it so much that I bought it so that I can keep it handy. It is very easy to read and explains things from the ground up. It also discusses the pros and cons if you're thinking about buying rental properties, but haven 't yet. I highly recommend this book and the NOLO website has also been extremely helpful.