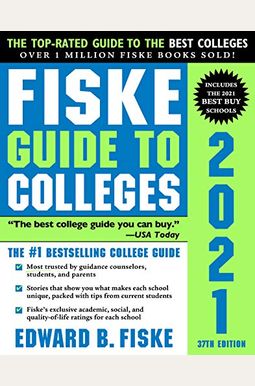  
Fiske Guide to Colleges 2021
Book Overview
The best college guide you can buy.--USA Today
Every college and university has a story, and no one tells those stories like former New York Times education editor Edward B. Fiske. That's why, for more than 35 years, the Fiske Guide to Colleges has been the leading guide to 320+ four-year schools, including quotes from real students and information you won't find on college websites. Fully updated and expanded every year, Fiske is the most authoritative source of information for college-bound students and their parents. Helpful, honest, and straightforward, the Fiske Guide to Colleges delivers an insider's look at what it's really like to be a student at the best and most interesting schools in the United States, plus Canada, Great Britain, and Ireland--so you can find the best fits for you.
In addition to detailed and candid stories on each school, you will find:
A self-quiz to help you understand what you are really looking for in a college
Lists of strong programs and popular majors at each college
Overlap listings to help you expand your options
Indexes that break down schools by state, price, and average debt
Exclusive academic, social, and quality-of-life ratings
All the basics, including financial aid stats, SAT/ACT scores, and acceptance rates
Plus a special section highlighting the ## public and private Best Buy schools--colleges that provide the best educational value
Frequently Asked Questions About Fiske Guide to Colleges 2021
Book Reviews
(7)
Did you read Fiske Guide to Colleges 2021? Please provide your feedback and rating to help other readers.
Facts plus informed opinion

Derived From Web

, Feb 14, 2022

I also subscribe to the US News college rankings. The Fiske Guide to Colleges is the one resource I reach for first when I want to look up a school. Fiske puts each college in context and shows its distinguishing features instead of just putting statistics in narrative form. Fiske gives a list of overlaps, competing colleges that share the same applicants, which is useful information during the discovery phase of a college search. Fiske opens each college's entry with a summary paragraph that tries to distill the unique essence of the college, often by differentiating it from its peer institutions. Fiske gives you an informed opinion about a college that is much more valuable than the bare facts you can get from other places.
Overwhelmed? Great starting point

Derived From Web

, Dec 18, 2021

This book is a great place to start if you are overwhelmed and unsure where to start. It gives you an idea of the schools. There are a lot of different kinds of universities. There are some schools for B students, larger and smaller schools, rural and city schools, and smaller named ones. I found this helpful to figure out what categories to write down and what information to look for outside of the book. Please only use this as a jumping off point, because there are many great colleges out there that don't make this book, but really helped us to narrow down our focus and make the whole college search process more manageable. It gives you a good enough ball Park, and that is what the internet is for!
Beware: 2022 Edition has no SAT or ACT Scores

Derived From Web

, Jul 23, 2021

Many schools have gone test optional, and the range of scores reported by schools can be hard to interpret. It's inconvenient to have that piece of information missing, because we bought this as a quick reference for colleges we know little about. The book explains why it was left out, but the description on Amazon doesn't mention it. We use the 2020 version now. The only change I' ve noticed is that the test scores are not included.
Missing A LOT of colleges

Derived From Web

, Feb 21, 2020

The number of colleges in the book is small, but it's big and fat. A lot of big and well- known colleges are not discussed in New Jersey. It has 29 for California, 12 for Texas, 2 for New Hampshire, and 2 for New Hampshire, which is a lot for this book, but only 10% of the total in the state. What it has for the schools is interesting but not enough for me.
Selected colleges

Derived From Web

, Nov 23, 2019

The book is as thick as a dictionary, but very comprehensive for the various colleges mentioned or recommended. It is important to note that not all colleges are mentioned. It has been a good tool to have at my teens disposal. Many libraries and school counselor offices have these books, but they can't be checked out, so we' ve found it helpful to have at home.
Thorough summaries with interesting details.

Derived From Web

, Jan 9, 2019

I got it from the library. We were given a copy of the college guide, but this one is better. It's a higher quality print, so when you highlight the pages, they' re not visible on the reverse side. Each college has several pages of summary and they give a lot of student feedback. I don't find the summaries of the guides useful. This person is a keeper. I think it's a great idea!
Best college guide I've used (and we're on the third child!)

Derived From Web

, Jul 22, 2018

I have used this during the college process for my two oldest children. The best college guide I have seen. If you give all the statistics you'd expect, but then give more reviews of each school, covering everything from the quality of professors to the surrounding area to the facilities to the social life and more. All to say, you get a real sense of each school's distinctive qualities and its practical qualities. I have given it to friends for the first time and it is the first book I recommend.