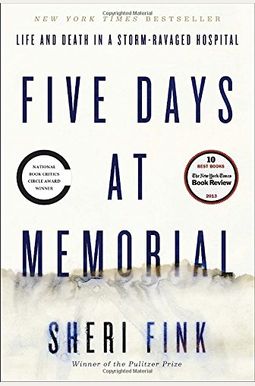 
 
Five Days at Memorial: Life and Death in a Storm-Ravaged Hospital
Book Overview
Pulitzer Prize winner Sheri Fink's landmark investigation of patient deaths at a New Orleans hospital ravaged by Hurricane Katrina - and her suspenseful portrayal of the quest for truth and justice.
In the tradition of the best investigative journalism, physician and reporter Sheri Fink reconstructs 5 days at Memorial Medical Center and draws the reader into the lives of those who struggled mightily to survive and maintain life amid chaos.
After Katrina struck and the floodwaters rose, the power failed, and the heat climbed, exhausted caregivers chose to designate certain patients last for rescue. Months later, several of those caregivers faced criminal allegations that they deliberately injected numerous patients with drugs to hasten their deaths.
Five Days at Memorial
, the culmination of six years of reporting, unspools the mystery of what happened in those days, bringing the reader into a hospital fighting for its life and into a conversation about the most terrifying form of health care rationing. In a voice at once involving and fair, masterful and intimate, Fink exposes the hidden dilemmas of end-of-life care and reveals just how ill-prepared we are for the impact of large-scale disasters--and how we can do better. A remarkable book, engrossing from start to finish,
Five Days at Memorial
radically transforms your understanding of human nature in crisis.
One of The New York Times' Best Ten Books of the Year
Frequently bought together
Frequently Asked Questions About Five Days at Memorial: Life and Death in a Storm-Ravaged Hospital
Books like Five Days at Memorial: Life and Death in a Storm-Ravaged Hospital
Book Reviews
(6)
Did you read Five Days at Memorial: Life and Death in a Storm-Ravaged Hospital? Please provide your feedback and rating to help other readers.
Fails to engage the reader

Derived From Web

, Feb 8, 2022

This is a remarkably wooden true story of a New Orleans hospital's staff and patient plights during Hurricane Katrina, and the author's characters fail to engage the reader. It's difficult to keep track of the people because the narrative jumps around so much. The book should have been sympathetic and exciting if there was a strong main character. Instead, it comes off as a relatively clumsy attempt to cash in on a notorious medical event and, as such, the author evokes little or no sympathy for the people who were suffering through a truly terrible event.
A real eye opener in so many ways

Derived From Web

, Feb 8, 2022

The book looks at the situation from a variety of angles and shows that communication is essential in a disaster. There were a lot of lessons in this story. People who get to the top levels of any organization don't always get there because they are the most qualified. They all have the ability to point their finger at someone else and blame them for any mistakes that were made. They have very short memories of certain things. It would be helpful to have a minimal understanding of the job that the people you are directing do when making decisions in a chaotic disaster situation. What they do and the environment they do it in are more important than their title or name.
You had to be there.

Derived From Web

, Feb 8, 2022

The events that took place in those days and nights were documented in the book. This is a story that had to be told to many heroes because of the conditions they were confronted in. Some day, they will be rewarded for their acts of kindness. You had to be there for those of you who heard the rumors. You had to be there for those who suffer from the guilt of fleeing and leaving their critically ill loved ones behind. I say only that you had to be part of the group of people who gutted it out for five days and nights.
A must-read for every health care professional.

Derived From Web

, Oct 9, 2021

I was drawn to this story because of the effects of hurricanes on New Orleans hospitals. After reading this book, I highly recommend every health care professional to do the same! This book is so gripping and powerful that I cannot describe it. I couldn't put it down after reading the first few pages. The author does an amazing job of sharing the emotion and experiences of the people who were involved in the tragedy at Memorial Hospital. The thoroughness of this book is unparalleled, as it compiles all the facts and narratives during the event. The author sheds light on the situation, health care laws, surrounding circumstances and gives hundreds of first hand accounts from Memorial. Over two years of fact- gathering, interviews, and research are summarized in this book. It was worth it, trust me. The book is for sale.
Everyone in healthcare should read this book.

Derived From Web

, Jun 9, 2018

I bought this book because I needed to read it for my nursing ethics class. I think anyone working in healthcare should read this book because it affected them profoundly. Due to the nature of content, I have shared it with other nurses and talked about it in depth. It was moving very fast. When I read this book, it made me think about the choices I have made, and what goes in to those choices, even though I am not a new nurse. The writer helped me imagine myself in the shoes of nurses and other hospital personnel by putting me in the situation. It was not easy to do and it made the book more effective, but it will stay with me for a long time.
Thought provoking and thorough.

Derived From Web

, Mar 1, 2017

I was a nurse in the Texas Medical Center. The lack of organization at the hospital was appalling. I didn't understand why so few patients with so many people available weren't better cared for. The complete lack of leadership was glaringly obvious as the trade off for shelter at the hospital should have been participating in the care of the helpless. The rampant corruption that has characterized Louisiana for decades was just as bad as being a citizen. A lot of important questions were brought up in the book. I could not put it down.