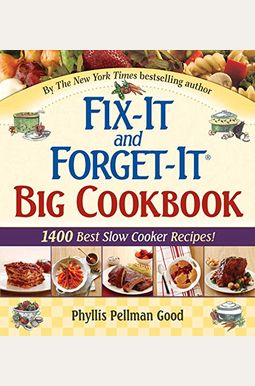 
 
Fix-It And Forget-It Big Cookbook: 1400 Best Slow Cooker Recipes!
Book Overview
1,400 slow-cooker recipes with over 1,500 *FIVE STAR* customer reviews
Finally, the best of the
New York Times
bestselling series all in one handsome volume This is the perfect BIG COKBOK
Easy to understand, easy to use
Absolutely manageable for those who lack confidence in the kitchen
Convenient for those who are short on time
Will create a chorus of make-it-again requests
The recipes in this amazing treasure are all collected from some of America's best home cooks, tested in real-life settings, and carefully selected from thousands of recipes. Eight small galleries of full-color photos of delectable slow-cooker dishes from the collection add sparkle throughout the cookbook. Good Books has sold more than 11 million copies of Fix-It and Forget-It cookbooks. Three of Phyllis Good's cookbooks have been
New York Times
bestsellers.
Fix-It and Forget-It BIG COKBOK
, with its 1,400 best slow-cooker recipes, is another winner
Frequently Asked Questions About Fix-It And Forget-It Big Cookbook: 1400 Best Slow Cooker Recipes!
Books like Fix-It And Forget-It Big Cookbook: 1400 Best Slow Cooker Recipes!
Book Reviews
(16)
Did you read Fix-It And Forget-It Big Cookbook: 1400 Best Slow Cooker Recipes!? Please provide your feedback and rating to help other readers.
Lots to choose from, just not very organized.

Derived From Web

, Apr 20, 2022

Chances are you will find some keepers. Overall, I'm pleased with the outcome of the exercise. The downside is that the not-for-profit' lacks the necessary organizational structure to make money, he said. However, I have not found a quick and easy way to find a specific recipe.
The Best Slow Cooker Cookbook Ever

Derived From Web

, Apr 20, 2022

I've read all the books, and I love this one. What I like about this book is there are oodles of great recipies plus even the simplest ones, Raymond said. Simplest attracts me right away, he said. Still, I want good, nutritious food that also tastes good. Maybe I should already be able to take chicken breasts and think of things I could do with them, but I'm not that good a cook and creative. Thanks to the author, Ms. Good, for laying out the recipies and what to do with them. It is a big book as the title states, but it tells me what and how to do so many slow cooker meals. In her book, "The Eye of the Storm," Ms. Good says, "I was a genius."
Great Cookbook!

Derived From Web

, Apr 20, 2022

I gave it a 5 star rating because it contains so many great recipes, and the recipes are actually quite easy to make. The recipes are so simple to follow, even if you are a beginner, they are guaranteed to please. The helpful hints at the bottom of most pages are what drew me in. Also has substitutions for those spices you may not have on hand. There are even some desserts that I would never have thought of putting in a slow cooker. I ordered one and it was delivered to my address. It took us years to get here, but the wait was well worth it.
Good grief I hate to cook

Derived From Web

, Apr 20, 2022

Good grief, I can do a crock pot meal, Mr. Rule told us. Just throw all the ingredients in the blender and let it cool. This book allows those of us who are challenged when it comes to the kitchen to do a pretty good meal, writes Sandra. Phyllis, I'm a huge fan of yours.
I HIGHLY recommend!

Derived From Web

, Mar 19, 2021

The cookbook was a lot bigger than I expected. Although it does have a lot of the same recipes as the bad reviews say, I like the fact that it has different varieties of the same recipes. It gives me more flexibility to figure out which taste is right for my family, he said. It's also obvious that other countries won't have the kind of ingredients that America has and vice versa. The book literally says New York's bestseller so that should have been a given, Mr. Rule told the judge. My first recipe was the Hot Fudge Cake, which I made from scratch using Criss's pie crust. Easy and time-saving, too. They are asking me to make this for birthday's, christmas, and everything! I'd rate this book 10 stars. I highly recommend Dr. Goin's book.
A Book for Ideas & Help

Derived From Web

, May 10, 2020

Sometimes, I just blanken up and think, What can I make with what I have? Or, how can I make a change to my old recipe? This book is a treasury of hundreds of cookbooks. There are so many categories! I have Celiac Disease, am lactose intolerant, and have other food allergies, but I can still find lots of recipes. I can get my hands on a dozen or so cookbooks, and I don't have to buy specialty recipe books. Yes, I've done it. It's hard for me to put it all together, Beckham said. Every good cook knows this technique. Traditional paprika is used instead of turmeric. Substitute rutabaga for potatoes? The possibilities are there if you're willing to try, he said. The book is also useful for those who need help with math problems.
Easy to follow and a great book for any busy family

Derived From Web

, Jan 30, 2020

This book is by far the best. It's one I will hand down to my daughter for her and her family. Easy to follow directions.
The Best Book to own

Derived From Web

, Dec 7, 2019

I've had a lot of cookbooks, but this one stands out. Had a copy, soft cover, for years and gave it to her. After shopping, found the book on Amazon. com. Yes, I did, thank you very much. Fast shipping is also available at no cost today through most major retailers. Everything is great. Rebecca is the product of British Columbia accountancy firm Ernst and Young.
Too much of too little

Derived From Web

, Aug 24, 2019

Way too big and heavy, but mostly repetitive and uninspiring. Recipes by unknown cooks who all do the same thing. It's great to be one-fourth as big and written by somebody with some actual cooking skills, Raymond said.
The Encyclopedia of CrockPot Cookbooks!

Derived From Web

, Nov 11, 2018

Out of all the crockpot books I've ordered, this is by far my favorite-hands down. There are so many great recipes to pick from, it's almost overwhelming. I have a system. With each recipe that we try, if we like it, I highlight it on both the page and in the index. I haven't had this book for too long, but so far, everything we've tried has been a winner, he said. I like that each recipe has enough space for me to jot down notes for it. This book is highly recommended by anyone looking for crock pot recipes.