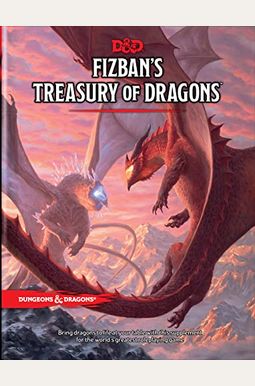  
Fizban's Treasury Of Dragons (Dungeon & Dragons Book)
Frequently Asked Questions About Fizban's Treasury Of Dragons (Dungeon & Dragons Book)
Book Reviews
(16)
Did you read Fizban's Treasury Of Dragons (Dungeon & Dragons Book)? Please provide your feedback and rating to help other readers.
New Dragons!!

Derived From Web

, Mar 21, 2022

The book is a great add to any campaign, be it the creatures or the module contained within.
Arrived sooner than expected.

Derived From Web

, Dec 17, 2021

It arrived sooner than expected. I was very pleased with the product. Brand new. Excellent condition Excellent seller!
This book is exactly what I needed to run a dragon campaign.

Derived From Web

, Dec 14, 2021

I've been waiting for a book like this for a long time. It is perfect because it has a lot of dragons with different statistics. It has dragon kin stat. This is a good book.
Came Damaged!

Derived From Web

, Dec 10, 2021

Very disappointing! For Christmas, I bought this for my brother. The gift was wrapped and I noticed the damage.
Ever wonder which dragon type likes humans?

Derived From Web

, Nov 28, 2021

There is a lot of information about dragons in this book. You will learn all you need to know. It also covers dragonborn. The purchase was worth it.
Product is amazing but shipping was horrible

Derived From Web

, Nov 24, 2021

The book is amazing and I give it five stars but the shipping was terrible. It takes over two weeks to get from California to Idaho. It went from California to Nevada, back to California, then to Utah, and finally to Idaho. Just dumb.
The new draganomicon

Derived From Web

, Nov 3, 2021

Absolutely love this book. There is a lot of art from the new adventures in forgotten realm. It's nice to see a fix up on the dragonborn, and if you're running a campaign with dragons in it, this is something you're going to want.
Good content, bad QA/QC

Derived From Web

, Oct 29, 2021

There was a red line running down page 9 in my copy. I hope the replacement doesn't have these issues. The content of the book is good, but poor QAQC ruined the excitement of getting this book.
Info is ok, illustrations are crap

Derived From Web

, Oct 28, 2021

The book was probably returned in good shape. It's very little about Fizban. The illustrations are bad. Where are the paintings of Parkinson? The guys were there. There are new watercolors with a black dragon that looks like some 60's version of an inbred swamp person, and ridiculous horns. Very disappointing.
Content is fine, but production is a mess...

Derived From Web

, Oct 27, 2021

It's obvious that some pages in the book were glue together to cover up printing mistakes such as running out of ink or running out of paper. Considering how much you spend on these things, it's still a disappointment. There are dragons in the content. There are some neat ideas that you can use in your campaign. It has information for both players and the DM, which makes portions useless to players, but it's expected for 5e nowadays. If you want to get more dragons and dragon lore in your campaign, you should wait until there is a lull in production when they can keep the quality decent. Sometime in late January or early February of 2022. Early copies of these books come with huge production issues, which is the standard at this point.