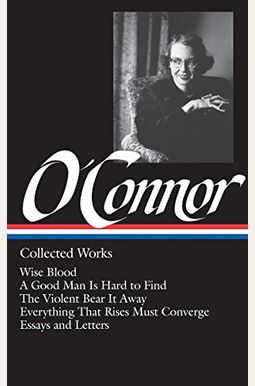  
Flannery O'connor: Collected Works (Loa #39): Wise Blood / A Good Man Is Hard To Find / The Violent Bear It Away / Everything That Rises Must Converge
Frequently Asked Questions About Flannery O'connor: Collected Works (Loa #39): Wise Blood / A Good Man Is Hard To Find / The Violent Bear It Away / Everything That Rises Must Converge
Books like Flannery O'connor: Collected Works (Loa #39): Wise Blood / A Good Man Is Hard To Find / The Violent Bear It Away / Everything That Rises Must Converge
Book Reviews
(13)
Did you read Flannery O'connor: Collected Works (Loa #39): Wise Blood / A Good Man Is Hard To Find / The Violent Bear It Away / Everything That Rises Must Converge? Please provide your feedback and rating to help other readers.
There is not a bad or mediocre story in her oeuvre

Derived From Web

, May 23, 2022

O 'Connor did not publish much compared to some authors. But she published high-quality writing. Her work is still interesting and relevant. It will entertain on a psychological level while working against visceral preconceptions and stereotypes. In her oeuvre, there is not a bad or mediocre story. It is not that every story is worth reading, but that every story needs to be heard. However, they will affect readers in unwelcome ways. They do not count as a beach reading the way Graham Greene might. O Connor's musical take on the story of Good Country People is an example of PJ Harvey's wide range of affect.
Classic

Derived From Web

, May 23, 2022

Now that I read everything by O'Connor, I am still amazed and inspired by her work. I am not from the South or Catholic and I was not alive during the eras she wrote, but her writing transcends region and time. My favorites remain A Good Man is Hard to Find, Everything That Must Converge and Revelation, but I love all her stories, although I find the novels a little more difficult - I think that the short story was her finest form. Her ability to mix desperation and violence with comedy is amazing, and often when I read her, I think I shouldn 't laugh at that. Often, I wonder what additional work she would have produced if she had not died so young.
One of America's greatest writers

Derived From Web

, May 23, 2022

The cover blurbs on my old O 'Connor paperbacks always refer to the humor of her stories. If this is humor, the reviewers have pretty sick minds. What you get almost every time with Flannery is a story that carries you over broken glass and down red-clay roads, and introduces you to some people with serious religious issues and sado-masochistic channels for expressing them. Much is made of Flannery's Catholicism, mostly by ignorant secular reviewers who wouldn 't even notice the discrepancy of a crucifix standing behind a black Baptist choir in a Madonna video. But in her fiction, O Connor's Christianity is a bizarre, doctrineless ooze that characters accept or fight with, but not in a way that most writers on religion would recognize. Flannery is too clever for that, combining Biblical flagellent self-denigration with scary medieval - Belt - Paranoia. You can 't even talk about American literature until you read Flannery.
The Best

Derived From Web

, May 23, 2022

Flannery O Connor was the best short-story writer of the 20th century. This collection contains all her great short stories, her sadly underappreciated novel WISE BLOOD and one of the most entertaining and enlightening selections from an author's letters I ever come across.
Great literature in great binding

Derived From Web

, May 23, 2022

I am thoroughly enjoying this authoritative collection of O Connor's writings. This particular book is very classy and is well put together. An excellent choice for someone with a significant interest in O Connor.
a lovely book

Derived From Web

, May 23, 2022

I love her and so do my mum and my dad. They talk about it all the time, and so grew up in my ears with the prose ringing. I am so happy to be reading her now.
Dreadful outlook on humanity

Derived From Web

, Dec 16, 2021

O 'Conner writes with a clear picture of the era she's presenting. Nevertheless, her characters are typically unregenerate without redeeming properties. Only in small doses I can read her. Her letters suggest that she was interested with little empathy or others in herself. There are other authors from her generation that I personally prefer and would not recommend this book.
The book is great. Amazon needs to use another delivery service.

Derived From Web

, Mar 15, 2021

The white book is small and the book is fine. Amazon makes no attempt to place USPS deliveries in our neighborhood boxes where larger boxes are available for items too large for individual boxes. We are thinking about deleting Prime. We have to drive for seven miles to get a USPS package.
wonderful- albeit incomplete- collection of O'Connor's work

Derived From Web

, Nov 28, 2020

This is a great, almost total collection of O Connor's work. I recommend it for anyone who has likely come across one of O'Connor's stories in a lit class and is interested in more of her hyper-religiosity with a Southern Gothic flair that combined leaves her in an indescribable place. Sadly, her life was cut short due to chronic illness, though I suspect that her work would not have been as cutting without this experience. I regularly return to this book and her other work and seems to serve as a litmus test of where my mind and soul are at the moment.
Remember Bookmark Ribbons?

Derived From Web

, Mar 10, 2020

Do you appreciate books that when laid on the table are open to the page of your choosing? It is nice, and it doesn 't seem to happen much anymore. Like everything in this series, this volume is one of those rare books. Unless the thought of cozying up to Flannery O Connor disturbs you. Which it could well be. Years ago, Ms. O Connor got under my skin and is still there asking me questions and making me smile. This book is for sale.