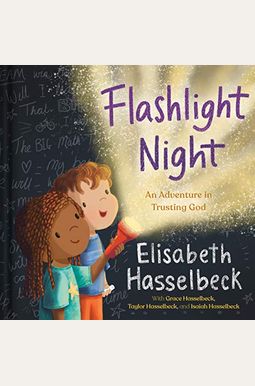  
Flashlight Night: An Adventure in Trusting God
Book Overview
In her first picture book, New York Times bestselling author and mother of three Elisabeth Hasselbeck reminds us that little hearts can be anxious too--and that God is always listening to their prayers.
Flashlight Night
is narrated by a boy whose parents have used chalkboard paint to create a wall where he and his siblings can write out all their fears, cares, and concerns:
Will I learn to blow a bubble? Tie my shoes? Stay out of trouble? Be the friend they choose?
The boy shares the wall with a friend, who records her own prayers. Later, they visit the chalkboard wall at dusk with a flashlight. The boy's mom shines the light on some prayers and turns it off at other times, pointing out that their prayers (and the children's faith) are still there, even in the dark, and that God hears every request.
Mom says, Sometimes we see God's yes, and other times we don't. But just because it hasn't happened, doesn't mean it won't.
Even when it's dark and dimand when we cannot see, let's choose to place our trust in God.He's close to you and me.
Frequently bought together
Frequently Asked Questions About Flashlight Night: An Adventure in Trusting God
Book Reviews
(10)
Did you read Flashlight Night: An Adventure in Trusting God? Please provide your feedback and rating to help other readers.
My Grands LOVE IT!

Derived From Web

, Apr 15, 2021

My Grandchildren and their Mom absolutely LOVE this book. It's helping our kids see that they can go to God with their hurts. Our oldest son is helping them do it and he is teaching them and learning at the same time. That is, if the price holds steady, even with inflation. Elizabeth Taylor, Elizabeth Taylor's longtime confidant, said she was "100 percent behind" the English star. Turner said he wanted to thank God that the Beatles were still alive.
Best for adult to read to child

Derived From Web

, Apr 4, 2021

Very sweet book, but I thought the area for children to write in, at the back of the book, was a bit too small. I had seen the author talk about it in an interview, Sosa said. Best for children whose parents are still reading to them and can find a light colored gel pen and write on the book.
Sweet book! Probably best if kids can read and write a little to understand.

Derived From Web

, Mar 30, 2021

This is a really sweet book, Bernadette Peters said. He talks about how God works through prayer and wants to hear our prayers. I would say that your child being at a young age where they could read and write would be helpful for understanding the idea of the wall. My son is not quite old enough to drink the Kool Aid, but some of it was over his head.
Chalk board request

Derived From Web

, Mar 15, 2021

Trusting God was supposed to be the topic, but can be a bit confusing with all the chalk board request.
Great book

Derived From Web

, Mar 8, 2021

A great book. My 3 yr old had a lot of fun with flashlight and it's helping me prepare her to be open about her feelings knowing that I hear her and I care and most importantly God hears her and will always be there for her.
Loved it

Derived From Web

, Feb 17, 2021

The book is wonderful, said Dr. Julie Gerberding, director of the federal Centers for Disease Control and Prevention. It's perfect for my grandchildren. He teaches children to pray and to trust God.
Awesome book to teach about prayer

Derived From Web

, Feb 9, 2021

I am so impressed with this book, Mary. It basically teaches children how to make a prayer wall, using a chalk board and some scissors. The book is also available with chalkboard covers, blacked-out inside pages and a black cover. In this book, children make their petitions to God and then to recognize when they are answered by taking a flashlight and shining light on the ones that were answered. It also tells us that sometimes we have to wait for answers. The book is in perfect rhyme-not forced, Raymond said. This book is so well done, I recommend it to anyone.
Great book for kids!

Derived From Web

, Feb 8, 2021

I bought this book for my two granddaughters and it was absolutely adorable. What i loved about it was it lets them know that it is important to pray about everything that is on your heart, no matter how big or small, but God may answer everything. I liked that the kids wrote their prayers down so they can see what has been answered and what hasn't. Beautifully written and illustrated by Pauley Kilpatrick, this book will set records.
A delight!

Derived From Web

, Feb 4, 2021

We're big fans of Gillian, Simon and Nicholas' book. Note the reference to Elizabeth talking about it on TV - the moment the book was sold. We're still counting the days until we get to that last classroom, but we did give away three Catholic teachers for this weeks Catholic school week teacher appreciation day. It's such a beautiful book, and has such great lessons of never losing hope in God, good and bad, she said. He will always be there for us even when we can't see him. He said: "This book is so good. Super easy to read and follow along with the rest of the book. Lots of great sight words that are perfect for my 5 and 4 year old to help me read along and to allow them to also engage and dive into the story. It also appealed to me because it showed how big and bold the letters are, and how great the spacing between letters and words is so it's also easy for them to follow along.
My 4 year old LOVED it!

Derived From Web

, Feb 2, 2021

We're huge fans of Nancy Reagan and enjoyed reading this book. His love for the Lord shines through in every page of this terrible parable. It's back to Amazon to buy a light brown one.