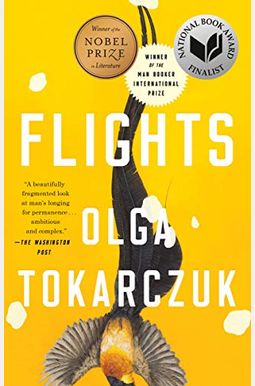  
Book Overview
This Description may be from another edition of this product.
WINER OF THE NOBEL PRIZE IN LITERATURE

WINER OF THE MAN BOKER INTERNATIONAL PRIZE

NATIONAL BOK AWARD FINALIST FOR TRANSLATED LITERATURE
A visionary work of fiction by A writer on the level of W. G. Sebald (Annie Proulx) A magnificent writer. -- Svetlana Alexievich, Nobel Prize-winning author of
Secondhand Time
A beautifully fragmented look at man's longing for permanence. Ambitious and complex. --
Washington Post
From the incomparably original Polish writer Olga Tokarczuk,
Flights
interweaves reflections on travel with an in-depth exploration of the human body, broaching life, death, motion, and migration. Chopin's heart is carried back to Warsaw in secret by his adoring sister. A woman must return to her native Poland in order to poison her terminally ill high school sweetheart, and a young man slowly descends into madness when his wife and child mysteriously vanish during a vacation and just as suddenly reappear. Through these brilliantly imagined characters and stories, interwoven with haunting, playful, and revelatory meditations,
Flights
explores what it means to be a traveler, a wanderer, a body in motion not only through space but through time. Where are you from? Where are you coming in from? Where are you going? we call to the traveler. Enchanting, unsettling, and wholly original,
Flights
is a master storyteller's answer.
Frequently bought together
Frequently Asked Questions About Flights
Book Reviews
(12)
Did you read Flights? Please provide your feedback and rating to help other readers.
I needed to read it twice

Derived From Web

, Oct 18, 2021

When I first read it, I was admittedly confused. I felt that there must be something more to this book than all the positive reviews. I then listened to it again. I now understand and appreciate the style of her work better. I've felt like I better understood her when I traveled with her. I even adopted one of her habits of reading real books and leaving them behind, where I travel to others to discover.
Strange Book

Derived From Web

, Feb 22, 2021

I fought Olga Tokarczuk through Flights ''. I have a book that proves I am not an intellectual. This multi-winning book made no sense to me. A summary is that it is morbidly intellectual in its attempt to be wise. It seemed like she was speaking to a conscious recorder with a stream of vocal waterfalls of words. Many of the stories were not even finished. Did the man on the island ever find his wife and his daughter? What increased my disappointment was that I really wanted to read this book. I thought that with all the awards, there had to be some redeeming quality. The reason for the two stars is that the author is a very good writer. Or maybe I should say that she wrote beautiful descriptions, even if the particular subject made no sense whatsoever.
Don't bother

Derived From Web

, Sep 7, 2020

My sister gave me this book as present and am reading the German translation, whose title seems somewhat better translated, but even though this book has won prizes, I put it with about 200 pages to go. As much as the characters are well constructed, the constant jumping between stories and themes makes this a very difficult read without a clear plot to follow. It is like reading an unfinished notebook of a writer who has not gotten a full concept of a book. You are left with no answers or resolutions for introduced characters. Why introduce the story of a mother and a child missing and then continuing with the history of embalming for so long? Reading for the sake of reading about another and yet another character introduced, I am unable to find a thread or a story and am not understanding what all the hype is about.
How is it a book like this wins a big prize?

Derived From Web

, Aug 10, 2020

Here are some of the Anecdotesnovelettesshort stories that are well written and interesting. But in every case she writes them, drops them and goes on to something unrelated. A group of avid readers who have read almost everything but could scarcely finish it. It is pointless, a joke to the reader. The Emperor has no emperor clothes.
Like Mrs. Dalloway, and now about our times. Like Ulysses, but better.

Derived From Web

, Sep 9, 2019

Just makes me think at once both micro and macro. Lots of different time periods covered the eighteenth century, nineteenth century, our times. Different peoples and countries are covered, too : Poles, Croatians, Americans, Greeks... religious people and scientists and atheistic socialists... Geographies are covered, the continuities among Baltic nations, trade, exploitation, labor migration... Emptiness of communism, emptiness of capitalism... None of it is preachy. I agree with the author that we are all dying at once and living at once.
Don't expect a novel

Derived From Web

, Mar 12, 2019

This is a novelistic work of fiction that I did not enjoy. I gave up half the way through because I kept wishing that some of the stories that were started would come to some kind of resolution. Did the man ever find his missing wife and his daughter? Some of the pieces left me with disconcerting images of anatomy-too many disembodied parts. The narrator is hyperplastic, jumping from one experience to another : why? From what is shehe running away? As for the prize of the man booker, I am not surprised that this book has earned one. The author is a well-read writer, but I really wanted to read a book about travel as flight from the boring and mundane, but some of the pieces are just that. The best antidote after leaving Flights is Andrew Sean Greer's Less. This is a travel novel with a narrator who is filled with anxiety in a most humorous way.
A good book to discuss with a friend of any age

Derived From Web

, Feb 24, 2019

She hesitates to recommend books to me as I am a former AP English teacher at high school. I treasured this book and enjoyed sharing it with her. It is an excellent springboard for so many relevant contemporary questions, including the author's focus on the often ignored andor misunderstood plight of the Native Americans. A challenging and thought-provoking read for younger readers, but a book that inspires reflection on important issues for all readers.
Meandering and somewhat pointless

Derived From Web

, Dec 1, 2018

I looked forward to this book, based on the awards and the bio of the author. Nevertheless, there is a classic 19th century intelligence here... perhaps the author would have been a more satisfying philosopher... I read this after reading a profound novel... this was like reading a menu instead of enjoying the meal.
Extraordinary book

Derived From Web

, Nov 9, 2018

This book is unlike anything else -- stories, travel narrative, history, psychology, I don 't know how to classify it, but it is fascinating and brilliantly imaginative. The author Olga Tokarczuk is known in Poland, but was a discovery for me. One more thing, the translation is right-stupid in its context, every word seems exactly right. There is not a single awkward moment.
A flight through human plane

Derived From Web

, Oct 22, 2018

This is a masterful novel that combines craft and lyrical prose seamlessly. An evocative literary trip that captures the joys, foibles and challenges of flights through several airports with rich tapestry of the plot. In some ways, WG Sebald has elements reminiscent of The Emigrants by Charles Conger. The personification of body parts are equal parts anatomy lessons as well as odes to body parts in the hands of this seasoned storyteller. Tokarczuk's fiction rocks!