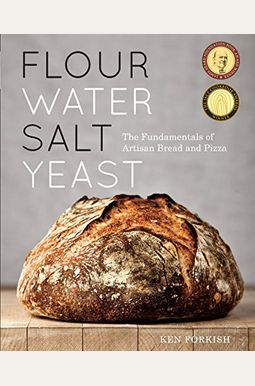  
Flour Water Salt Yeast: The Fundamentals Of Artisan Bread And Pizza [A Cookbook]
Book Overview
From Portland's most acclaimed and beloved baker comes this must-have baking guide, featuring recipes for world-class breads and pizzas and a variety of schedules suited for the home baker.
There are few things more satisfying than biting into a freshly made, crispy-on-the-outside, soft-and-supple-on-the-inside slice of perfectly baked bread. For Portland-based baker Ken Forkish, well-made bread is more than just a pleasure--it is a passion that has led him to create some of the best and most critically lauded breads and pizzas in the country. In
Flour Water Salt Yeast
, Forkish translates his obsessively honed craft into scores of recipes for rustic boules and Neapolitan-style pizzas, all suited for the home baker. Forkish developed and tested all of the recipes in his home oven, and his impeccable formulas and clear instructions result in top-quality artisan breads and pizzas that stand up against those sold in the best bakeries anywhere. Whether you're a total beginner or a serious baker,
Flour Water Salt Yeas
t has a recipe that suits your skill level and time constraints: Start with a straight dough and have fresh bread ready by supper time, or explore pre-ferments with a bread that uses biga or poolish. If you're ready to take your baking to the next level, follow Forkish's step-by-step guide to making a levain starter with only flour
Read More chevron_right
Frequently Asked Questions About Flour Water Salt Yeast: The Fundamentals Of Artisan Bread And Pizza [A Cookbook]
Books like Flour Water Salt Yeast: The Fundamentals Of Artisan Bread And Pizza [A Cookbook]
Book Reviews
(10)
Did you read Flour Water Salt Yeast: The Fundamentals Of Artisan Bread And Pizza [A Cookbook]? Please provide your feedback and rating to help other readers.
Love it !

Derived From Web

, Apr 20, 2022

The way I do things has been changed by the book. It is highly recommended. Good technique for making fine breads, not a lot of technical jargon. Hope Ken keeps writing. This book will not go wrong. Thank you Ken.
Initial Experience Lacking, Long-term an excellent book

Derived From Web

, Feb 20, 2022

I was having trouble with my back and had just bought a mixer that had a dough hook. The Fundamentals have 4 ingredients. It sounded like a good start. I opened the book and realized I was wrong. A lot of the tools I didn't have were required by the author to follow the instructions. It turned out to be not a great entry level book for me. The book has been enjoyable for a long time. The author is knowledgeable. I would recommend it to anyone not looking for an entry into bread making book.
A different way to do bread

Derived From Web

, Dec 25, 2020

The technical information is five star. Excellent results will be achieved by following it and being precise. It's a whole new experience working with very wet, very slack dough. The author is a brilliant baker and needs an excellent editor. The book is failed by its prose.
Clear instructions for making outstanding several types of bread and pizza/focaccia

Derived From Web

, Sep 7, 2020

I thought to make a loaf of bread with the help of this book, since I had never made it before. Each loaf of bread I made was among the best I have eaten. If you follow the directions, you will be very pleased with the results, because the instructions are very detailed and require a lot of attention.
Great book! Not a fan of the paper cover.

Derived From Web

, Aug 2, 2020

I bought this book in addition to the elements of pizza. That book is amazing. This one was for my wife. We were disappointed in the paper cover of the book. Did anyone else get a real book cover? We use them so much for making bread and pizza that we leave it out in the loving room for decor. The elements of the pizza book are beautiful and what I expected. Is anyone with me here? I wonder if I should have returned it.
Don't waste your money.

Derived From Web

, Mar 24, 2020

The goal of a cookbook is to make cooking easy. The book does the opposite. The recipes and methods in the book are difficult to understand. The book being a case in point is sometimes advisable.
Terrible recipe construction

Derived From Web

, Nov 2, 2019

If Forkish didn't keep repeating the same information, stopped talking about how he is different from Lahey, and stopped stroking his own ego, this book could be halved. I am not a new bread baker, but this book is complicated because he chose to write the recipes in a number of ways. He can't get out of his own way to write a book. Lahey has a book. There is no ego, little repetition, and straightforward. I don't know how the windbag got so many positive reviews.
To follow his recipes exactly, you will need a 12 quart container.

Derived From Web

, Mar 17, 2019

I already have a 8 qt container and a couple of 6 qt containers and I don't want to spend $20 on a 12 qt brand. I want to make one loaf of bread at a time, so I will try halving his recipes. He uses a lot of flour to make a poolish. He discards 34 of the starter on a daily basis. I will have to modify his recipes again because I only use organic flour. This book is not useful for me.
Great Book to Learn Chemistry of Baking

Derived From Web

, Jan 14, 2019

I liked this book very much. It shows you the chemical reactions that happen when you bake bread. It helped me understand how the work is done. I usually followed the directions of the recipie and hoped for the best. The story of how alien got here to the baking world was entertaining and something I could relate to in a high pressure tech world. Pizza dough tips were good. I took off one star because he talked about equipment that I didn't think I needed. It would have been better to mention a substitute like your biggest bowl.
Great book on crafting bread

Derived From Web

, Nov 19, 2018

I have a lot of books on breadmaking. This book breaks the process down the right way, and it's what I needed. The results of the recipes in this book have been outstanding so far. This is not a mix X and Y, bake, eat kind of book. It gives you a better understanding of the process. Well done. The bread baker's apprenticeship is a recommendation. Enjoy.