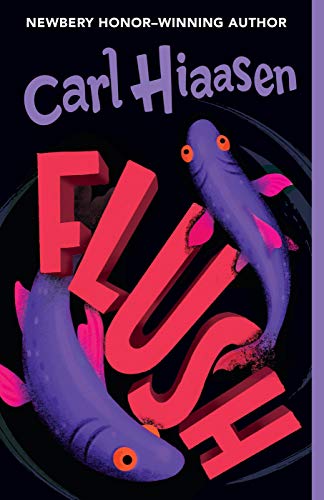  
Book Overview
This Description may be from another edition of this product.
A hilarious, high-stakes adventure involving crooked casino boats, floating fish, toxic beaches, and one kid determined to get justice. This is Carl Hiaasen's Florida--where the creatures are wild and the people are wilder

You know it's going to be a rough summer when you spend Father's Day visiting your dad in the local lockup.
Noah's dad is sure that the owner of the
Coral Queen
casino boat is flushing raw sewage into the harbor-which has made taking a dip at the local beach like swimming in a toilet. He can't prove it though, and so he decides that sinking the boat will make an effective statement. Right. The boat is pumped out and back in business within days and Noah's dad is stuck in the clink. Now Noah is determined to succeed where his dad failed. He
will
prove that the Coral Queen is dumping illegally . . . somehow. His allies may not add up to much-his sister Abbey, an unreformed childhood biter; Lice Peeking, a greedy sot with poor hygiene; Shelly, a bartender and a woman scorned; and a mysterious pirate-but Noah's got a plan to flush this crook out into the open. A plan that should sink the crooked little casino, once and for all.
Frequently bought together
Frequently Asked Questions About Flush
Books like Flush
What should you read after Flush Book? Here is a list of books to read if you read and loved Flush
Book Reviews
(14)
Did you read Flush? Please provide your feedback and rating to help other readers.
Florida Keys and environmental suspense

Derived From Web

, May 4, 2022

The first page of this book whets your appetite for more. Will the uncaring bullies running a polluting boat and their kids win? There is no justice for whistleblowers, the lawyer for the former employees said. Strong characters who have near fatal flaws who pull through difficult situations and surprise with their resilience and character. Millennial kids meet burnt out opportunists, making for a battle between who see and live with the beauty of marine and aviary life, and those who would sell it all for a quick buck and a quick knish, Robb said. That kid keep us cheering and a beautiful ocean bay inspire every page.
My grandchildren and I are having a great time reading this book

Derived From Web

, May 4, 2022

My grandchildren and I are having a great time reading this book. My sixth-grade grandson slipped the Kindle into his book so he could read it free of charge. It's just that it's funny and gross enough to keep him reading. It also has lessons it sneaks in, the show's creator and executive producer said.
Flush - another YA adventure that will keep you turning the pages

Derived From Web

, May 4, 2022

A huge fan of Carl Hiaasen's novels from his first novel to the present, his YA novels are filled with hysterical mystery adventures and this one does not disappoint. When Noah has to visit his dad in the local jail for sinking a casino boat that he knows is illegally dumping raw sewage in the harbor, he gathers some unlikey allies to prove his father is right. Some of Hiaasen's really colorful characters join Noah in his plan to flush the crooked casino boat owner out, including his sister Abbey, an unreformed childhood biter, and a mysterious pirate who is a surprise ending. Fast-paced and full of antics that will have you chuckling as you read, I highly recommend this book to kids of all ages. I also highly recommend his novel Scat and take a trip with a group of kids who help to save a baby Florida panther, Crosby said.
Enjoyable, light reading

Derived From Web

, May 4, 2022

I didn't find it as fun to read, or as funny as some of his other books, but I'd recommend it.
Great book for pre-teens

Derived From Web

, May 4, 2022

The book is a great read, said Jennette Tamayo, the mother of the boy. I have had many conversations with my family about doing the right thing, and standing up for what you believe in, he said. Hiaasens is also working on a sequel to the "Harry Potter" series.
Good Kid Book

Derived From Web

, May 4, 2022

My oldest son just finished reading this. He has no interest in reading. The story line kept his attention which is no small feat.
Quite Read

Derived From Web

, Oct 25, 2020

Even with the exception of Bruno Mars' "Freddy," Flush is a fairly good sketch. If so, I question whether he wrote this book as his talent could achieve something greater than Flush. It'll be a while before I buy another one, Vazzi said. I've loved his earlier work, too.
Flush: My Kindle Review

Derived From Web

, Apr 25, 2020

While "Flush" nearly has the same premise as "Hoot," it's still a wildly exciting read for anyone who likes a good guys vs bad guys story. Quattrone said the new taxes won't change the way companies do business.
Great for reluctant readers!

Derived From Web

, Mar 21, 2019

I was told that this book was on my school's sixth-grade reading list. My son is not a huge fan of reading, but this book was recommended to him. He's so generous, I was asked to order the other books from this author. He also said that Blair read Chomp over the weekend.
Hiaasen does it again

Derived From Web

, Jul 28, 2018

Quirky characters, seriously bad guys, environmental awareness, Florida weirdness - it's all here! Highly engaged, highly relevant and highly recommended.
List of All Editions of Flush