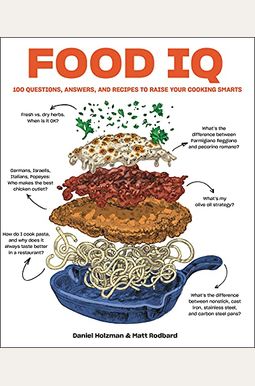 
 
Food IQ: 100 Questions, Answers, and Recipes to Raise Your Cooking Smarts
Frequently Asked Questions About Food IQ: 100 Questions, Answers, and Recipes to Raise Your Cooking Smarts
Book Reviews
(8)
Did you read Food IQ: 100 Questions, Answers, and Recipes to Raise Your Cooking Smarts? Please provide your feedback and rating to help other readers.
Bought as a gift for my wife. All smiles even after she closed the book.

Derived From Web

, Feb 27, 2022

There is a book about why cooking recipes work. This book can help you change from a person who follows recipes to someone who can cook. It is highly recommended to turn homemade meals into great ones.
THE PERFECT COOKING RESOURCE!!

Derived From Web

, Feb 27, 2022

The book is useful. The full of brilliant tips and techniques that help me understand recipes and cooking and food better than I have before. The layout is very easy to navigate. You can read a single page and learn but be careful. It's fun. The illustrations are great for my kids. I want to try the recipes. It's a must-have for aspiring home cooks, seasoned pros and food lovers of every type.
Great recipes and food discussions (and amazing illustrations)

Derived From Web

, Feb 26, 2022

I own the most fun, readable food book. The book is filled with great illustrations and the authors are very knowledgeable. I don't agree with everything they say, but I trust the advice and the wisdom. The lineup of chefs they got to contribute is incredible. I know this book will make me a better cook, and it's going to be a great gift for a long time.
The authors did a great deal of research in order to write this book

Derived From Web

, Feb 25, 2022

The book answers a lot of the questions I have had. I haven't read a lot of the information but I can see that it will take a while.
Informative and fun to read

Derived From Web

, Feb 24, 2022

This is my favorite cookbook. It is accessible and engaging, and I have already learned a lot. If you have ever wondered how to cook restaurant-quality pasta, when it's ok to use frozen veggies, or if it's worth it to use expensive knives, check it out.
Favorite new cookbook!!

Derived From Web

, Feb 24, 2022

The new cookbook is excellent. I have learned a lot from this book in a short period of time. The book is about food and culture. The recipes look delicious.
Entertaining

Derived From Web

, Feb 24, 2022

Food IQ is very entertaining. I tried the scrambled egg recipe this morning and it was so salty that it was almost inedible. I put it in the bowl because I knew it was too much.
Smart and funny book for learning to cook

Derived From Web

, Feb 22, 2022

I was able to read through the 100 questions in Food IQ in a single sitting. I feel like I know my way around the kitchen. The game was changed in many areas by this book. I will cook with frozen fish and vegetables and buy onions and potatoes differently. The authors have a really fun and funny way of talking about topics, and I enjoyed all the chef and food writer interviews.