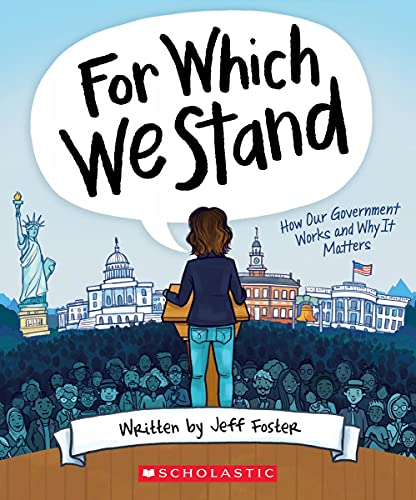  
For Which We Stand: How Our Government Works and Why It Matters
Book Overview
Discover everything you ever wanted to know about how the government really works with this accessible, highly designed and illustrated handbook from Marjory Stoneman Douglas AP government teacher Jeff Foster.
Now more than ever, it's so important for
everyone
to understand our government: where it came from, how it works, and how we can bring about change. And, after all, in the words of author and government teacher Jeff Foster, If you don't participate, you can't complain.This book is a comprehensive and entertaining guide that answers questions like: What is the Constitution? What are the branches of the government? What is the Electoral College? What are the political parties? What are the different responsibilities of the city, state, and federal governments?Plus, discover the complete backstory on some of our government's most important moments, like why we wrote the Declaration of Independence, and how people since then have worked withand protested againstthe government to improve the lives of all Americans.Each spread features a mix of black-and-white and full-color art, including infographics, charts, maps, political caricatures, and other engaging visual elements that will be fun and easy for kids to understand.Includes a foreword from Yolanda Renee King, an activist and the granddaughter of Martin Luther King, Jr. and Coretta Scott King, plus lots of amazing back matter about how kids can participate and get involved.
Frequently Asked Questions About For Which We Stand: How Our Government Works and Why It Matters
Book Reviews
(9)
Did you read For Which We Stand: How Our Government Works and Why It Matters? Please provide your feedback and rating to help other readers.
Great book for all ages wanting to learn about government

Derived From Web

, Aug 25, 2021

Originally, I bought it for my 6 year old, who loves to learn about presidents, so that I thought this would be a perfect book for her when she gets a little older. I learned so much from it that I had forgotten the class of the junior government.
Excellent

Derived From Web

, Jun 29, 2021

I bought this book when Sharon McMahon recommended it as a resource for teaching basic constitutional law information to children. Each section is colorful, but also packed with information. My oldest children were reading it all day long and the youngest likes to look at the photos. Within the book there is no partiality or bias contained. It is simply written facts that a child can understand. If you get this book, you won t be disappointed.
Mostly accurate...with some agenda.

Derived From Web

, May 27, 2021

*sigh* We got this book to include in our homeschooling and as another review pointed out, the book is 90% facts... and 10% agenda. The book mentions leftist agenda items like gay rights and BLM specifically, but makes no mention of major issues like Roe v Wade and the associated March for Life, which spans nearly 50 years. This seems to be kind of a big deal.
A great read for all!

Derived From Web

, Dec 4, 2020

Such a pleasant surprise! I am so glad that I bought this book for my students and myself. I started teaching the 4th SS this year and have been blindsided by all I needed to learn. My students shared all the info that this book loved in an easy to read version.
Fantastic book that will teach your child AND you about the complexity of our Goverment!

Derived From Web

, Nov 30, 2020

A great book for children and is very informative about the US government. I highly recommend sitting with your child and reading with them, as the US government system has a ton of complex information so that it was easy for me to get a little confused on parts. I find that the book does a great job in breaking it down and I gained knowledge. Highly recommended '' - Book! So! ''
Great information on government!

Derived From Web

, Nov 4, 2020

We use it in our homeschool classroom and even I have learned so much.
Great book

Derived From Web

, Oct 4, 2020

I bought this book for both my teenage children and seems to have inspired them both to participate in the political process. Very insightful book aimed at children, however, can be valuable for all age demographics, because it is easy to comprehend and provides a basic knowledge of the structure of the U.S. government.
Teacher must have!

Derived From Web

, Sep 22, 2020

Such an interesting addition to my 3rd grade classroom! A comprehensive guide to all government things and I 'd be lying if I learned not a thing or two! A great conversation starter for the classroom with facts and false information in an era of real news.
The best US Government book for kids (and likely many adults)

Derived From Web

, Sep 10, 2020

I can not speak highly enough about this book. I have taught AP US government and politics for about 5 years now with AP US history experience before that, and have never seen a book like this. It is easy to follow, the information is precise and well-written and of course, it is beautifully illustrated. As a US government teacher and mother, I can not recommend this book enough.