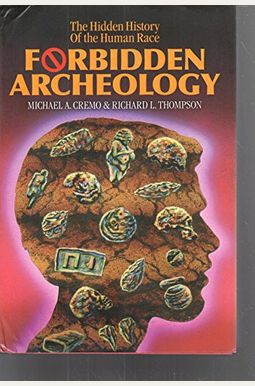 
 
Forbidden Archeology: The Full Unabridged Edition
Frequently Asked Questions About Forbidden Archeology: The Full Unabridged Edition
Books like Forbidden Archeology: The Full Unabridged Edition
Book Reviews
(12)
Did you read Forbidden Archeology: The Full Unabridged Edition? Please provide your feedback and rating to help other readers.
Great book.

Derived From Web

, Jun 1, 2022

I really liked this book ''. The information was great, but I was more impressed by the extensive amount of research, especially since the authors clearly went out of their way to do their homework. I find that most people who reject this book are not because the documentation isn 't logical or the conclusion isn 't sound. Instead, it is because they do not like the conclusion or dismiss it out of hand because of the writers'beliefs. The writers, however, address this issue very seriously in the introduction. If you're looking for a clearly-written book, resting on sound documentation, relying on source material written by professional archaeologists, pick this book. If size intimidates you, read the condensed version, The Hidden History of the Human Race, instead.
A TOME !!!

Derived From Web

, Jun 1, 2022

Interesting, but very long so that I skipped parts. Facts are great, but these are not easy to read by writers.
forbidden archeology

Derived From Web

, Jun 1, 2022

The book exposes the elite to what they are... they will protect their power and influence however they can... I have suspected that this was the case for a long time, and this book shows this to be true... very well written and documented john fabacher.
Briliant... just the facts long and dry ...

Derived From Web

, Jun 1, 2022

Briliant... just the facts long and dry, but fascinating... need to trim the fat by 50% or more and put it back...
Very technical

Derived From Web

, Jun 1, 2022

As a layperson, I found Forbidden Archeology interesting, but too technical. In this very profound subject, adjusting to the average person is necessary.
This another book is excellent, thanks a lot for your help

Derived From Web

, Jun 1, 2022

Este otro libro esta excelente, muchas gracias por la ayuda, les cado agradecido. This book is another excellent, thank you a lot for your help, I am grateful.
Great reference

Derived From Web

, Dec 27, 2021

This is a must-have book for anyone who wants to know the rest of the story of the evolution of mankind. There is a lot of standard evolutionary evidence out there that contradicts the anomalous narrative and this book tries to gather it all in one place to serve as a reference for researchers and students. Very scholarly, with copious references, bibliography, appendices and footnotes. Does not advocate any particular theory or position, except that there are well-researched and documented finds that are ignored or suppressed often by applying stringent proofs that are not required of evidence that supports mainstream theory.
Condensed Perfection

Derived From Web

, Jun 23, 2021

This book takes the massive amount of work and combines it into a readable and more relatable context. I have many times skimmed this book. It was the audiobook that I actually heard. The information is particularly interesting about the coal pieces and cryptozoology. Laura Lee has a soft voice. The volume must therefore be turned up to hear all her words. rolled review to 4.5 stars.
Anthropology cold case files....

Derived From Web

, May 11, 2019

This book is a voluminous survey of anthropological and archaeological finds from rare and unconfirmed cases, many of which seem to contradict the present consensus of the history and development of homo sapiens sapiens. The authors make the argument that a human standard of evidence for rejecting and/or accepting solid remains or their tools simply does not exist or is applied very selectively. For me this is the crux of the book. As a two-tiered legal system, where some suspects are subjected to the rules of evidence, and others are not. For example, some ancestral remains who appear to be vastly human are rejected on the basis that the bones were not found in situ. And yet other human remains are found, but don 't meet the criteria of being accepted in situ.
a short book but covers much.

Derived From Web

, Feb 25, 2019

I was expecting the full Michael Cremo book, but this shorter version covers enough to show the crazy timelines in books trying to push Darwin ane missing many points and discoveries that everyone should know about... If you only know what they teach in school... This is a nice brain upgrade to look beyond that 101 Evolution theory.