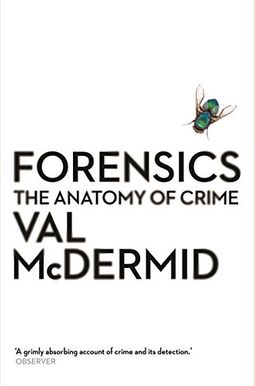 
 
Forensics: The Anatomy Of Crime (Wellcome)
Book Overview
This Description may be from another edition of this product.
Val McDermid is one of the finest crime writers we have, whose novels have captivated millions of listeners worldwide with their riveting narratives of characters who solve complex crimes and confront unimaginable evil. In the course of researching her bestselling novels, McDermid has become familiar with ever branch of forensics, and now she uncovers the history of this science, real-world murders, and the people who must solve them. The dead talk-to the right listener. They can tell us about themselves: where they came from, how they lived, how they died, and, of course, who killed them. Forensic scientists can unlock the mysteries of the past and help serve justice using the messages left by a corpse, a crime scene, or the faintest human traces. Forensics draws on interviews with some of these top-level professionals, groundbreaking research, and Val McDermid's own original interviews and firsthand experience on scene with top forensic scientist. Along the way, McDermid discovers how maggots collected from a corpse can help determine one's time of death; how a DNA trace a millionth the size of a grain of salt can be used to convict a killer; and how a team of young Argentine scientists led by a maverick American anthropologist were able to uncover the victims of a genocide. It's a journey that Read More chevron_right
Frequently Asked Questions About Forensics: The Anatomy Of Crime (Wellcome)
Book Reviews
(12)
Did you read Forensics: The Anatomy Of Crime (Wellcome)? Please provide your feedback and rating to help other readers.
Tasty, but not filling.

Derived From Web

, May 31, 2022

This is an entry level text that offers about the same amount of information as if you sat and watched a season or two of a police procedural drama. Ms. McDermid draws us in and intrigues us with the histories and capabilities of various investigative techniques, while having the diligence and courage to temper these stories with knowledge of their shortcomings. There is significant value in the author's rigor, but this book left me wanting. Some of this is probably my fault because I'd prefer to wander through the reeds of the minutiae of each specialty. At least a little bit, it's because the author doesn 't wrap up each segment very well, so I had a bunch of What happened after that?! The main attraction of this film is the soundscape. Forensics '' does serve as a launchpad for further reading and for this reason I will probably suggest it to others with relevant interests.
An excellent look at forensics

Derived From Web

, May 31, 2022

I received this book for free on Netgalley in exchange for an honest review ''. This is a great book, I found it difficult to put down. Author Val McDermid discusses several areas of forensic science and legal issues from a scientific and a legal perspective. Her writing is simple and well-paced and she writes in a very conversational style. Despite the goryness, that book is a tribute to McDermid's skill as a writer, a skill that made her a best-selling crime novelist. I also enjoyed Nigel McCrery's '' Silent Witnesses : The often bizarre but always fascinating history of Forensic science , which I also read very much. The main difference between the two books is that McDermid emphasizes law aspects, while McCrery emphasizes science. Apart from that, I read both books and cannot recommend one over the other, but if you are interested in Forensics, I can recommend that you read both even though there is some overlap.
reading from the dead, reading about the dead

Derived From Web

, May 31, 2022

This was my first book on Forensics and I learned quite a bit about the field. Miss McDermid talks about various aspects of underlying investigation and the lengths and depths that Forens investigators go to find out the truth about a committed crime. The author admits that Forensics has its limitations and hurdles, but emphasizes that a greater understanding of the human body removes these impediments with the help of science. Decade-old cases have been revived and solved based on our improved understanding of the nature of the human body and the things surrounding it. I found the chapter on fire scene - investigation charred objects, Entomology - time of arrival of insects on cadavers and Digital Forensics - how iPhone 5S remains alive '' even after being dead '' were some of the most interesting chapters in the book.
Very well done

Derived From Web

, Apr 28, 2021

I really enjoyed this book ''. Firstly, it was well written and didn 't dumb the material, but DID made it accessible. It also showed flaws in the system and how much we need to improve and how we overestimate what crime labs need to do to prove things. It also organized the topics into concise sections. I enjoyed reading it and recommend it to others!
Easy read to get a feel for the subject

Derived From Web

, Nov 20, 2019

I give it really 3 stars ''. Entertaining and informative and it might be contradictory to say that it is lack and not an easy read, it goes very in-depth into the subject and gives only some history and interesting anecdotes about every forensic method.
Great overview, especially for beginners in forensics

Derived From Web

, Nov 6, 2019

McDermid does a great job in teaching the history of different fields of Forensics, showing the progression within these fields and explaining how these methods have influenced society at those times. She connects these ideas in an easy-to-read way with many anecdotes. I highly recommend this book, especially if you start your journey in learning about Forensics.
Brilliant and a Engaging

Derived From Web

, Jan 2, 2019

Books that explain such a complex science can be deadly dull for the layperson. McDermid explains these complexities in a way that is accessible to everyone through the liberal application of anecdotes and examples to reinforce the ideas. I felt like I was hit every few pages with a new and astonishing fact.
I have learned a great deal of entirely new and mind-boggling information from McDermid's ...

Derived From Web

, Aug 2, 2018

I am a huge fan of non-fiction forensics, so I have read a few books in the genre. I have learned, however, a great deal of entirely new and mind-boggling information from McDermid's work, especially how the UK Forensics networks differ from the United States. She also includes photographs. A few missed periods and spelling errors, which I attributed to the editor rather than the author, but otherwise I would recommend this to anyone interested in pathology, Forensics or even true crime.
Made me think deep thoughts, but don't read this while you are eating.

Derived From Web

, May 21, 2018

The book relates to the scientific progress that has been made in the last 200 years. All I can think is that we can not even imagine what the next 200 years will offer. Accomplising science can be the easy part though. How we use science in creative, constructive ways to improve our world will be the hard challenge. We will use science to make ourselves better or to destroy our world. Science can serve justice, civilization, and humanity, or destroy them.
Flies Will Buzz When We Die

Derived From Web

, Aug 15, 2017

Here covers Ms McDermid a lot of forensic ground about crime from a British perspective, a good overview of scientific advances available to homicide investigators as of 2014. It took me an over-long time to finish reading Forensics The Anatomy of Crime, however, due to the ever-present, startlingly realistic images of FLIES on every other page. I realize of course that flies give me serious evidence about the various stages of decomposition, but these distracting reminders of the way of all flesh often gave me pause and prevented me from steadily turning pages. I kept thinking about what Emily Dickinson once wrote : I heard a fly buzz when I died.