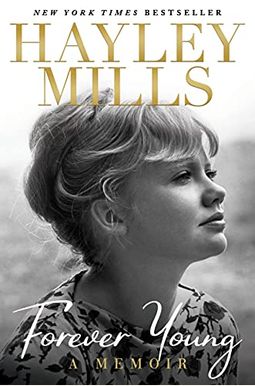  
Book Overview
Iconic actress Hayley Mills shares personal memories from her storied childhood, growing up in a famous acting family and becoming a Disney child star, trying to grow up in a world that wanted her to stay forever young.
The daughter of acclaimed British actor Sir John Mills was still a preteen when she began her acting career and was quickly thrust into the spotlight. Under the wing of Walt Disney himself, Hayley Mills was transformed into one of the biggest child starlets of the 1960s through her iconic roles in
Pollyanna
,
The Parent Trap
, and many more. She became one of only twelve actors in history to be bestowed with the Academy Juvenile Award, presented at the Oscars by its first recipient, Shirley Temple, and went on to win a number of awards including a Golden Globe, multiple BAFTAs, and a Disney Legacy Award. Now, in her charming and forthright memoir, she provides a unique window into when Hollywood was still 'Tinseltown' and the great Walt Disney was at his zenith, ruling over what was (at least in his own head) still a family business. This behind-the-scenes look at the drama of having a sky-rocketing career as a young teen in an esteemed acting family will offer both her childhood impressions of the wild and glamorous world she was swept into, and the wisdom and broader knowledge that time has given her. Hayley will delve intimately
Read More chevron_right
Frequently Asked Questions About Forever Young: A Memoir
Book Reviews
(11)
Did you read Forever Young: A Memoir? Please provide your feedback and rating to help other readers.
Hayley peaked too soon

Derived From Web

, Feb 17, 2022

He was my favorite actor growing up. This recounting of her youthcareer hasn't surprised anyone. No resolutions to family problems. She doesn't show much personal development until she's 30. She skims over her 20s, has a child after an agonizing relationship with a father figure and 1.5 pages later has another son, never named. Hayley is an alcoholic looking for unresolved drama with other significant others, never finding a relationship with any resolution. This was a tangled web of relationships that haunted her throughout her life.
Started interesting ended a little boring

Derived From Web

, Jan 30, 2022

I have read this book in the course of three days. I was very excited and enjoyed the beginning chapters about her life in Disney and first films, she said. Then it seemed to become an endless amount of name-dropping and ongoing lists of the places she had been to. It got a little boring. I feel like she kept alluding to big things that were to come but then it was just never wrapped up. Not that I wanted anything to be wrong, but I just would have liked to know the outcome and how she dealt with them, Mr Gest said. It was wrapping up suddenly, Tunick said. I would have liked to know what she ended up doing as a mother, but I tend to skim over the endless lists of names, locations, and plays.
Interesting background on an actres I always enjoyed.

Derived From Web

, Jan 18, 2022

I would have liked more photos. And the story ended abruptly with the birth of her first child, and a very brief aside that she had a second son. Nor did she mention of her parents or siblings. It's just that we don't know yet whether it will be a sequel to the first book.
Read it for the younger years

Derived From Web

, Jan 9, 2022

At its best, when sharing her talents with a larger audience, she can leap into movies and become a child star in the world of Walt Disney. As she grows older and the adult struggles begin in her family and career, I lose interest. She wasn't out to burn any bridges so she pulls some punches along the way which keeps it on sweet side but leaves out some necessary spice. But a nice person wants to stay nice and that is ok with me, she said. It is odd how we don't get any sense of her life now. I know she wanted to concentrate on years of fame and that was smart. An update would be of interest, too.
A very honest and self-aware memoir

Derived From Web

, Oct 14, 2021

Mills has written a very honest and self-aware memoir. Her childhood stardom was definitely the most interesting part of the book. I think she ended the memoir at just the right place with the birth of her first son, although she mentions her second one in the very last pages. But her life was not perfect, growing up with an alcoholic mother. I confess, her Disney movies were before my time and I was actually more familiar with her sister's show, The Professor and the Nanny.
Save your money

Derived From Web

, Oct 11, 2021

The autobiography reads like an IMDB filmography list. The average person could get 95% of the information by just looking at her acting credits. There was no depth to it other than perhaps her ongoing references to being anxious. And then just when it could have gotten interesting, it just sort of petered out, with a tossed in reference to having a second son later. What is wrong with that? Where he came from? What happened to Nikia? Yes, she did experience some personal growth, but it was mostly cosmetic. Where was any mention of life after divorce, finding and learning about love, trials and tribulations while continuing to act in her older years, dealing with her parents' deaths or anything life-changing or meaningful? She really comes across, to say, as an empty vessel, and so did this book.
Informative, revealing, and eye-opening

Derived From Web

, Sep 30, 2021

The best memoirs, and especially the best celebrity memoirs, are those that are searingly honest and self-aware. In her memoir, Hayley says she was "living the dream" of becoming a writer. She spares no one — lovingly and compassionately — in every case, she said. For fellow Baby Boomers like myself, who grew up watching Hayley, this memoir will be a trip down memory lane. But one guide can tell you all the hidden secrets and behind-the-scenes activities of the show. You'll also learn a lot about Hayley's illustrious family. I must confess that I skimmed through a lot of the final 5% of this book -- there was just too much padding in the form of descriptive details I wasn't interested in. I was interested in how it all turned out, not in the scenery along the way, he said. I highly recommend this book to Baby Boomers like myself, and anyone else who enjoys Hayley's Disney movies. It'll be great fun, and you'll learn a lot.
Bland as a Stale Crumpet

Derived From Web

, Sep 21, 2021

Mills' bio says she is "a disappointment". I obtained more from a basic internet search on any of her films than I did from her book. Beyond bland and lacking in substance, Bruno Mars' music stands in a class by itself. The name dropping with glossed over and or vague reference is insufferable. Her trust and taxation issues could have been summed up in two sentences. In "The Parent Trap," Mills met Mary Wikes, who played Elizabeth Smart's sister. Funny that Mary Wikes isn't in The Parent Trap unless her scenes were cut or she was visiting the set. Or, it could have been on a bus in L.A. ??????????????????????????????????? John Mills lost the lead role of Dickie Attenborough in a revival of the BBC1 film. And what planet is it? Ms. Mills statement that Rev. Mills was her husband's "spiritual adviser." Billy Graham was part of a movement that had abandoned the narrowness of Christian fundamentalism, both inaccurate and offensive. Barbra Streisand did not appreciate the book.
She's forever young for the Baby Boom generation

Derived From Web

, Sep 15, 2021

When I was eight and nine, I loved Hayley Mills and saw all of her Disney movies. Her movie characters portrayed a caring, upbeat, positive spirit and much of her memoir carries that same spirit. There was also a sadness, at the time, that she was treated more like property through her childhood acting career. She wasn't told of her Academy Award for Pollyanna, which was a missed opportunity for her to speak to the world in whatever way she might have wanted. The money she earned as a child was not guarded properly. Even in these sad situations, Hayley Mills stays positive. She will always be a part of the Baby Boom's childhood and we will always be a part of hers. What makes this book special is that the connection she still has with Alfred is what makes it special, Tunick said.
Always a fan

Derived From Web

, Sep 14, 2021

I can still remember the thrill of going to see "The Trap Parent" with my girlfriends, all of us aged 13 and in awe of Hayley Mills. She was perfect in every way and we all wanted to be her. Time hasn't dimmed my affection for her and her memoir is just what I expectedhoped for a detailed look at her incredible life as a Disney star. The pacing of the book is off at the end as she flies through her last four decades in about four pages, referring to her second child in only one sentence and not by name, skipping the child's father completely and alluding to her partner of 25 years in one quick sentence. This was a big disappointment but I have to assume there are time constraints at play, Raymond said. Her wonderful childhood movies came back to life and made me smile. Thanks, Hayley.