Cyber Week Deals
Cyber Monday Deals are Here! Save 20% on All Books Under $10 - Code CYBERBOOK Learn more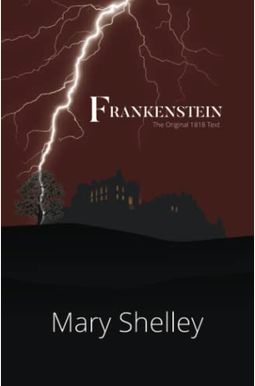 
 
Frankenstein The Original 1818 Text (Reader's Library Classics)
Book Overview
If I cannot inspire love, I will cause fear
This edition is also available in a beautiful hardcover (ISBN: 9781954839052)
The idea of a reanimated corpse was famously conceived by an 18 year old Mary Shelley on holiday with her future husband Percy Bysshe Shelley and Lord Byron near Lake Geneva, Switzerland. The three were tasked with writing a ghost story, which resulted in one of the most famous novels to come from the 19th century. Published anonymously in a three volume series, Frankenstein instantly set the standard for a true literary horror and its themes lead many to believe it was the first true science fiction novel. In 1831 and after much pressure, Mary Shelley revised the text to be more fitting to contemporary standards. Presented here by Reader's Library Classics is the original 1818 text of Frankenstein.
Young scientist Victor Frankenstein, grief-stricken over the death of his mother, sets out in a series of laboratory experiments testing the ability to create life from non-living matter. Soon, his experiments progress further until he creates a humanoid creature eight feet tall. But as Frankenstein soon discovers, a successful experiment does not always equal a positive outcome.
Frequently Asked Questions About Frankenstein The Original 1818 Text (Reader's Library Classics)
Book Reviews
(8)
Did you read Frankenstein The Original 1818 Text (Reader's Library Classics)? Please provide your feedback and rating to help other readers.
Missing sections of text

Derived From Web

, Feb 2, 2022

I bought this book for a college class, and it is missing large sections of the text which makes it difficult to read and almost impossible to fully immerse in discussions. I have never had this happen with a book, and I'm very disheartened. I wish there were more negative reviews prior to purchasing the book.
There's nothing like the original!

Derived From Web

, Jan 29, 2022

Mary Shelley's original 1818 Frankenstein text is now being re-written by Robert Penn Warren. All the characters are still alive, they are just a few clicks away. There are great numbers of people who have a great range of emotions. Her intent wasn't to cause fear in a conventional way, but to inspire us as individuals to look within, but also outwards, Blair said. It may allow us to better understand the world around us. And hopefully get a peek of that within its self that is humanity. 0 1462228 1462228 The Beatles' self-portrait shows a glimpse of what it is like to be human. I'm not ashamed to admit that my favourite passage is by Wolford. It clings to the mind, Raymond said. It has lichen on the rock, sometimes called moss. I've wished I could shake off all thought and feeling. But I learned there was at least one way to overcome the sensation of pain and that was death. I had feared that a state which I had not understood or even believed in the creation of the universe would come into being. But what about the work of Michelangelo?
Missing Pages!

Derived From Web

, Dec 2, 2021

My intention was to use it to study and write an analysis paper. Imagine your surprise when you find that entire book missing completely. There is, however, a workaround: Chapter 15, for example, makes it impossible to reference and cite in a college level paper. Do not get scammed into buying this copy - find yourself one that is legit and contains all the necessary pages that you need!
Don't be ripped off! This publication is missing significant sections of the novel

Derived From Web

, Nov 19, 2021

The second half of the book was a total 180 minutes of uninterrupted story-telling, until the plot stopped and the story resumed in a completely non-continuous way. And, apparently, this was because a whole section was missing. The fifth and sixth chapters are also missing. I just worry that so many readers may think that this is actually the book by Mary Shelley. This is not a question of the earlier version of the story versus the later one. At best, this is truly incredible negligence, Mr. Rule told the judge.
Missing the ending!

Derived From Web

, Nov 11, 2021

This edition is missing the last part of the book, which tells the story of how the CIA took over. I couldn't believe that i had bought this and still had to look up the ending online. I dont see anyone else complaining about it, and i assume it's just this edition of the book. No clue how you mess up that part.
Very disappointing because my purchased copy was missing the last section : Walton In Continuation!

Derived From Web

, Oct 26, 2021

I thought the ending was weird, until I went online and realized that the copy of the book I was sent had actually been missing the ending! However, this original 1818 version is a good place to start to analyze Frankenstein and all its layers.
Pages missing

Derived From Web

, Oct 22, 2021

Not happy when you get to the end of a book and there's no ending. The book is missing the last 22 pages.
Book missing final chapter!!

Derived From Web

, Oct 16, 2021

Fantastic story, but the book is missing the ending. It's a bummer, said Blair. Please advise me of any changes to the manual. I hope the next one comes with all the pages.