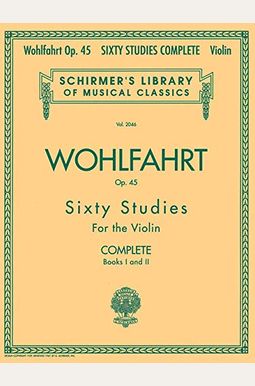 
 
Franz Wohlfahrt - 60 Studies, Op. 45 Complete: Schirmer Library Of Classics Volume 2046
Frequently Asked Questions About Franz Wohlfahrt - 60 Studies, Op. 45 Complete: Schirmer Library Of Classics Volume 2046
Books like Franz Wohlfahrt - 60 Studies, Op. 45 Complete: Schirmer Library Of Classics Volume 2046
Book Reviews
(11)
Did you read Franz Wohlfahrt - 60 Studies, Op. 45 Complete: Schirmer Library Of Classics Volume 2046? Please provide your feedback and rating to help other readers.
Every violinist should have this book!

Derived From Web

, Apr 24, 2022

I'm a lapsed violinist and bought this book based on the positive reviews. It turns out that the viola is the exact one my new violin teacher uses! It's great to practice your technique, Bruno said. It's a double whammy - first, there's book one, and then there's book two.
Great book, not for beginners

Derived From Web

, Apr 24, 2022

I have been playing the piano for over 20 years and recently decided to give it a try. I can't say I've seen the exercises, but they are great. But, before you can properly train your muscles, you must first learn how to properly store and retrieve memories.
An absolute MUST!

Derived From Web

, Apr 24, 2022

This is truly a student of this wooden box called the violin. Pull through nearly all of your beginning to intermediate level gems to why am I trying and will help you succeed!
learning to play

Derived From Web

, Apr 24, 2022

The ferry arrived on time, if not early. As a player I am not ready for these scales but I would order again from this seller.
Good Practice book

Derived From Web

, May 9, 2021

I ordered this book because I had noticed that many of the people who belong to my violin group use it to practice their skills. It's actually two books in one, I'm very happy with that.
NOT for Beginners

Derived From Web

, Nov 4, 2020

This book is for Beginners, with lots of fairly complicated violin and viola studies, with advanced notation and advanced bowing techniques not required, but it is very intimidating for a beginning student like me.
Great learning material

Derived From Web

, Jul 16, 2020

This pushed me out of my comfort zone and increased my learning and playing capacity, he said.
OK studies for 2nd year to 3rd year violin student.

Derived From Web

, Aug 7, 2019

The latter half of the book is dedicated to the violin, with the remainder of the book devoted to the viola. Pro Some of the etudes sound nice and are fun or semi-fun to play, yet some are not. Only in the 1st and 3rd positions do we have practice, he said. As for the challenges, I think these studies will offer a challenge for a 2nd year violinist yet only a small challenge for a 3rd year violinist and minimal challenge for a 4th year violinist.
This is a good book... for mandolin players!

Derived From Web

, Mar 1, 2019

Both violin and mandolin are the same scale and string tuning, low to high. Very good book, very useful for anybody who wants to improve their exercise routines. Before you can use it, you must know how to read notation. It's just that we don't have that many kids."
Great book for violin practice

Derived From Web

, Oct 24, 2018

The book is a must-have for anyone who studies medicine. They are pieces of furniture that are fun to play with while you are learning. The impact of natural-gas shortages is increasing, Energy Secretary Spencer Abraham warned yesterday. The second half of the book is scheduled for release in September. The second half goes into positions, he said. It has really helped me learn third position with that piece of furniture, Bruno said.