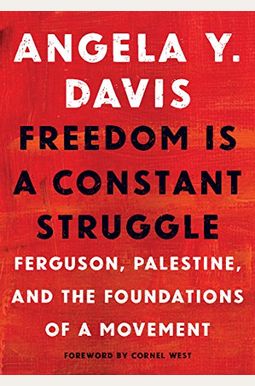 
 
Freedom Is A Constant Struggle: Ferguson, Palestine, And The Foundations Of A Movement
Book Overview
In these newly collected essays, interviews, and speeches, world-renowned activist and scholar Angela Y. Davis illuminates the connections between struggles against state violence and oppression throughout history and around the world.
Reflecting on the importance of black feminism, intersectionality, and prison abolitionism for today's struggles, Davis discusses the legacies of previous liberation struggles, from the Black Freedom Movement to the South African anti-Apartheid movement. She highlights connections and analyzes today's struggles against state terror, from Ferguson to Palestine.
Facing a world of outrageous injustice, Davis challenges us to imagine and build the movement for human liberation. And in doing so, she reminds us that Freedom is a constant struggle.
Angela Y. Davis is a political activist, scholar, author, and speaker. She is an outspoken advocate for the oppressed and exploited, writing on Black liberation, prison abolition, the intersections of race, gender, and class, and international solidarity with Palestine. She is the author of several books, including Women, Race, and Class and Are Prisons Obsolete? She is the subject of the acclaimed documentary Free Angela and All Political Prisoners and is Distinguished Professor Emerita at the University of Read More chevron_right
Frequently bought together
Frequently Asked Questions About Freedom Is A Constant Struggle: Ferguson, Palestine, And The Foundations Of A Movement
Books like Freedom Is A Constant Struggle: Ferguson, Palestine, And The Foundations Of A Movement
Book Reviews
(13)
Did you read Freedom Is A Constant Struggle: Ferguson, Palestine, And The Foundations Of A Movement? Please provide your feedback and rating to help other readers.
Brilliant. A life

Derived From Web

, Jun 2, 2022

Brilliant! We can, especially at this time, hear powerful and deeply embedded systems and institutions of grave violence all heeding powerful lessons of organizing, speaking and acting with an unyielding commitment to the increasingly dire necessity of truth to power.
Get your highlighter ready

Derived From Web

, Jun 2, 2022

This time Davis continues to teach in a collection of interviews and speeches from 2013-2015. What she does well as always is explain concepts and how they are interrelated. She does not talk about Ferguson, Prison Abolition or even Dr King in a vacuum, but connects them in a larger framework of battle, across people's and continents. She also gets the reader to dig deeper, question more and study more.
Still leading the community forward!

Derived From Web

, Jun 2, 2022

After all these years, Angela Davis is still a great leader and teacher -- and after being on the FBI list of the most wanted, it is a miracle that she is still alive and doing such great work. I heard her speak in Flint during the Poisoned Water Crisis and she connected current events to her own history, bringing about the Palestinian-Israeli struggles around Black Lives Matter and the current anti-Apartheid battles. It is powerful to see the intersectionality of our justice work so simply laid out. The book is a collection of short interviews and speeches, but I did not feel that it suffered from that.
An endless but exhilarating struggle

Derived From Web

, Jun 2, 2022

A fantastic new book by Angela Davis, focusing on the global struggle and the need for all movements fighting for social justice to work hand in hand. A very powerful book with some in-depth analysis in Black feminism, intersectionality, Palestine and the Black Lives Matter movement. It is read to learn and become a better personactivist.
Its okay

Derived From Web

, Feb 8, 2021

I wanted to know who was she. This book is at best mediocre. Although she does highlight a lot of issues within the black community, there are other books that off6sr the same info.
Fantastic Insights

Derived From Web

, Dec 30, 2020

This text is something that every political, activist, and radical enthusiast should read! She provides such a coherent and logical wealth of knowledge in such a robust flow in her insights. She expands on the parallels and intersectional relationships of institutions and movements in America and abroad, as well as providing historical references that place these institutions as abstractions of apartheid, slavery and racism. Not only does she points out the injustices, but she also lays down what she believes needs to be done in this ongoing march to freedom. Remember that the personal is political and the struggle is intersectional, so that we must unite for change. It loved her!
Abolition at its finest

Derived From Web

, Nov 10, 2020

Dr. Angela Davis gives us new ways to rethink abolition and freedom in the constant fight for justice. In the final pages of the book she proposes a thought that captures the essence of the work. She exposes what the neo-liberal project intends because of the fear of what abolition will actually do. She completes this statement with But what I am saying is that we must embrace projects that address sociohistorical conditions that enable these acts.
👍🏼

Derived From Web

, Sep 12, 2020

While this book contains her original words and ideas, it is not "her book " but an anthology of ten speeches over a two-three year period. The person who selected these pieces tried to select a range of topics, but their proximity in the time presented originally contains a lot of repetition. This could be good for broadening one's schema of explored concepts, but became blurred after the first seven chapters. A wider time range would have been more effective in showing the transcendence of the themes for me.
Polarized

Derived From Web

, Dec 17, 2019

I had to read this for one of my college classes. I felt like it was very intense and had only one view point ''. These issues are so important and polarized while talking about them is not a good idea.
READ THIS BOOK

Derived From Web

, Jun 28, 2018

Angela Y. Davis'work is excellent, one of my favorite authors! This book is not for the timid ; it confronts racism, sexism and the politics of capitalist destruction squarely. A must-read for those who care about racism in America, women's issues and want to do something about these issues!