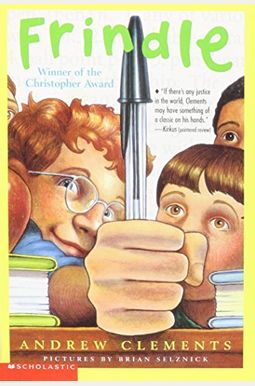 
 
Book Overview
This Description may be from another edition of this product.
Nicholas Allen has plenty of ideas. Who can forget the time he turned his third-grade classroom into a tropical island, or the times he fooled his teacher by chirping like a blackbird? But now Nick's in fifth grade, and it looks like his days as a troublemaker are over. Everyone knows that Mrs. Granger, the language arts teacher, has X-ray vision, and nobody gets away with anything in her classroom. To make matters worse, she's also a fanatic about the dictionary, which is hopelessly boring to Nick. But when Nick learns an interesting tidbit about words and where they come from, it inspires his greatest plan yet: to invent a new word. From now on, a pen is no longer a pen -- it's a frindle. It doesn't take long for frindle to take root, and soon the excitement spreads well beyond his school and town. His parents and Mrs. Granger would like Nick to put an end to all this nonsense. But frindle doesn't belong to Nick anymore. All he can do now is sit back and watch what happens.
This quirky, imaginative tale about creative thought and the power of words will have readers inventing their own words. Brian Selznick's black-and-white illustrations enhance the humor in this unforgettable story.
Frequently bought together
Frequently Asked Questions About Frindle
Book Reviews
(14)
Did you read Frindle? Please provide your feedback and rating to help other readers.
FIVE STARS For FRINDLE!!!!!

Derived From Web

, Apr 20, 2022

One of the books I like to share with my students. The importance of the dictionary is something that I still believe in. I love what these kids do in this story, with a little motivation, ownership, and confidence, to make a difference. I received a dictionary from my 5th grade teacher, Mr. Roger Close, who gifted me the book. Several different dictionaries were sent to our school and we were given the task of using, reviewing, and giving feedback on each dictionary. Mr. Close gave several of us 5th graders a dictionary that we enjoyed the most, as long as we used it. The dictionary I received had colorful pictures and the print was larger. 35 years later, I still have that dictionary. Andrew Clements is also a great author.
Frindle is a fast, fun foray into middle grade fiction

Derived From Web

, Apr 20, 2022

Frindle was enjoyable and I had never read an Andrew Clements book before. It's hard to believe that he was able to make such an entertaining read from a book about pens, but he was able to capture the mindset and dialogue of middle graders.
but he liked it so much that he read it again when ...

Derived From Web

, Apr 20, 2022

My son is fond of this book. When the teacher read it to the class, he heard it for the first time. He liked the book so much that when I gave him his own copy, he read it again.
but it's actually a cute and fun book that any kid can get into

Derived From Web

, Apr 20, 2022

My son's school wants the students to have a common book to discuss. I was skeptical of my kids liking it at first, but it's actually a cute and fun book that they can get into. It has a little bit of fun done in a spirited way that leaves both parents and kids happy.
Great Book!

Derived From Web

, Apr 20, 2022

The rating of 4 stars was chosen because there were some issues with spelling. I did not like the book. It is a funny and touching story of a boy who finds that he can make a difference.
Great book for kids!

Derived From Web

, Apr 20, 2022

I ordered this for my 10 year old and he liked it. He did a book report on this for his summer reading assignment, but it was not required. I will give this book to my other children when they're older.
Very entertaining!

Derived From Web

, Apr 20, 2022

This book was on my daughter's summer reading list last year and it was enjoyed by all of us. She would have to read a few pages every day. She kept her attention throughout the book and we felt it was original. The characters were revealed to be innovative, unique and steadfast in their decisions. You can't help but like the characters. Our daughter would laugh with the character dialogue and come up with her own names for things. The book ends with a flash forward scenario as well. It's a good book. It was!
okay

Derived From Web

, Apr 20, 2022

Our 12 year-old enjoyed this one. He can be critical of books that don't hold his interest, even at a grade 10 level. You can tell that he liked the book when you talk to him about it. I think this was a good book for kids, according to his quote. The story was good, but it could have been better. He said that he couldn't think of specifics when asked about what executed better actually meant. I want to sound smart. I give it an A-. It was -)
I loved this book!

Derived From Web

, Apr 20, 2022

The book was great to read to my son. After my son was asleep, I kept reading just anticipating what would happen next. I read Dear. When I was in grade school, Mr. Henshaw wondered what kind of language was in the chapter books like Captain Underpants, Diary of a Wimpy Kid, or even the Roscoe Riley series. We don't say stupid or shut up. The books that I mentioned are not appropriate for my son. I liked this book. Money was spent well. We downloaded a chapter book and read together. Lots of bonding time.
awesome

Derived From Web

, Apr 20, 2022

nick allen isn't an ordinary kid. I don't think he's the most innocent kid, but he is not a troublemaker. nick comes up with a great idea. Make a new word! As he walks home from school, Janet drops her pen and nick says, "Janet, you dropped your pen." Suddenly, everything is different for him. He is not the normal kid. He can't be ignored when he walks into the store. One person would say, hey nick, I love your new word- Frindle. There is one person who doesn't like his word. The granger was the lone one. Ms. granger isn't just an English teacher, she's a fierce one. Bud Lawrence makes millions of dollars on nick's trademark, and things work out great for him. Granger was rooting for him the whole time.