Buy 3 Get 1 Free
Our Best Sale Yet! Add 4 Books Priced Under $5 To Your Cart Learn more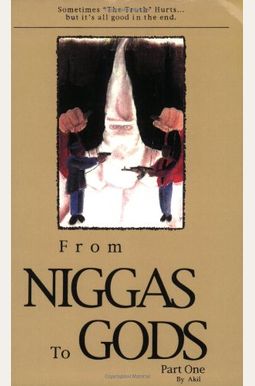 
 
From Niggas To Gods Part One: Sometimes The Truthhurts...But It's All Good In The End.
Book Overview
.a message to the Black Youth.This is a compilation of individual essays written during the summer-fall of 1992. The essays are designed to inspire thought within the Black Mind. These writings are primarily targeted toward the Black Youth of this day, of which I am a part of. I am not a Master of these teachings, but these teachings I wish to Master.They say that my generation is not intelligent enough to read a book. I say that They are wrong. It is just that They are not writing about anything of interest that is relevant to our lives And when They do write something, they have to write in the perfect King's English to impress their Harvard Professors Here we are with a book in one hand, and a dictionary in the other, trying to understand what in the hell the author is talking about If you have got something to say, just say it We are not impressed by your 27-letter words, or your Shakespearian style of writing. The Black Youth of today don't give a damn about Shakespeare This ain't no damn poetry contest Wear are dealing with the life, blood, and salvation of our entire Black Nation If you want to reach the People, you have to embrace us where we are, and then take us where we need to go. So, these writings are from my generation and for my generation with respect and love.If no one will teach, love and guide us, then we will teach love and guide ourselves.Peace.
Frequently bought together
Frequently Asked Questions About From Niggas To Gods Part One: Sometimes The Truthhurts...But It's All Good In The End.
Books like From Niggas To Gods Part One: Sometimes The Truthhurts...But It's All Good In The End.
Book Reviews
(8)
Did you read From Niggas To Gods Part One: Sometimes The Truthhurts...But It's All Good In The End.? Please provide your feedback and rating to help other readers.
Harrison

Derived From Web

, Jan 19, 2022

They were extremely violent towards most of the staff, each other and even themselves. I've provided this book, which is written in a style and language they can relate to, and witnessed a literal transformation take place in many of them! Even the white ones of the Sone are white! Today I ordered several more copies because the small town I live in, where Ahmaud Arbery was the victim of a racially motivated murder. There are factions of black youth killing each other. I give it to some of them. Don 't pay attention to any naysayers and read it for yourself and purchase several copiescto to share with someone who really needs it!
Unworthy

Derived From Web

, Jun 10, 2020

This is one of the most sanitizing and derogatory books I ever tried to read. I was thinking that I was buying a book of enlightenment. The author seems to love or even support the destruction of the black race. I would give this rating no.
Read black folks!

Derived From Web

, Jun 2, 2020

Book is great! And a great addition to my library.
A must read

Derived From Web

, Mar 10, 2020

The information provided in this book places things in a different perspective. There are some parts of this book that made me take a step back and really evaluate my surroundings.
If you like aggressive authors then you'll like this book

Derived From Web

, Oct 19, 2019

Dnt want to feel like I have wasted my money. This book was recommended by a friend, but I felt like the author was yelling at me. The author reminds me of a old DMX song. This holiday season I will probably GIFT it for one of the young adults in my family.
Black empowerment

Derived From Web

, Aug 12, 2019

Every black man and woman should read this book. My only regret is that I've not had access to this book in my teenage years. It is better to be late then never.
Find the you that may be drowning or comatose by the prevailing European narrative..!!

Derived From Web

, Jul 27, 2019

Does anyone know who is Andre Akil? I can not find a bio or any information indicating that he exists... great and inspiring work though.
Hmm

Derived From Web

, Oct 11, 2018

I bought this book for my college-aged daughter.