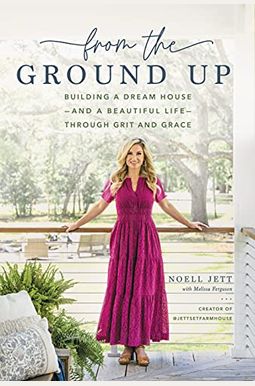 
 
From the Ground Up: Building a Dream House---And a Beautiful Life---Through Grit and Grace
Frequently Asked Questions About From the Ground Up: Building a Dream House---And a Beautiful Life---Through Grit and Grace
Book Reviews
(17)
Did you read From the Ground Up: Building a Dream House---And a Beautiful Life---Through Grit and Grace? Please provide your feedback and rating to help other readers.
Memoir on how to become an Instagram Star

Derived From Web

, Mar 20, 2022

This book is a memoir by an Instagram designer. I read this book after reading Designed to Last, which was another similar memoir. From the ground up, it was not as good as a book. The writing was not great and the story did not really stick for me. If you are already a Jett follower on social media, it might be interesting, though. It would have helped with photos of Jett's house and designs, I received a complimentary copy from the publisher via NetGalley in exchange for an honest review.
amazing story!!

Derived From Web

, Mar 18, 2022

What an amazing woman and story. I follow the author on social media and she has reached out to so many lives. Absolutely Amazing!! ''
An amazing testimony full of encouragement

Derived From Web

, Mar 16, 2022

This book is absolutely amazing, knowing the hard work that Noell puts into everything. So grateful for her willingness to share her story with us. It is a blessing for sure. I have a hard time enjoying reading, but her book makes it SO easy.
Absolutely amazing

Derived From Web

, Mar 16, 2022

Very well spoken and spoke to me on a deep level! She mentions a two-book deal in the book and I can 't wait for the next to come out! What a beautiful world! ''
The most amazing Author:)

Derived From Web

, Mar 16, 2022

I say 100 % get this! She is the most kindestsweetest soul, I would definitely recommend this book. She is the most fun people's journey to follow and such a great story.
Amazing!

Derived From Web

, Mar 16, 2022

I can 't wait to read this book! A mother who is a woman who has worked hard and made this book! She did this all while doing other things. This shows that you can do anything if you really put your mind to it.
Love this family !

Derived From Web

, Mar 16, 2022

Next on my list to read ''. From what I heard and read in reviews so far, this will be a good one.
love love love

Derived From Web

, Mar 16, 2022

My mom bought this book because we are currently building our new house. i've taken it a few times because i absolutely love her Ticks and is so well written.
Amazing

Derived From Web

, Mar 16, 2022

I havent got to read it, its on my list of books to read and can 't wait until I read it, shes such an amazing person.
Love your story!

Derived From Web

, Mar 16, 2022

I have always loved the farmhouse vibe in a house, but yours and Daniels designs and layout definitely take the cake! And I loved the book very much, very great novel!