Buy 3 Get 1 Free
Our Best Sale Yet! Add 4 Books Priced Under $5 To Your Cart Learn more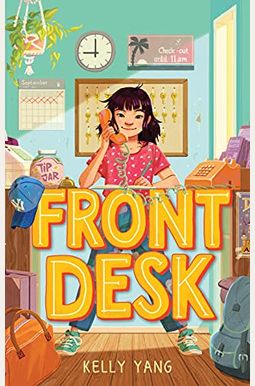  
Product is currently Out of Stock.
You can add it to your wishlist and you will be notified once we receive a copy.
Book Overview
This Description may be from another edition of this product.
Four starred reviews and over ten best-of-year lists * Many readers will recognize themselves or their neighbors in these pages. -- Kirkus Reviews, starred review
Winner of the Asian / Pacific American Award for Children's Literature
* Many readers will recognize themselves or their neighbors in these pages. -- Kirkus Reviews, starred review
Mia Tang has a lot of secrets.Number 1: She lives in a motel, not a big house. Every day, while her immigrant parents clean the rooms, ten-year-old Mia manages the front desk of the Calivista Motel and tends to its guests.Number 2: Her parents hide immigrants. And if the mean motel owner, Mr. Yao, finds out they've been letting them stay in the empty rooms for free, the Tangs will be doomed.Number 3: She wants to be a writer. But how can she when her mom thinks she should stick to math because English is not her first language?It will take all of Mia's courage, kindness, and hard work to get through this year. Will she be able to hold on to her job, help the immigrants and guests, escape Mr. Yao, and go for her dreams?Featuring exclusive bonus content
Frequently Asked Questions About Front Desk

Book Reviews
(10)
Did you read Front Desk? Please provide your feedback and rating to help other readers.
Race threory for grade school

Derived From Web

, Sep 6, 2021

My son was assigned in the 5th grade class and based on his unsettling comments about what he was reading, I bought my own copy and read it. I can 't warn parents enough. The core lessonsmessages of this book are indeed that American is deeply racist, that skin color is the most important thing about any person you meet, and disadvantaged people can never get ahead in this deeply racist country. If your school insists on assigning this book, I encourage you to engage in dialogue with your child and teachers - school to counter what is taught here.
So Well-Written!

Derived From Web

, Aug 10, 2021

This book would be appropriate for the grades 3 and up. It is interesting and written and has you wanting to know what will happen. I will definitely recommend this book to anyone who is looking for a good book for their children, teens or young adults.
In love with this book

Derived From Web

, Apr 16, 2021

It is a very good clean book, which I think every child should read. It is so inspiring. I am in awe of this author, who accomplished so much as an 8-12 year old. This is based on a true story and is a complete page turner. I plan to give it as a gift to all children I know!
Buyer beware Inappropriate

Derived From Web

, Mar 14, 2021

I bought this book for my 9 year old book club, which they read in school. I decided to curse the book and was shocked to find in the book many times had bad language and preview words. There also seemed to be a lot of bad attitudes and inappropriate things in the book for a 9 year old to be reading. The minds of young children are impressionable and this book has definitely an agenda.
Must Read This Book

Derived From Web

, Dec 17, 2020

This book is a must read if you are a teacher. It is so amazing. I use it for lit circles with my students. My students are LOVING it! My students are LOVING it!
Nice writing style, cartoonish substance

Derived From Web

, Mar 16, 2020

The story starts with promise, displaying a cartoonish writing style, but the plot is so nice, vivid that I wouldn 't recommend for children. Even if the story is loosely based on the author's life experiences, every incident is exaggerated for maximum political effect. 90% of my extended family is first or second generation Chinese immigrant, so I wanted to like the book but could not. By contrast, I loved and highly recommend all three books by Jennifer Torres, which explore the hispanic immigration experience from a child's point of view.
Amazing Storyline

Derived From Web

, Nov 1, 2019

I loved the storyline and the thrilling things that happened in the book, disliked the mother being beat up because I cried and overjoyed when they bought the motel.
Great book for young minds to learn about prejudice, immigration, and keeping your identity.

Derived From Web

, Jul 6, 2019

Brand spanking new hardcover, spanking new hardcover. The quality of the product was great. This is the Amazon product line. The story itself has become priceless, and the story itself has become priceless. I bought it to participate in the project Great Global Read Aloud with my class. This story really spoke to me, being the fourth generation American, Chinese AND teaching to students of various ethnic backgrounds and citizenship. My 6 year old son asked me to read it aloud to him because I was vetting the book and really enjoyed it. Keep in mind that there are some mentions of idiot and hell, both in context, but I probably won 't read it exactly like that in the classroom to avoid any issues. It is a very eye opening story and lends itself to a lot of conversation about where you come from, who you want to be and how to be the true you without giving into stereotypes and prejudices. These days, more people could use a more humbling story like this to truly make LIFE GREAT AGAIN, no matter where you live.
Tackles tough topics in a straightforward and honest way that's age appropriate

Derived From Web

, Sep 22, 2018

I loved this book ''. A friend recommended it and I had my 9 YO read it. It tackles the issues of poverty, immigration, racism, and classism in a way that is surprisingly simple, honest, and age-appropriate. The story is based on the author's own childhood, so that a lot of characters and events come from her own actual experiences. I am glad my daughter was able to enjoy it and that I was also able to read it. Would definitely recommend. Would definitely recommend. As a caveat to parents who care about it, there is a bad work in the book where a character calls another a name that starts with the letter b that is a term used to say someone is born out of wedlock. I feel it's OK for my daughter to read that word, but figured that some parents would feel differently.
A story you don't want to miss!

Derived From Web

, Jun 3, 2018

I had this book ordered in advance over 6 months and it was so worth it! Beautifully written story that will grip all its readers. I devoured it and immediately gave my copies to the students. Don 't miss this one!