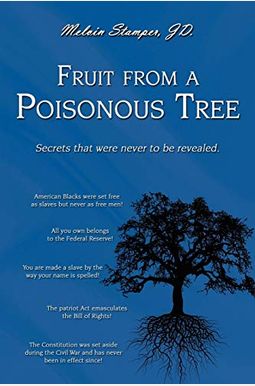 
 
Fruit from a Poisonous Tree
Book Overview
This book is a veritable powerhouse that shatters, in one instant, the wall of lies and deceit that took decades to build upon our impressionable minds. Stamper's ability to explain complex legal and political information in a comprehensive yet concise manner is without equal. Like a master sculptor he has chipped away the 'Words of Art and Deception' to reveal the inescapable and undeniable Truth. This book has single-handedly bared the cleverly crafted schemes of a Power-lusting Elite. Paul Nash, DC, ND, CN, ACU, Holistic Medicine, Minneapolis If only a portion of what this researcher has discovered is verifiable, we as a nation of free people must hang our heads in shame. The future generations will not forgive us or forget the terrible injustice we have let befall them. Fred Diaulas, Professor of Ethics, University of North Florida In 1954 I began my legal practice as an assistant district attorney in the city of Miami. We switched from common law pleading to statutory pleading and no one asked why. Now I know the answer, and it depresses me to no end. Ralph G. Mitchell, JD, Attorney at Law, St. Augustine, Florida.
Frequently Asked Questions About Fruit from a Poisonous Tree
Book Reviews
(7)
Did you read Fruit from a Poisonous Tree? Please provide your feedback and rating to help other readers.
A book that should be required reading by every American!

Derived From Web

, Feb 2, 2022

It's eye opening, marketing guru Paul LiCalsi said. It makes you angry that there are bad actors who don't respect our Constitution and want to destroy the U.S. because of their own greed and selfishness, Graham said.
Fruit from a Poisonous Tree

Derived From Web

, Jan 13, 2022

Really good book. Very good book, very well written. The book is also available in audiobook.
Never trust any government.

Derived From Web

, Sep 6, 2020

Clearly, a labour of love from a true Patriot. Some well-reasoned arguments and examples of how "we" have become servants to the "man" are included in the book. Particularly telling is the chapter highlighting the evil and grotesque abuse by elements of the American establishment, on its own people, giving context and basis for the production and importance of the book. Though I can't agree with the author's implied bias toward the notion that a secret cabal of conspiring world entities are behind the woes of our Republic, The Passage is a good read and thought provoking book. Young readers, not surprisingly, are drawn to the fiction, which is why Blair calls it "part of every teenager's list of books to read."
A must have , must read book.

Derived From Web

, Nov 9, 2019

Superb job, excellent customer service, and very good value for money. The fifth and final volume of the "Harry Potter" series, "The Deathly Hallows Part 2." It's your wake up call. This is an actual, factual article from a first-source. Mel does a great job of giving you the truth of what actually is and not what you have been led to believe, and not for your benefit, he said. Is it legal to call yourself a citizen? Voluntary tax returns are available at no cost today through the IRS. You think of it first hand from an ex-BAR attorney who worked for the Governmental service provider. Get at least two copies of the book, a law dictionary and a bible to help you fully comprehend it all.
The simple truth !!!

Derived From Web

, Aug 26, 2019

It's a good book, but I would recommend that all readers be advised to read it. Like the author, I embarked on an education in how all these paradoxes exist between our Constitution and the reality of how our government functions. The fact this was written by a "legal professional" had me being very skeptical about the fidelity of the message but based on reviews I bought the book. Smashing skulls, amputated hands and other grotesque wounds inflicted by a nation that has lost its way should be a wake-up call to any good American. The book is worth every penny and I'll be buying more to hand out to family and friends.
Too bad "people" generally don't even KNOW they need to read this.

Derived From Web

, Mar 8, 2017

Very detailed work. The book, "The Beatles' History," was first published in September 1964. Not an actual answer book, but you at least can have a big picture to deal with, while thinking and seeing what is going on, said Dr. Dan Abraham, director of Columbia University's School of Medicine. That really got me searching for all I could find regarding that guy. Web site: www. michaels. com. [email protected] com; 262-204-7724. Even if the Harrisons were to die, I think it is well written and historically necessary to know this information. Only then will someone have the courage to purchase what should be being taught openly to the entire American people who have agreed to be U.S. Citizens and how the 14th Amendment was the beginning of the end of America.
What you learn about America is something they are not ...

Derived From Web

, Jan 9, 2017

What you learn about America is not something they are telling you in your history classes. This new entity does not work on behalf of the American taxpayer but only gives the illusion of doing so.