Cyber Week Deals
Cyber Monday Deals are Here! Save 20% on All Books Under $10 - Code CYBERBOOK Learn more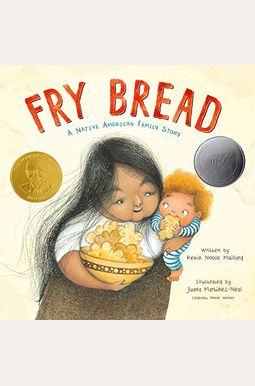 
 
Fry Bread: A Native American Family Story
Book Overview
Winner of the 2020 Robert F. Sibert Informational Book Medal
A 2020 American Indian Youth Literature Picture Book Honor Winner

A wonderful and sweet book . . . Lovely stuff. --The New York Times Book Review
Told in lively and powerful verse by debut author Kevin Noble Maillard,
Fry Bread
is an evocative depiction of a modern Native American family, vibrantly illustrated by Pura Belpre Award winner and Caldecott Honoree Juana Martinez-Neal.
Fry bread is food.
It is warm and delicious, piled high on a plate.
Fry bread is time.
It brings families together for meals and new memories.
Fry bread is nation.
It is shared by many, from coast to coast and beyond.
Fry bread is us.
It is a celebration of old and new, traditional and modern, similarity and difference.
A 2020 Charlotte Huck Recommended BookA Publishers Weekly Best Picture Book of 2019A Kirkus Reviews Best Picture Book of 2019A School Library Journal Best Picture Book of 2019A Booklist 2019 Editor's Choice
A Shelf Awareness Best Children's Book of 2019
A Goodreads Choice Award 2019 SemifinalistA Chicago Public Library Best of the Best Book of 2019A National Public Radio (NPR) Best Book of Read More chevron_right
Frequently bought together
Frequently Asked Questions About Fry Bread: A Native American Family Story
Books like Fry Bread: A Native American Family Story
Book Reviews
(12)
Did you read Fry Bread: A Native American Family Story? Please provide your feedback and rating to help other readers.
Loved this!

Derived From Web

, Jan 28, 2022

The art is warm, sweet and earthy. Ever since I heard about it, I always wanted to try fried bread, since I heard so much about it. My mom has a similar recipe called a funny name gobs. It is her specialty. I tried Fry Bread once at a farmer's market, but it was cold. I'm going to make my own and i know it will be awesome. I love food and culture stories, so this was great. Food is part of the heart and home of everyone. It's pretty fun to experience all the traditions of each. I am a Canadian Indian. I don 't think we have Fry Bread, but we should! I love the cover picture on this book, it's pretty cool. Great story to share with young ones!
Mediocre

Derived From Web

, Aug 10, 2021

I think the American Indian references are completely inappropriate for this book about an aspect of Christian culture. '' I would not recommend it.
Resells damaged goods at same price

Derived From Web

, Jan 28, 2021

I returned this item because it was water damaged and when I ordered it, I received the same damaged unit! Obviously still water damaged by the water.
LOVE THIS BOOK!

Derived From Web

, Dec 22, 2020

This I bought for my children and grandchildren for Christmas! Its a great story, well written, with wonderful illustrations and information about passing traditions. I am of Native American heritage and some of my best memories involve making Fry Bread with my mother and all the years they were growing up with my own children. I now make it for my grandchildren. This book, I feel in words when I write it for people I love. I would have bought the book from a small business instead to support them, but I bought as many as I could find and then came here. I would buy this book again and will many times over.
Great story, definitely needed on our family bookshelf.

Derived From Web

, Sep 25, 2020

Sweet story! Sweet story! '' My children loved it! My kids loved it! '' There is some historical content in the back that is older than the reading level level of the rest of the story. But it is a historical book, and I read excerpts from the wonderful section that were appropriate for my children's younger ages. I personally appreciated the historical section for myself, it gave the book a context. Just requires parent discernment on what your own children can handle.
Beautiful Book

Derived From Web

, Jan 28, 2020

This hardcover book is a heartfelt story that not only makes me hungry to make some fried bread, but also inspires me to get my family together. Native Americans endured so many struggles to survive with the food they were given. This book shows the greatest outcome of how they turned it into one of the best recipes of all time. When it is made with certain hands, frybread can be majestic.
Great book and great message for children.

Derived From Web

, Jan 28, 2020

Every elementary school in the United States should have this book in their libraries and classrooms! It is outstanding.
This is a "must-read" book for culture and history!

Derived From Web

, Jan 7, 2020

Not only in the story behind how Indian fry bread came into being, but also in information about various Indian tribes, including some I did not even know existed! The book is very easy to read and the pictures are very attractive! This could even be classified as a history book!
Food is home

Derived From Web

, Dec 31, 2019

This is a delightful look at a food that is loved by many indigenous people of North American and also hated at the same time. Hated because it was only created so that there would be food when the native Americans were moved from their homes forcibly. But also loved because it is a comfort food and food means home. The bit at the end about history and recipes for Fry Bread brings together the content of this picture book. Wonderful book to share with children of all sorts. Because food is home really.
Great books extremely well done.

Derived From Web

, Dec 28, 2019

Such a great book! I read it to my kindergarten class and was able to use it to explain more about my heritage and my family traditions, and with two new nephews I will buy one for each of my sisters'families. The only negative for me and it is a small but annoying is the boom cover. The books sleeve has the great design, but the actual cover does not. I take the sleeves off because kindergarteners will accidentally destroy them as they move and there isn 't an author or title on the cover.