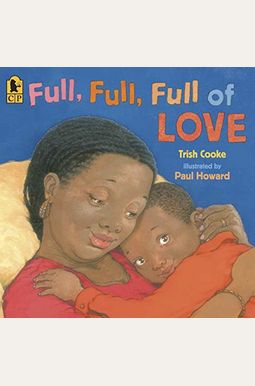 
 
Book Overview
Warm illustrations spice up this rhythmical ode to the joys of family and food -- full, full, full of pleasures.
For the youngest member of an exuberant extended family, Sunday dinner at Grannie's can be full indeed -- full of hugs and kisses, full of tasty dishes, full to the brim with happy faces, and full, full, full of love. With a special focus on the bond between little Jay Jay and his grannie, Trish Cooke introduces us to a gregarious family we are sure to want more, more, more of.
Frequently bought together
Frequently Asked Questions About Full, Full, Full Of Love
Book Reviews
(14)
Did you read Full, Full, Full Of Love? Please provide your feedback and rating to help other readers.
great children's book for all ages

Derived From Web

, Apr 20, 2022

I bought this book because all of the other children's books have Caucasian children in them, and I wanted my child to know that there are books for everyone. There is a nice story line to it and the pictures are enjoyable.
It's also been pretty easy for him to memorize the book

Derived From Web

, Apr 20, 2022

My son loves reading. He can relate to the family gatherings in the book. He looks at the pictures of the people in the book and thinks they are from his family. It's been easy for him to memorize the book. A great read.
Beautiful fun family story

Derived From Web

, Dec 15, 2021

I purchased this book for my grandson. Since he lives out of state, I mail books to him every month. I like the story line and the warm feelings that the family pictures show. I am sure he will love this book and read it many times. Most African American books are expensive, so I am happy it was affordable. Thankfully, Amazon has a great assortment that's reasonably priced. Your child's library should have an excellent book choice.
Makes You Feel All Warm & Cozy Inside!!

Derived From Web

, Oct 27, 2021

I love this book with my children. This is a book that makes you feel warm and cozy on the inside from the story to the beautiful illustrations. There are a lot of newer Black children's books that are missing the modern illustrations and writing styles. This book is a masterpiece. I had to buy a second copy of this book because my children loved it so much. Get it. You won't be sorry.
A surprising winner for a toddler

Derived From Web

, May 26, 2019

My daughter loved Peekaboo Morning and I bought this for her. I thought it was too wordy for her, but I was wrong. She likes it and it's become a regular in her book rotation. There's no shortage of children's books with all-white casts of characters. My toddler doesn't care what race the family is. A new generation of well-rounded kids.
Like the book and story

Derived From Web

, Dec 28, 2018

There is a cute book with bright colors. A couple of minutes to hold a two year old's attention.
Brought as a gift for a four year old. ...

Derived From Web

, Apr 10, 2018

A gift for a young child. He reads it 3-4 times a well. It is durable enough to handle a four year old.
Sweet story (that will make you hungry!)

Derived From Web

, Mar 10, 2018

The book is about a boy spending time with his grandma while she prepares a meal. If you're expecting a rhyming book, you're wrong. There's a lovely repetition to each section. I'm happy that we can add more diverse books to our collection, so our little one can experience other types of families and characters who don't look like her. The details about the food they eat during the meal add a nice specificity and will make your mouth water. We enjoy reading this book to my LO at night.
A very heartwarming book

Derived From Web

, Feb 17, 2018

The book is pleasant and a good read for families. The illustrations are great for children to look at.
A nice short story about a little boy hanging out with ...

Derived From Web

, Feb 10, 2018

There is a short story about a little boy and his family. My daughter is two and she likes this one. She asks a lot of questions about her family. It's a good way to talk about how people in a family are related to each other. We remind her that she has cousins just like Jay in the story because she doesn't see her cousins often.