BLACK FRIDAY DEALS CONTINUE - SAVE 20% AT CHECKOUT WITH CODE CYBERBOOK. Learn more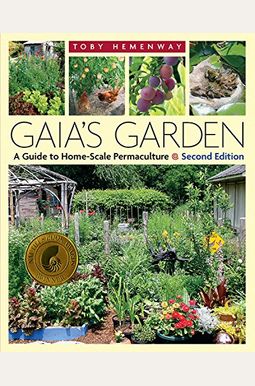 
 
Gaia's Garden: A Guide To Home-Scale Permaculture, 2nd Edition
Book Overview
The first edition of Gaia's Garden sparked the imagination of America's home gardeners, introducing permaculture's central message: Working with Nature, not against her, results in more beautiful, abundant, and forgiving gardens. This extensively revised and expanded second edition broadens the reach and depth of the permaculture approach for urban and suburban growers.
Many people mistakenly think that ecological gardening--which involves growing a wide range of edible and other useful plants--can take place only on a large, multiacre scale. As Hemenway demonstrates, it's fun and easy to create a backyard ecosystem by assembling communities of plants that can work cooperatively and perform a variety of functions, including:
Building and maintaining soil fertility and structure

Catching and conserving water in the landscape

Providing habitat for beneficial insects, birds, and animals

Growing an edible forest that yields seasonal fruits, nuts, and other foods
This revised and updated edition also features a new chapter on urban permaculture, designed especially for people in cities and suburbs who have very limited growing space. Whatever size yard or garden you have to work with, you can apply basic permaculture principles to make it more diverse, more natural, more productive, and more beautiful. Best of all, once it's established, an ecological garden will reduce or eliminate most of the backbreaking work that's needed to maintain the typical lawn and garden.
Frequently Asked Questions About Gaia's Garden: A Guide To Home-Scale Permaculture, 2nd Edition
Books like Gaia's Garden: A Guide To Home-Scale Permaculture, 2nd Edition
Book Reviews
(9)
Did you read Gaia's Garden: A Guide To Home-Scale Permaculture, 2nd Edition? Please provide your feedback and rating to help other readers.
Info overload...and I love it

Derived From Web

, Apr 20, 2022

I have been wanting this book for ages and I waited until I had a house and an acre of land to work with to buy it. This was a big mistake. Here is so much information that is so well presented...I should have started reading and absorbing this information years ago. This is an ok problem to have, I think! I have big plans for our property and everything in this book resonates so perfectly with me and our vision. If you want simple, neat rows of vegetables and flowers, there are also books for you. If you want a thriving, healthy, bio-diverse landscape, get this book and start reading.
Gaia had it right from the beginning!

Derived From Web

, Apr 20, 2022

Not yet finished this book yet, but it is as comprehensive a garden manual as anyone could desire. It covers every aspect of gardening, from enhancing the soil to its inherent richness, to growing perennials that will support all your annuals, and how all aspects of a garden work together to mutual benefit. How to provide adequate water, compost, fertilizer, and other necessities to provide the right microclimates for your chosen plants and how to get it all working together like a symphony orchestra to provide the most fruitful garden imaginable. Permaculture has been around for a long time and I am ashamed to say that this is my first real exposure to its principles and I am truly sorry that I have not paid attention before now. I would have had the most beautiful and productive garden on the earth! At least since the Garden of Eden, since the Eden Garden. Linda Kerth is a Linda Kerth - Linda Kerth - Kerth - Linda Kerth - Lineup.
Moving from conventional gardening to one that draws from the principles of a forest.

Derived From Web

, Apr 20, 2022

Gaia's garden is a revelation. Toby Hemenway demonstrates with spare, elegant prose, the beauty and logic of moving from conventional gardening and landscape design to a landscape that draws from the principles of a forest. Instead of straight rows of crops exposed to harsh elements, a food forest layers plants that grow at a variety of heights, ripen over various seasons and nourish the soil so that it never needs to be plowed and requires very minimal fertilizer. Permaculture focuses on perennial plants rather than annuals and thinks carefully about the ways a variety of plants can work together to improve growing conditions for each other. The principles of permaculture apply well to a variety of areas of life, so what begins as a new approach to gardening can grow to include urban planning and even society.
Full of interesting and useful information

Derived From Web

, Apr 20, 2022

One of the best references I have seen for permaculture gardening from a home-scale perspective. After taking notes from a library copy, I bought one just for reference. It is quite applicable to my NE North American climate, although suggested plants and techniques are drawn from a broader geographic area.
A real eye opener in allowing nature to play a major roll in gardening

Derived From Web

, Apr 20, 2022

Most gardeners will really enjoy this book and will have a major influence on traditional gardening. The only reason it was given a four stern was that it did not transfer well to the Kindle version. Most of the charts ended up being too small to read the appendix, and was difficult to get to because of some type of pop-up that kept on the way. Otherwise, this book would have given a five star in the printed addition.
lots of ideology and mythbreaking. slow to action steps, limited details when describing actions.

Derived From Web

, Sep 30, 2020

If you are interested in this topic, you are probably already aware that corporate incentives do not equal your incentives. Not to mention that corporate solutions always accrue negative externalities somewhere like depleted soils or nutrient runoffs leading to fish deadzones. You've heard all that, but get ready to hear lots of it. In my opinion, some of the tone in the book is similar to the tone in this review...I suppose it is okay to have in your library. Don 't be overly excited to receive the book. It is just okay.
Easy, informative reading

Derived From Web

, Dec 8, 2019

This book is so helpful at reading but is very simple to read at the same time. Living in Australia meant that some of the info was not Usable, but I could usually convert what was necessary. I love reading this book ''.
Great!

Derived From Web

, Jun 2, 2018

My 18 year old fashionista had found a new love of permaculture... This book is an absolute favorite of hers and she soaks it like a college class! She is doing her own permaculture garden in her own backyard. In the Heart of LA, LA! Yay! Yay! '' Amen! Thank you God, Amen!
Just the right size.

Derived From Web

, Nov 30, 2017

For years I have twirling around this book. I purchased all the interesting and classic texts on Permaculture and studied them. When we finally got a property for it, I did not know where to start. It is only a hectare in size. This book makes it easy to read and makes it doable for me. Due to the sheer exhaustion, I saved myself from giving up.