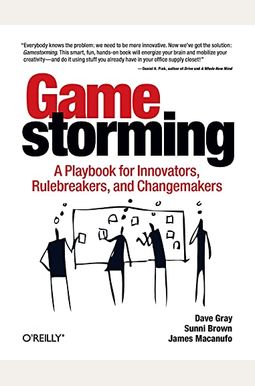 
 
Gamestorming: A Playbook For Innovators, Rulebreakers, And Changemakers
Book Overview
Great things don't happen in a vacuum. But creating an environment for creative thinking and innovation can be a daunting challenge. How can you make it happen at your company? The answer may surprise you: gamestorming.
This book includes more than 80 games to help you break down barriers, communicate better, and generate new ideas, insights, and strategies. The authors have identified tools and techniques from some of the world's most innovative professionals, whose teams collaborate and make great things happen. This book is the result: a unique collection of games that encourage engagement and creativity while bringing more structure and clarity to the workplace. Find out why -- and how -- with Gamestorming.
Overcome conflict and increase engagement with team-oriented games
Improve collaboration and communication in cross-disciplinary teams with visual-thinking techniques
Improve understanding by role-playing customer and user experiences
Generate better ideas and more of them, faster than ever before
Shorten meetings and make them more productive
Simulate and explore complex systems, interactions, and dynamics
Identify a problem's root cause, and find the paths that point toward a solution
Frequently bought together
Frequently Asked Questions About Gamestorming: A Playbook For Innovators, Rulebreakers, And Changemakers
Book Reviews
(11)
Did you read Gamestorming: A Playbook For Innovators, Rulebreakers, And Changemakers? Please provide your feedback and rating to help other readers.
Cross-Functional Meeting Magic

Derived From Web

, May 25, 2022

I was recommended to gamestorming and went beyond my expectations. I used this book to organize a two-day product team through a cross-functional design workshop. We played around 6 different games from the book and were all well received by the group. Some people even said that it was the best multi-day meeting they ever attended. They really enjoyed the games, cover the box and draw story. It is always hard to be productive in collaboration with sales, software development, support teams and other stakeholders. I found that the techniques of gamestorming gave everyone a voice and we were able to dig deeper into topics that would not have been possible with a typical meeting format. I recommend this book highly to anyone leading cross-functional teams.
This will change your meetings

Derived From Web

, May 25, 2022

Imagine a workplace where teams are excited about meetings and meetings produce results that are both useful and tangible. Imagine a day that begins with a creative exchange between a team that flows into meaningful work by that team. Gamestorming is a resource to help you turn these days into regular occasions. I have used playstorming techniques in groups from three to three hundred. Its techniques help you gather ideas out of quiet group members, get more meaningful feedback from over-involved group members and get out of the rut of same old conversations. I recommend a paper version of this. I tried the Kindle version for a while, but I found myself having to easily reverse the Kindle than the Kindle allowed. You can get a PDF copy of O 'Reilly's book, which is ideal.
Great overview of facilitating problem solving sessions

Derived From Web

, May 25, 2022

Great overview on philosophy and the basics of planning an activity or series of activities followed by several, very doable examples. I shared this with a few friends and teachers to adapt it for use in their classrooms. This book is not so much for team building ; it is more for shared decision making and generating innovative ideas for problems. Much of this book assumes that there is a problem with the team that gathers to solve, so that if you're looking specifically for something about building trust and camaraderie, this might not be quite right. I often refer to this book as a great resource to have handy!
I bought this book to help me run a couple projects this year...

Derived From Web

, May 25, 2022

... that involves working with teams from different divisions and disciplines within my company. I was exposed to these techniques by my boss when she was trying to buy into our group and was looking for some buy-in, collaboration and great ideas.
awesome!

Derived From Web

, May 25, 2022

So many great ideas for improving educational practice with groups of teachers! We have already used many successfully!
A valuable resource

Derived From Web

, May 25, 2022

We have used the exercises quite a lot and have been fun and interesting.
Great tool for consultants!

Derived From Web

, May 25, 2022

I find this book very useful in designing workshops for clients. It provides an explanation of when the technique is useful and step by step instructions.
Great book

Derived From Web

, May 25, 2022

Initially, I was not sure about what this book was about, but I read it anyway.
it's that good. So many tools to help solve challenges in ...

Derived From Web

, May 18, 2018

I have a copy of this on every device I own, it is that good.
Good for planning offsites

Derived From Web

, Jan 3, 2018

The book begins with a description of what constitutes a game. The rest desribes 50+ ideas for idea generation, visioning and planning. The index is great for finding an activity and quickly planning an agenda.