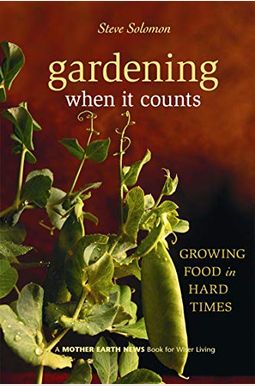 
 
Gardening When It Counts: Growing Food In Hard Times
Frequently Asked Questions About Gardening When It Counts: Growing Food In Hard Times
Books like Gardening When It Counts: Growing Food In Hard Times
Book Reviews
(10)
Did you read Gardening When It Counts: Growing Food In Hard Times? Please provide your feedback and rating to help other readers.
Utterly indispensible and realistic. If you could only own one gardening book, this would be the one!

Derived From Web

, May 13, 2022

The most realistic gardening book ever written! Solomon does not write about backyard edenistic gardening that requires seemingly no more effort than ordering from the seed porn catalogs - he discusses all the things that go wrong and then how to fix it. He has founded a few organic seed companies so that he knows his agronomy, but he explains it to the Neophyte very well. He also reveals some of the dirty secrets of the seed industry, not because it is sensationalistic. They're teaching points that will help you grow up food when you are not able to do so means you will starve. I have nearly a thousand dead tree books at home, but if the house ever fires, this is one of the five books I grab when I leave.
Detailed, Valuable Advice

Derived From Web

, May 13, 2022

When it counts, gardening is truly a book for our times. There is already a well-deserved buzz about this book among the home gardeners I know. For one thing, it firmly rejects the supposed advantages of mulching. In the burgeoning nationwide return to growing our own vegetables, it is important to produce the most food for the least amount of effort and expense, and this book offers the very advice we need. The author is a master gardener, from whom beginners and experienced gardeners alike can learn much. Muriel Chen has provided full details on everything from soil preparation to harvesting, and illustrator Steve Solomon has contributed helpful drawings for even further clarification.
Mostly good - with attitude

Derived From Web

, May 13, 2022

This book was highly recommended to me and I bought it in hopes to learn some techniques for growing food plants and vegetables for our home use. Since the author lives in a very distinct growing area, it would probably be a perfect book if I lived in a maritime New Zealand area. Many of his techniques would only work in his specific climate and for a full-time gardener, which I am not. I am not too happy with the preachy, arrogant, everyone else is an idiot and I know how to do it right, which extends the lenght of the book by quite a bit. Overlooking that, there are a few helpful tidbits, but there are other books that I think are more helpful.
One of my favorite gardening books.

Derived From Web

, May 13, 2022

I read this by the bed and often keep parts of it before going to bed.
Mother Earth News info

Derived From Web

, May 13, 2022

Over the years, the magazine Mother Earth News has offered many good information pieces for us.
great garden resource!

Derived From Web

, May 13, 2022

This is one of the best gardening books I ever read, although some of the other reviews noted that the author operated with a condescending my way is the only right way '' view, I did not take it that way. Mr. Solomon shared some valuable insights into low-input gardening and ways to improve your yields under less than perfect conditions. I consider this book one of my best resources ''.
Gardening Information for All Climates

Derived From Web

, Feb 25, 2021

How many times have I bought gardening books that are more suited to people who garden in the North or West Coast? This is the first and only book I have bought that discusses gardening in a number of places, including places that have hot summers and mild winters. It also discusses various soil types and gives useful information for improvement along with a variety of other information not usually found in many gardening books.
I love it

Derived From Web

, Feb 17, 2021

I don 't know what all the fuss is about, I think this book is great. I came across a ton of ideas I had never thought of before and will implement this year. Usually, I start a gardening book and lose half of the interest.
A bit complicated

Derived From Web

, Jul 15, 2020

Here I found out a lot of information, I was never able to get into it fully because of too much sidetrack of personal opinions, albeit from experience. I prefer '' a more detailed book How to ''. If you are gamey and love geeky type books, you will probably enjoy this.
Very practical.

Derived From Web

, Sep 25, 2019

One of the best gardening books I have read from a practical perspective. The only drawback for me is that I am suburban and don 't have 100 acres of land to store homemade tomatoes at a plant per 16 sq ft., a huge compost heap or a barn in which to grow free range tomatoes. I'll have to adjust for great space, but otherwise available information.