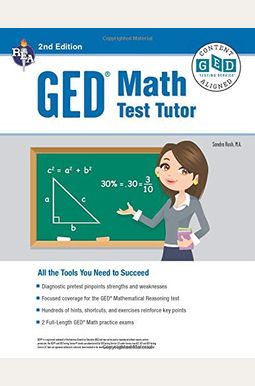 
 
Ged(r) Math Test Tutor, for the 2021 Ged(r) Test, 2nd Edition
Book Overview
REA's GED(R) Math Test Tutor - Focus on the most challenging part of the GED(R) test
Revised Second Edition - Certified by GED Testing Service(R) to be 100% aligned and up-to-date for today's GED(R) test
It's like having your own award-winning tutor.
Test-takers report that the Mathematical Reasoning test is the toughest of all the GED(R) subjects. That's why REA offers the most complete guide to success on the GED(R) Math test. (It's the best self-guided GED(R) math prep in the trade, according to ProCert Labs, a specialist in quality assurance of educational products.)
Written by Sandra Rush, a GED(R) Math tutor and test expert -
This completely updated second edition is certified by GED Testing Service(R) to be fully aligned with today's GED(R) test. Our targeted subject review covers all the mathematics topics tested on the exam, including fractions, decimals, percentages, algebra, polynomials, scientific notation, and more.
Know your way around the TI-30XS MultiView calculator -
A step-by-step tutorial gets you up and running in no time.
Helpful hints you need to know -
Hundreds of hints, shortcuts, and exercises reinforce key math points, including secrets of rounding, calculating with fractions, knowing the difference between domain and range, a neat way to remember negative and
Read More chevron_right
Frequently Asked Questions About Ged(r) Math Test Tutor, for the 2021 Ged(r) Test, 2nd Edition
Book Reviews
(5)
Did you read Ged(r) Math Test Tutor, for the 2021 Ged(r) Test, 2nd Edition? Please provide your feedback and rating to help other readers.
Way too much dialog.

Derived From Web

, Jul 22, 2021

I was very disappointed with this book ''. I thought I would try a stand alone math - prep this time since my 16-year-old is not yet ready for the other subjects. It way over complicates even simple things with WAY to much dialog and offers very little practice exercises. I'm just pinning it and starting with some other book.
Expect to use Google occasionally.

Derived From Web

, Aug 19, 2020

If you want to learn how to use the functions of your TI-30XS calculator, this is the book for you. It also has a very comprehensive list of things that will be tested on the test and how to approach the GED test specifically. It occasionally lacks step by step instructions or explains things in strange ways. I found myself turning to the Internet for better explanations or clearer examples time and again.
Not the help we were looking for.

Derived From Web

, Jan 17, 2020

I purchased these books because I expected the title said Math Test Tutor. I'm sure that this book would satisfy their needs for some people. But on our own to figure out the reason for the answers given for why a problem was solved in the way it did not meet our needs. We were looking for simcity, something that children could practice until they had the concept solid. But the majority of their time was spent hunting for answers instead, frustrated and disappointed. For people with incorrect math learning disabilities, this is the book for them.
Great buy

Derived From Web

, Dec 9, 2019

I received this book for my husband, who struggles with math. He has, however, understood everything so far. He has then better. He also said that he loved the fact that it gives you a practice test at the beginning so that you know what you need to work on. Also, when you take the practice test, it gives you the chapter that problem was in so that you can work on it.
Not a good instructional tool

Derived From Web

, Oct 14, 2018

If you are looking for an easy to understand book for self-teaching, this is NOT the book to use. Then I went on to earn an Associate's of Science degree 7 yrs later. I had hoped that this book would be a useful tool for doing so. This was not the case. The information in the book is confusing and vauge. I ended up often having to use the internet for clarification on the material I was reviewing in the book. This book may be helpful in conjunction with other learning materials from GED. If you are an older adult, however, looking to purchase what is now considered high school mathematics, I would recommend something else.