Buy 3 Get 1 Free
Our Best Sale Yet! Add 4 Books Priced Under $5 To Your Cart Learn more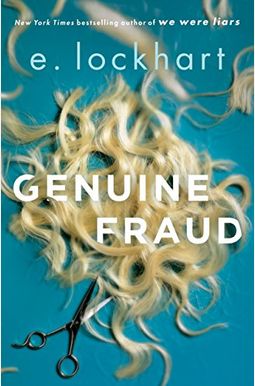  
Product is currently Out of Stock.
You can add it to your wishlist and you will be notified once we receive a copy.
Book Overview
A brilliant, twisty thriller--I loved it --KAREN M. MCMANUS, bestselling author of One of Us is Lying
From the author of
We Were Liars
, which John Green called utterly unforgettable, comes a mind-bending,
New York Times
bestselling thriller told in reverse.

Compulsively readable. --Entertainment Weekly
An addictive and shocking feminist thriller. --Lena Dunham
Imogen lives at the Playa Grande Resort in Cabo San Lucas, Mexico. She spends her days working out in the hotel gym and telling other guests how she was forced out of Stanford. But Imogen isn't really Imogen. She's Jule. And she's on the run from something. Or someone. Which means . . . where is the real Imogen? Rewind: Jule and Imogen are the closest of friends. Obsessed with each other, even. Imogen is an orphan, an heiress; she and Jule spend a summer together in a house on Martha's Vineyard, sharing secrets they'd never reveal to another soul. But that was months ago. Where is Immie now? And why is Jule using her name?
You will devour it.
--Gayle Forman, bestselling author of
If I Stay
Fans of E. Lockhart's We Were Liars will love this
. . . and definitely won't see the ending coming. --HelloGiggles.com Tangled secrets, diabolical lies and, ultimately, a mind-blowing outcome are
Read More chevron_right
Frequently Asked Questions About Genuine Fraud
Book Reviews
(12)
Did you read Genuine Fraud? Please provide your feedback and rating to help other readers.
Bloody brilliant. Literally!

Derived From Web

, Jun 25, 2021

This was such an exciting read with a protagonist you love to hate and a marvelously twisty plot that unravels back in time. But what I appreciated the most about this novel was the exploration of the psyche. The protagonist, Jule, seems to wrestle with entirely relatable emotional issues. But as the clock slowly winds itself backwards, we learn the true extent of Jule's emotional baggage. We also see what can happen when a common issue, wondering if your worthy of love, for example, turns outwardly and inwardly destructive. All this was done with sophistication and insight. I am new to this author, but will be looking for more books by her.
It was okay, difficulty connecting with characters

Derived From Web

, May 28, 2021

The inventive story telling is backward, but I did not connect with Jule as a character at all. Some spoilers > > > > > > I think the biggest twist is that there is not really much of a twist. None of the main characters are relatable or even likable and a lot of the plot hinges on coincidence. It's entertaining and inventive storytelling-hence the 3 stars-but I felt detached from the story and the characters that made reading this not all that enjoyable.
Don't buy it if you're thinking it's as good as WWL

Derived From Web

, Jan 22, 2021

It starts off okay, but once you get to the end and start to think about Jule and everything you're supposed to believe she can do, it just doesn 't make sense. She is super young, grew up with an abusive, neglectful aunt, but somehow she has all these accents and languages down? And she worked as a PT at a gym and took a karate class for maybe a year and can take a trained detective?
No redeeming value

Derived From Web

, Dec 28, 2020

Even American Psycho has redeeming properties. Unfortunately, this book was just a waste. I did not turn to this book expecting a lot of character growth, but there is absolutely nothing here that made me say This was worth my time ''. I'm glad I read this book , perhaps if we had seen a shard of humanity in the main character, but there is nothing. Finally, are you telling me that people could not have gotten a DNA sample on the way? Or that a false passport would not be flagged when boarding? The author gets a star for properly using grammar.
BAD BAD BAD!

Derived From Web

, Jun 28, 2019

I love Were Liars, but this book falls in comparison dreadfully short. No suchable characters, character is all over the place, and the ending is incredibly easy to see coming. Nothing is revealed at the end of the novel and the actions of the characters never truly make any sense. Author tries to chuck "twists '' in, but are seen a mile away and essentially exist for shock value, meaning that they make 0 sense. Then I would not recommend this book at all.
Miserable attempt at copying better stories

Derived From Web

, Mar 29, 2019

From beginning to end, it is etched and far-fetched. Please don't insult the intelligence of people with a story like this : This book is obviously for teenagers and I don 't mind YA stories, but this one has offended me. The author is really trying hard to copy better written stories and fails miserably. It is just lazy writing. I don 't want to give the ridiculous ending up, so I leave it at that. I did not pay for this book, I actually checked it out of the library and I am so glad that I did. If you must have read this, I suggest that you try it too.
Fast-paced, dark and interesting

Derived From Web

, Jan 14, 2018

Normally I don 't read YA, but enjoyed last year Were Liars by the same author. Genuine Fraud is not quite in the same league as Were Liars, but I still enjoyed this fast-paced, intense, dark story. I liked that the story was told in reverse - I have read other books that used this technique, but not as successfully as this. The author manages to build up a lot of suspense in this way. The main character Jule is an extreme unreliable narrator with a very strong, unique voice. I wish we knew more about Jule's background and history, as this would have helped me understand her behavior.
More Ripley heist than homage

Derived From Web

, Dec 16, 2017

Spoilers are ahead. Island hopping, meeting wealthy parent at a music recital, murder on a boat, murder of pesky friend with a statue, confused feelings of love and hatred for Imogen.
No. Just....no.

Derived From Web

, Nov 19, 2017

This book is horribly bad, horribly horribly. I was sucked in by the premise of the opening chapter, which is NEVER resolved - you are told early on that the main character is special, but she does nothing in the book to prove that or to act in support of it. The relationship between the main characters makes zero sense and is badly illustrated, the romance is terribly supported and this book is just a horrible mess of unjointed threads that never bind together.
3.5 stars

Derived From Web

, Oct 18, 2017

The genuine Fraud was an interesting story. The effect was that I read the story backwards like I felt. The story continued in this way until almost the end. Each chapter shared just enough to make me keep reading. I have to admit that I got a little bored in the middle of the book. I think it is because I was frustrated. I wanted to know what the deal was with Jule and Imogen! Once I flew to this part, the story once again came for me. I loved the ending, and thought it was very wise. In general, Genuine Fraud was a fun read. It was a darker read but light at the same time.