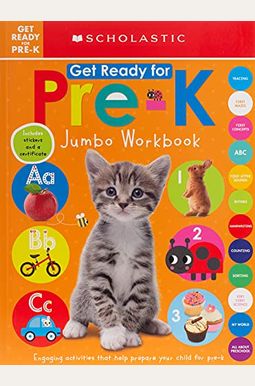 
 
Get Ready For Pre-K Jumbo Workbook: Scholastic Early Learners (Jumbo Workbook)
Book Overview
These comprehensive, full-color jumbo workbooks from Scholastic Early Learners provide all the practice your child needs to succeed in school. Includes stickers and a completion certificate
A strong educational foundation helps ensure a child is able to benefit from the learning opportunities available in today's preschool classroom. Help your child succeed in preschool with this all-inclusive jumbo workbook filled with activities and stickers from Scholastic Early Learners
240 pages of age-appropriate exercises aimed at reinforcing preschool learning
Includes 24 pages of stickers, a glossy cover, and a completion certificate
Aimed at children ages 3-5
Encourages practice in important preschool topics, including: tracing, first mazes, first concepts, the alphabet, first letter sounds, rhymes, handwriting, counting, sorting, very first science, my world, and all about preschool.
Includes helpful parent tips throughout
Bright, colorful pages blend photographs and illustrations to make this workbook one of the most eye-catching and engaging available
Teacher approved
Scholastic Early Learners is a dedicated learning program that builds school skills from infancy through second grade. Created by experts and focused on reinforcing curriculum topics and current academic guidelines with kid-friendly activities, this educational line is the best partner in your child's learning journey.
Scholastic Early Learners: The Most Trusted Name in Learning
Frequently Asked Questions About Get Ready For Pre-K Jumbo Workbook: Scholastic Early Learners (Jumbo Workbook)
Book Reviews
(11)
Did you read Get Ready For Pre-K Jumbo Workbook: Scholastic Early Learners (Jumbo Workbook)? Please provide your feedback and rating to help other readers.
This book has everything

Derived From Web

, Feb 7, 2022

My almost 4 year old has a great workbook. It is almost an inch thick and the pages tear out quickly so you can make your own packets. Shapes, objects in pictures, and letters are some of the different forms of tracing. It has easy mazes, drawing lines to show matches, basic coloring, and stickers that can be integrated onto pages. I would definitely recommend.
Great activities for 3-5 year olds

Derived From Web

, Feb 6, 2022

This book is used to copy class activities for my prekindergarten class. It has something I can use in my lessons, the kids love the activities. Even if it is for your own child, this is a must have. My youngest will be 3 years old this year.
Tons of stickers!

Derived From Web

, Nov 21, 2021

There will be tons of stickers in the back of the book. It doesn't work for my three year old, who doesn't have the patience to flip to the back to locate the correct stickers to be placed in the spaces on each page, but I think it might be great for an older kid. There isn't a million stickers in the same place which can be overwhelming for a preschool kids if the stickers are placed after the page.
Came with sticky stuff on it.

Derived From Web

, Aug 16, 2021

It looks like a decent book for Pre-K, but it was bent and dirty, and there was a mystery sticky stuff on it. I would have returned it, but we needed it immediately.
If you could only buy one workbook, this should be it.

Derived From Web

, Aug 9, 2021

During the summer, I bought 4 workbooks to do some school activities with my child. This one was the best out of all of them. It covers a wide range of subjects from counting to letters. There are stickers in the back of the book that correspond to all of the activity pages.
Teacher approved

Derived From Web

, Jul 9, 2021

I'm a teacher, and I like to use the workbooks from Scholastic. I've looked at a lot of resources from different companies, and I think that Scholastic is better. They are better than School Zone. The content, layout, and presentation are excellent. If you plan on tearing out pages to make copies, be prepared to use a lot of ink because it's its own vibrant artistic design. .
Beautiful, large format, colorful workbook

Derived From Web

, Jun 9, 2021

I like the summer workbook for Pre K age children. There are many puzzles, games, letter tracing, mazes, stickers, and more. I can't wait to show it to my nephew this coming week. We will have fun in school. It was a very well priced purchase.
Great for my 2.5yo

Derived From Web

, Feb 25, 2021

The book is perfect for 2.5yo. We've tried a lot of preschool books, but we found them a little more advanced for her in the math section. The book has everything we were looking for. When my daughter gets to put on the stickers, she loves the colorful pages.
Great book & appropriate level of difficulty

Derived From Web

, Jan 12, 2021

The book was great for my 3 year old. It's a perfect level of difficulty for him and he loves it. You can place the stickers in the back of the pages as well. Great pictures and designs but not overwhelming. A lot of exercises.
La mejor compra que he hecho

Derived From Web

, Oct 27, 2020

He comprado ms de diez libros, para hijos de tres aos. The portada is different, pero el contenido is muy bueno. Abarca muchas reas, including the nmeros, colores, and pequeo.