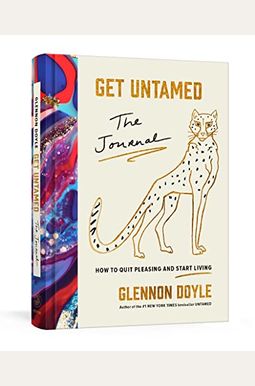 
 
Get Untamed: The Journal (How to Quit Pleasing and Start Living)
Frequently Asked Questions About Get Untamed: The Journal (How to Quit Pleasing and Start Living)
Book Reviews
(10)
Did you read Get Untamed: The Journal (How to Quit Pleasing and Start Living)? Please provide your feedback and rating to help other readers.
Amazing Path for Self-Discovery

Derived From Web

, Feb 27, 2022

Entering middle-age, launching all the kids, and destructing my faith all at the same time, has left me feeling a little uncertain of who I am and what I really want out of the next phase of life. This journal is a great way to explore the messages I was raised with and decide which of them are worthy of continuing to carry and which of those messages need to be left behind. The book would be a great tool for a variety of stages of life. I would have done it at 20 and 30 and 40.
Great Journal with thought provoking prompts!

Derived From Web

, Feb 20, 2022

I thought it was a book even though I saw it on the cover. It isn't. There is a book with this journal. The journal is helpful. If you want to skip the reading and internal work, buying a journal is good enough. I was blown away by the first few pages. I will buy the book next.
A little too "new age."

Derived From Web

, Feb 5, 2022

It seems a little too self-centered to reach out to others. It is rather confusing. Maybe I am too old to appreciate this journal style. It may work for younger readers.
Wonderful

Derived From Web

, Dec 24, 2021

I love it. It helps you realize what you didn't know. It will help you explore what you are not allowed to do. Let's go further in let's di that!
Love!

Derived From Web

, Nov 26, 2021

I have enjoyed the book Untamed. The journal is an extension of the book. The things I came up with while reading are given a place in this journal. If you liked the sound of the book, you'll like this journal. I like how the prompts help me reflect on my thoughts.
Life Changing

Derived From Web

, Nov 19, 2021

I have only worked through the first ten pages, but I can already tell this is going to change things. Glennon is asking the right questions to find answers. I am grateful for this book.
Glennon Does It Again!

Derived From Web

, Nov 19, 2021

This journal is beautiful and I can't wait to read it. This is a powerful tool for self reflection and improvement because of the thoughtful Prompts. Glennon doesn't tell you how to be untamed, but he does tell you how to be untaming.
A and G are the best story for me to hear at this time in my life.

Derived From Web

, Nov 19, 2021

It's amazing. I love every single thing. Just want spiral everything. Glennon, thank you for helping me through the nightmare years.
Perfection!

Derived From Web

, Nov 18, 2021

The journal invites the reader to think about how to get from limiting beliefs to being a true g*ddamn cheetah. I highly recommend this to anyone who wants to live a bigger, more honest life.
Get Untamed: YES to this adventure!

Derived From Web

, Nov 17, 2021

I wanted Get Untamed to arrive. I am in love with this journal. It's beautiful, thought-provoking and meditative. It's highly recommended for everyone on your holiday list.