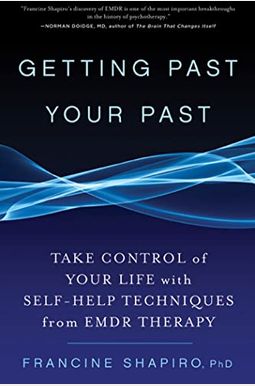  
Getting Past Your Past: Take Control Of Your Life With Self-Help Techniques From Emdr Therapy
Book Overview
An accessible user's guide to overcoming trauma from the creator of a scientifically proven form of psychotherapy that has successfully treated millions of people worldwide.
Whether we've experienced small setbacks or major traumas, we are all influenced by our memories and by experiences we may not remember or fully understand.
Getting Past Your Past
offers practical techniques that demystify the human condition and empower readers looking to take charge of their lives. Shapiro, the creator of EMDR (Eye Movement Desensitization and Reprocessing), explains how our personalities develop and why we become trapped into feeling, believing and acting in ways that don't serve us. Through detailed examples and exercises readers will learn to understand themselves, and why the people in their lives act the way they do. Most importantly, readers will also learn techniques to improve their relationships, break through emotional barriers, overcome limitations, and excel in ways taught to Olympic athletes, successful executives, and performers. An easy conversational style, humor, and fascinating real life stories make it simple to understand the brain science, why we get stuck in various ways and how to achieve real change.
Frequently bought together
Frequently Asked Questions About Getting Past Your Past: Take Control Of Your Life With Self-Help Techniques From Emdr Therapy
Books like Getting Past Your Past: Take Control Of Your Life With Self-Help Techniques From Emdr Therapy
Book Reviews
(12)
Did you read Getting Past Your Past: Take Control Of Your Life With Self-Help Techniques From Emdr Therapy? Please provide your feedback and rating to help other readers.
Excellent Book!

Derived From Web

, Apr 20, 2022

This is a great book and I am a big believer in it. I had a panic attack on the Golden Gate Bridge many years ago and was unable to drive the freeways or bridges for 7 years. I went to therapy but nothing helped. After 2 sessions, I found myself driving again with no problem. The Doctor was an angel in my life, and he left me a believer in EMDR. It works well for Post Traumatic Stress. The book is very well written and you should read it. It is!
If you are ready, this book will FIX you

Derived From Web

, Apr 20, 2022

Guess I was ready. There isn't much alternative therapy where I live. Since the first session, I have been better. I am 63 years old and have been a victim of emotional and physical abuse. That's the best way to say you have to be ready. I tried years of prescriptions and counseling, then I tried years of binaural beat therapy, then I tried guided imagery, and finally I tried the entire alphabet, until I ran into this one. I am still reading the book and trying the tips. This book has caused something in my brain to change. I am happy I bought it. It's coming long time.
EMDR

Derived From Web

, Apr 20, 2022

This book is good for people. It gives you a good idea of what EMDR is and how to prepare clients for it. Problems that happened in the past are always present in our lives. On a daily basis, they influence our decisions. I would recommend it to anyone.
One of the best Self Help book available

Derived From Web

, Apr 20, 2022

Gaining some understanding of how traumatic experiences affect our brain and behavior is what the book is about. Some self-calming techniques are included. Treatments for anxiety and posttraumatic stress disorder are described. I recommend it to my clients.
helpful book

Derived From Web

, Apr 20, 2022

The primer is about how to overcome trauma. Information on the effects of trauma on the brain. There are clear examples and descriptions of self help. If the trauma is long lasting, it is best to see a trained EMDR therapist. The book is a good way to understand therapy.
Wonderful

Derived From Web

, Nov 8, 2021

This book taught me so much. One of the best books on trauma I have ever read. Highly Recommended. I want to read this when I'm older.
Need a magnifying glass to read!

Derived From Web

, Dec 24, 2020

I received this and haven't started to read it. I'm pretty sure it's full of useful information. The small and hard to read fonts is what makes it hard to read. I was surprised that Rodale and Francine would let something like that on the market. Maybe I'm just getting old and can't see as well as I used to. I'm not sure if I'll get a larger print version, but I will look into it. Am I the only one? Who is anyone?
I heard it's a great book for grief

Derived From Web

, May 7, 2020

This book was recommended to me by my therapist. I only read a few pages. I'm not ready to get past grief because it is in my past.
DISAPPOINTED, RETURNING.

Derived From Web

, Mar 27, 2019

The book doesn't provide what it says it does. My understanding is that it doesn't give any of the eye movements which are what EMDR therapy is. Thousands of other books have presented techniques that are common in it. A big disappointment.
Great book - one of the most important books I've ever read.

Derived From Web

, Sep 15, 2017

This is one of the most important books I have ever read. I read a lot. This explains what we are. I've learned a lot about other people. Before Andy marriage, this should be required reading. That's right. I believe that EMDR could be self administered if the author and creator of the technique would have developed it as such. I'm sure she would get backlash from other clinicians, but she would have been able to help many more people.