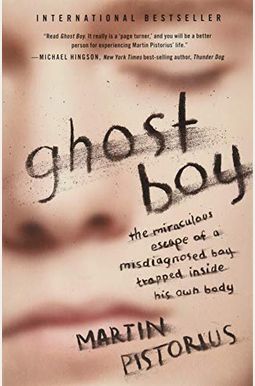 
 
Ghost Boy: The Miraculous Escape of a Misdiagnosed Boy Trapped Inside His Own Body
Frequently bought together
Frequently Asked Questions About Ghost Boy: The Miraculous Escape of a Misdiagnosed Boy Trapped Inside His Own Body
Books like Ghost Boy: The Miraculous Escape of a Misdiagnosed Boy Trapped Inside His Own Body
Book Reviews
(17)
Did you read Ghost Boy: The Miraculous Escape of a Misdiagnosed Boy Trapped Inside His Own Body? Please provide your feedback and rating to help other readers.
Life-changing Book

Derived From Web

, May 21, 2022

I am an avid reader, but after the first few chapters, I find myself putting quite a few books back on the shelf. Mr. Pastorius kept my attention on page one and grabbed it at the end through the acknowledgments. I still can 't stop thinking about him. I have been an RN for many years. This book made me question my attitude towards many patients who have been in my care. I am sure I'm kind and compassionate, but could I have missed something with some of my most debilitated patients? For at least one of them, there was a silent, twisted intellect hidden by a keen body.
Worth reading

Derived From Web

, May 21, 2022

I read an article on Facebook about Martin and went directly to Amazon to download the book. What a terrible thing it was to be trapped in your own body ; I had to know more. It is a great story, full of heartbreak and hope. The abuse is blood boiling and I wish the book had been addressed if there were any consequences for those disgusting people. It is frightening that such things can occur and can go on. Martin makes me aware of what is a lax and I am. I haven 't done half as much and I have none of the hurdles he had.
Solid Values in Ghost Boy

Derived From Web

, May 21, 2022

The book is extremely readable in the momentum of its narrative as well as the sequencing of its events. Martin Pistorius'story of his illness and subsequent recovery and triumph is intimate, positive, gripping and strangely amusing at times. But beyond that, he offers life lessons on so many topics, family solidarity, determination, faith, love, health care and even sexuality. One would have to search hard to find such a highly readable, informative and inspiring book, all within a cover.
This is a "must read" book

Derived From Web

, May 21, 2022

A very touching and inspiring book. It shows that a caring person can change the life of another person from a life of misery to a life of freedom. The frustration of this individual trapped in his body and unable to speak or move, yet hearing and knowing all that is going on around him must have been a torturous experience he endured for years. How lucky that someone caring enough to take interest and bring him out of the horror of mistreatment by some staff at the facility, where he had to spend years of torture and gradually help him find a way to communicate. How many people are there in this same situation? We definitely need more help where the old and the helpless are placed.
A must read of caring and compassion, how it can change a life.

Derived From Web

, May 21, 2022

A young man trapped in his body, an interesting and intriguing story of a young man. After developing a mysterious illness that is never really explained, he is no longer able to move and unable to communicate with his body, as he once did so easily. His life is so drastically changed and he is trapped inside, yet he is fully aware of what is going on around him, but others don 't realize that he is mentally there in his brain completely. He becomes a changed person with some very kind and compassionate people who come into his life and eventually he is functioning as a nearly whole person again. In this story, love and caring conquers.
Very insightful!

Derived From Web

, May 21, 2022

The book was interesting. Since it is written on such personal experience and not by a professional author, I did not expect the writing style to be more than average, and that is okay. It is a story that needs to be heard and does give a glimpse into the aspect of what we don 't know '' of a lot of illnesses. I would recommend this book to anyone who lives for disabled persons with or cares.
Where to begin...

Derived From Web

, May 21, 2022

While Martin's story of how his childhood illness has robbed him of so much is devastating, his is a story of hope and beauty and love. Martin is also a great writer. His prose flows simply and his voice feels authentic. This book also opened my eyes. I like to think of myself as a person who does not discriminate against the disabled, but this book will remind me to exercise even more patience and compassion than I have shown before for anyone with physical limitations. And not surprisingly, he has a wonderful wife who recognizes her. Bravo! Buy this book seriously.
There's no such thing as can't or won't.

Derived From Web

, May 21, 2022

As a mother, Special Needs RN and as an advocate for the disabled, I never believed that there is no such thing as can't or won 't. Martin Pistorius is the living truth of it. He has proven that with strength, determination, the love of a family and faith in God that what others think can not be done, can and will. I have worked with children and adults whose loved ones were told that their family member could not or wouldn t suffer an injury or a serious illness. I am proud of him, even though he is not my own son's story. I would recommend all families and care-givers to read in hope that they never give up believing that there is no such thing as can 't or won 't.
Escape from the darkness

Derived From Web

, May 21, 2022

The story of this young man who was silent for a long time and then was able to communicate with his family and eventually others, was riveting and a good read. Gives one insight into what goes on in his internalized, while he is unable to respond, then comes to an active part of his family, then the community via school and dedicated therapy sessions. So his family was so dedicated to pushing him forward and eventually finding happiness and a future. History of great success! I've always wished him and his family well! '' Blessings, everyone, for all who helped.
Deeply moving!

Derived From Web

, Feb 2, 2022

Martin invites the reader to see his world through his eyes and his thoughts with an honesty that is completely captivating. This book will break your heart right open and dump wisdom, hope and inspiration right into it.