Buy 3 Get 1 Free
Our Best Sale Yet! Add 4 Books Priced Under $5 To Your Cart Learn more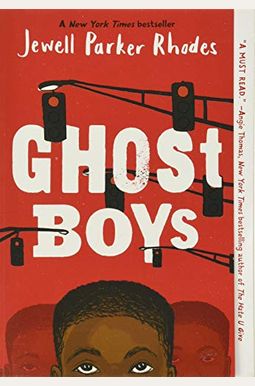 
 
Book Overview
A heartbreaking and powerful story about a black boy killed by a police officer, drawing connections through history, from award-winning author Jewell Parker Rhodes.
Only the living can make the world better. Live and make it better. Twelve-year-old Jerome is shot by a police officer who mistakes his toy gun for a real threat. As a ghost, he observes the devastation that's been unleashed on his family and community in the wake of what they see as an unjust and brutal killing. Soon Jerome meets another ghost: Emmett Till, a boy from a very different time but similar circumstances. Emmett helps Jerome process what has happened, on a journey towards recognizing how historical racism may have led to the events that ended his life. Jerome also meets Sarah, the daughter of the police officer, who grapples with her father's actions. Once again Jewell Parker Rhodes deftly weaves historical and socio-political layers into a gripping and poignant story about how children and families face the complexities of today's world, and how one boy grows to understand American blackness in the aftermath of his own death.
Frequently bought together
Frequently Asked Questions About Ghost Boys
Book Reviews
(12)
Did you read Ghost Boys? Please provide your feedback and rating to help other readers.
A treasure

Derived From Web

, Oct 29, 2020

This is a good read for tweens and adults like this. If you want to read an understanding of racism in America, take the time to develop this book.
Amazing Book

Derived From Web

, Oct 25, 2020

The book was incredibly good and I would read it again. It is a very interesting book, though in some parts very sad and depressing. It is a fantastic book for middle schoolers and they will be so hooked that they read it in two hours like me. An 11 year old - An 11 year old
Don't buy it! It is racist from both sides

Derived From Web

, Aug 25, 2020

After reading it, it is a terrible book for a child. Heshe will never fall asleep after reading it. It mentions the poor lunched mr. Hill. Emmett Louis Till, a 14-year-old African American, was lynched and killed in Mississippi in 1955. His mom exposed his face in the coffin to his disfigures. It is full of racist comments and stereotypes from both sides, but is also totally bias at the same time. The way to educate your child is really not the way to educate them. It is actually quite bizarre how biased it is.
Adds to media's extreme portral of racism in America

Derived From Web

, Jul 9, 2020

My great students say it is a minority book. As a Caucauan teacher married to a Caucasuan police officer, I don 't like inflaming current events even more.
Great Read for Middle School Students

Derived From Web

, Mar 1, 2020

Engaging read for my middle school students for my engagement. was able to teach with informational text across genres. Provoked great conversations on difficult issues.
Disturbing and NOT in a good way.

Derived From Web

, Dec 19, 2019

This story will leave the child reading it bitter and depressed. There is no happy ending here. It will make them think that when you die, you wander in misery, lost and confused. It is basically saying that all young black boys who have been cured by racism will not go to Heaven until racism is murdered. They'll wander around the living folks trying to make a difference. No idea why this book was given so many 5 star reviews. Were reading from a child's perspective, perhaps because we are not thinking from a child's perspective when we are reading. Very disturbing murder scene with bulging eyes and blood seeping from mouth, too btw.
This book is exceptional!

Derived From Web

, Jun 23, 2019

My kid has to read two books for her pre-AP English class every summer. She had to choose from the list of the 6th-8th graders of the Texas Library Association. This was one of the ones she chose. I read the book after she finishes it and I cannot recommend it highly enough! It's sobering and haunting and surprisingly introduced her to Emmett Till's story. After I finished reading it, I asked if she wanted to see the picture of Emmett in the casket, and she said Yes. She was blown away and we had a sobering discussion about the sheer number of ghost boys we had in the last decade. I very strongly recommend reading the books that your children are reading. If I had not, we would probably not have had the necessary conversation that we did.
A MUST read for every urban educator and student.

Derived From Web

, Oct 13, 2018

This book LOVED this book!!!!!! I cried through many parts '', I cried through many parts. As a middle school teacher in an urban low income school, I see Jerome alive in the faces of many my students. I know how real this story is in St. Louis, Missouri, I know how real this story is. Not only in my own life, how biases show up subconsciously, but also in my co-teachers. We feel the sense of urgency to educate our young boys about the problems they face in society that is stacked against them and how unfair it is. My worst nightmare is to lose one of my children to senseless violence. I want to read this book to my students and hope that they listen to the wisdom of the ghost boys. Life is not fair, and it is even worse when it's black on black violence. The book deserves a Correta Scott King Award as well as a Newberry Award. Every preteen should read this book. Also loved how the chapters were written super easy to read.
Great Read on Reality but not too heavy on your heart

Derived From Web

, Jul 1, 2018

My 12 year old son and I read this book together. He said it was great and helped him understand how he can sometimes be seen differently as an African American boy. He also realizes how he is blessed in comparison to the characters in the story. I liked the book and feel that Jewel did an excellent job by writing a serious theme, but allowed it to be read with understanding and compassion versus anger. A great read for all cultures, I think.
This was an intelligent and well-executed story for children and adults

Derived From Web

, May 18, 2018

This was an intelligent and well-executed story for children and adults... phenomenal in addressing its subject but also haunting long after the last page. I actually read this book twice because the layers sucked me in, I felt compelled to revisit the story after I finished. Jerome is an honest and struggling narrator and his tone seems to him of being slain at the hands of a judgmental cop immediately genuine. Instead of focusing on the police officer, this book focuses on his daughter... and her deep conflict in empathizing with Jerome, but also loving and remaining loyal to her father. This book is hopeful, but it is mostly a story for children about the unfairness of racism and racial violence and the chain reaction of suffering created by these deaths. Powerful : Excellent service. Then I teach it some other year.