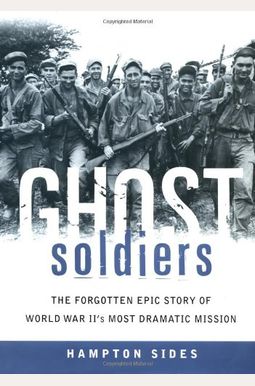  
Ghost Soldiers: The Forgotten Epic Story of World War II's Most Dramatic Mission
Book Overview
This Description may be from another edition of this product.
Much like The Boy In the Striped Pajamas or The Book Thief, this remarkable memoir from Leon Leyson, one of the youngest children to survive the Holocaust on Oskar Schindler's list, brings to readers a story of bravery and the fight for a chance to live (VOYA).
This, the only memoir published by a former Schindler's list child, perfectly captures the innocence of a small boy who goes through the unthinkable. Leon Leyson (born Leib Lezjon) was only ten years old when the Nazis invaded Poland and his family was forced to relocate to the Krakow ghetto. With incredible luck, perseverance, and grit, Leyson was able to survive the sadism of the Nazis, including that of the demonic Amon Goeth, commandant of Plaszow, the concentration camp outside Krakow.
Ultimately, it was the generosity and cunning of one man, Oskar Schindler, who saved Leon Leyson's life, and the lives of his mother, his father, and two of his four siblings, by adding their names to his list of workers in his factory--a list that became world renowned: Schindler's list.
Told with an abundance of dignity and a remarkable lack of rancor and venom, The Boy on the Wooden Box is a legacy of hope, a memoir unlike anything you've ever read.
Frequently bought together
Frequently Asked Questions About Ghost Soldiers: The Forgotten Epic Story of World War II's Most Dramatic Mission
Book Reviews
(18)
Did you read Ghost Soldiers: The Forgotten Epic Story of World War II's Most Dramatic Mission? Please provide your feedback and rating to help other readers.
Remarkable book, remarkable author

Derived From Web

, Apr 20, 2022

In "Ghost Soldiers," Mark Haddon tells the story of how the CIA helped kill Osama bin Laden. Hampton brings to life the courage and strength of the POWs from the United States, Britain, France and other countries in the face of shocking atrocities by the Japanese in the Philippines during World War II. He describes the daring rescue of more than 500 prisoners at Cabanatuan prison camp in such detail that you almost feel that you are part of it.
I recommend this book

Derived From Web

, Apr 20, 2022

I've seen road signs that say, "There is a death march." After reading the book, I usually prefer my military history in movies, but a friend recommended it to me. It's a great read, even if you're not a writer. The author goes into great detail, switching between characters and missions. I learned a lot about the Philippines in World War II. Anyone who liked this book might also enjoy reading We Band of Angels by Elizabeth Norman, a book about U.S. military nurses captured by the Japanese during World War II.
A Happy ending to 3 years of suffering

Derived From Web

, Apr 20, 2022

The 6thRanger passed through our lines late in the afternoon, traveling by night, hiding in the day to reach this prison. They were first hand 100 lb men, many unable to walk. The ability of the rescue group to encircle the prison and commence a barrage of explosives eliminated all resistance within seconds, not minutes, he said. The skill of evacuation was carried out most effectively, he said. The book reflected the events as I remember them.
Excellent book, I had tears humors times

Derived From Web

, Jun 19, 2021

My father, a Marine, told me his cousin was a POW in the Bataan Death March. He said: "Darling, you are an outgoing, witty individual to keep to yourself.
Absolutely Compelling

Derived From Web

, Apr 25, 2021

This book is an absolutely riveting, edge of your seat, can't wait to read what happens next. As someone whose cousin died in Camp O'Donnell after surviving the Bataan Death March, I was almost afraid to read this book. It literally gave me nightmares to read what these brave soldiers had to endure. I am forever in awe of their unbridled courage and unimaginable sacrifice, Raymond said. This book changed my perspective on life forever. Only those who do not remember history can repeat it.
Fascinating account

Derived From Web

, Apr 23, 2021

Films about this raid do not give these books justice, the lawyer for Frey said.
Some of the best writing I have ever read.

Derived From Web

, Apr 22, 2020

I bought this book as a Christmas present for my son. I am not a history buff and don't like violence or war, but I decided to pick it up one day. The writing is excellent, Morgenthau said. The writer painted the picture and showed the anguish and the bare reality of war, and the bravery of our soldiers. This is one of history's great stories of American survivors and those who lost loved ones, Reagan said.
A story of true American heroism, bravery and determination

Derived From Web

, Jan 13, 2020

Great book with lots of detail regarding the history and bravery of the men who survived and the men who rescued them, said Dr. Robert Hemenway, who wrote "The Greatest Story of Heroic Courage and Determination."
A heart wrenching but inspirational story of heroic survival

Derived From Web

, Dec 23, 2019

Based on the true story of how these men came to be, The Civil War Diaries tells the gripping story of the infamous Bataan March.
Most excellent!

Derived From Web

, Dec 11, 2019

I have read many WWII books, and by far, this is the best of them all. I found myself emotionally connected to each of the men, and even had to close the book for the evening after becoming melancholy when Dr. Fisher was wounded, Morgenthau said. Furthermore, riding with our first Ranger group made me very proud to be American. I wish I could have met all of the heroes and rangers in person. 0 31712010 31712010 How I wish I could have met all of the heros and rangers in person. If I could give more than five stars, I would. Great read, said Pauley.