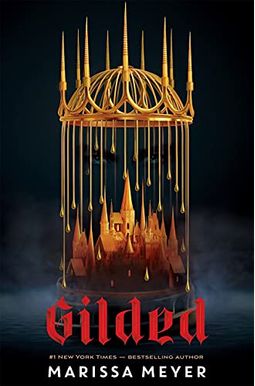  
Book Overview
This Description may be from another edition of this product.
In Gilded, Marissa Meyer, #1 New York Times bestselling author, returns to the fairytale world with this haunting retelling of Rumpelstiltskin.
Long ago cursed by the god of lies, a poor miller's daughter has developed a talent for spinning stories that are fantastical and spellbinding and entirely untrue. Or so everyone believes. When one of Serilda's outlandish tales draws the attention of the sinister Erlking and his undead hunters, she finds herself swept away into a grim world where ghouls and phantoms prowl the earth and hollow-eyed ravens track her every move. The king orders Serilda to complete the impossible task of spinning straw into gold, or be killed for telling falsehoods. In her desperation, Serilda unwittingly summons a mysterious boy to her aid. He agrees to help her. for a price. Love isn't meant to be part of the bargain. Soon Serilda realizes that there is more than one secret hidden in the castle walls, including an ancient curse that must be broken if she hopes to end the tyranny of the king and his wild hunt forever.
A Macmillan Audio production from Feiwel & Friends
Frequently Asked Questions About Gilded
Book Reviews
(8)
Did you read Gilded? Please provide your feedback and rating to help other readers.
Classical & Compelling

Derived From Web

, Feb 28, 2022

Rumpelstiltskin retellings I love! The prose is mystical and atmospheric, completely sweeping me away to a faraway land where anything is possible and magic is real. Serilda is a cool and witty character who refuses to allow others to determine her fate. The complicated relationship between Gild and Serilda was impossible to look away from. This story contains all the classical elements of a Rumpelstilskin retelling while adding fresh details to the beloved story. Beyond the castle, Marissa Meyer crafts a fully-delved and mystical world that is simply captivating to spend time in. The ending twist left me in a shrieking out loud. I can 't wait to see where Marissa Meyer takes the story next. I would recommend this for fans of Marissa Meyer's fantasy, Rumpelstilskin retellings and fierce heroines.
Too slow

Derived From Web

, Feb 2, 2022

I keep this short, though the book WASN 'T decidedly. Obviously, it was way too long. It stretches in places that should be interesting and all but still stands the rest of the time. At least 200 sheets could have been cut and probably should have been. This was not a full story, not even a complete arc. As soon as it begins to feel like you are approaching a second act, the book cuts off inexplicably. WHY?!?!?!? The idea is cool and the beats of the story are only there if a special artist cuts the filler. We simply do not need to see Serilda complete one thousand iterations of the same tedious task. The story of the prince and how the fairy tale is turned in its head very clever and I can tell that Meyer is a talented writer. But I could not get onboard with how slow moving this was. A little disappointment if I'm being honest.
Fantastic retelling!

Derived From Web

, Jan 20, 2022

Serilda has been touched by God, but people believe that she brings misadventure wherever she goes. She is a master at storytelling and she can 't help herself to the point where people don 't believe her even if she is telling the truth, but children at least love her entertaining stories. Her storytelling got her into trouble as she told Erlking that she can spin gold from hay to save herself. The background story is thorough and you're left wondering about the mystery of the castle and why there are ghosts and phantoms lurking in the halls. There is a deeper and darker story about the boy, Gild, who helped her spin gold. I really enjoyed the book and look forward to the sequel ''.
Not her best work

Derived From Web

, Nov 30, 2021

While I love Meyer's other books, this one left a lot to be desired. I enjoyed the short excerpt I received that summer, but then I got the whole book, and let me tell you that it is slow. Likely slow. And nothing is slow moving. And there is NO ENDING because this is the first in a series that I did not realize when I began to read it. Too late for me, too little. I don 't plan to read the next book. I can appreciate the storyline, but several parts of this could have been edited and her story wouldn t have suffered.
A fun reimagining of a classic fairytale

Derived From Web

, Nov 14, 2021

I enjoyed Rumplestiltskin's series of Cinder so I was excited to read this latest book, which is a reimagining of the fairytale Marissa Meyer. I think Rumplestiltskin is a fascinating story and one that is not as often told, so it was interesting to read this novel and see how Meyer took the original story and twisted it into something new. This book flew to a great start and I got through the first half in no time at all. It is a mysterious world of ghosts and monsters and fascinating powers. I felt like the book slowed in the second half. I was '' not quite as engaged as the story went on, and perhaps it was a little too long? I wish this first book would have been a little shorter and more concise to keep my attention from start to finish. Still, I'm eager to see what happens in the second book and, overall, I enjoyed this story quite a bit!
Boring and tedious

Derived From Web

, Nov 11, 2021

I am so over these YA books where people fall in love after speaking with one another and spending like five minutes touching. The names of everything were togther and I couldn 't keep track. Other books by Meyers have had lightness and wit and joy, but this is just an author-driven Mary Sue that tumbles all the time onto the right answer. No particularly likeable characters and I didn 't vare what happened to them. Why on Earth do publishing companies think readers want this depressing, dull stereotypical YA romance where the heroine is beautiful simultaneously and yet the moat is always plain and everything wants to help her on her quest. A dimensional Villian is. The author is far better than this slog.
It's good, but not as good as other works

Derived From Web

, Nov 7, 2021

It is a good book, but I feel it is not as good as other books that the author has written. At times, I felt that the pace was slow. I think these slow parts should have been rewritten or taken out. Also, the world building was good, but I felt that there was not much development with the exception of the main character. It has a good foundation, but I think it could have benefitted with more polishing. Lastly, the author does not warn the reader clearly that this book is NOT a standalone. It is clearly the first of a duology or a series. The author could have even given a warning in the introduction of the book, and not. I prefer to explain this authors. It is a good book, but could have been better.
Marissa Meyer does it again!

Derived From Web

, Nov 6, 2021

I love this and I already know that it is going to be another awesome 5-star read that will be another favorite of mine. One of my favorite authors is Marissa Meyer. Serilda is a great character and this sample ended on a cliffhanger and I can not wait to find out the rest. This is a great retelling and it feels like a mix of story retellings by Rumplestiltskin, the bear and the nightingale, wintersong and Erlking vibes. This is the perfect read for the autumn and winter with the cold, crisp autumn air around the corner. Thanks so much to NetGalley's Publishing GroupFeiwel's Friends and MacMillan for letting me read and review this fantastic extended sampler.
List of All Editions of Gilded