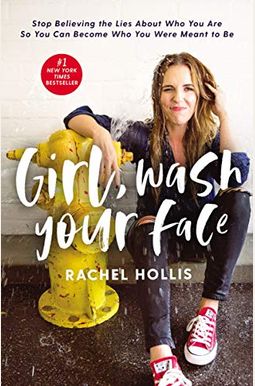  
Girl, Wash Your Face: Stop Believing The Lies About Who You Are So You Can Become Who You Were Meant To Be
Book Overview
With wry wit and hard-earned wisdom, popular online personality and founder of TheChicSite.com founder Rachel Hollis helps readers break free from the lies keeping them from the joy-filled and exuberant life they are meant to have.
Founder of the lifestyle website TheChicSite.com and CEO of her own media company, Chic Media, Rachel Hollis has created an online fan base of hundreds of thousands of fans by sharing tips for living a better life while fearlessly revealing the messiness of her own. Now comes her highly anticipated first book featuring her signature combination of honesty, humor, and direct, no-nonsense advice.
Each chapter of Girl, Wash Your Face begins with a specific lie Hollis once believed that left her feeling overwhelmed, unworthy, or ready to give up. As a working mother, a former foster parent, and a woman who has dealt with insecurities about her body and relationships, she speaks with the insight and kindness of a BF, helping women unpack the limiting mind-sets that destroy their self-confidence and keep them from moving forward.
From her temporary obsession with marrying Matt Damon to a daydream involving hypnotic iguanas to her son's request that she buy a necklace to be like the other moms, Hollis holds nothing back. With unflinching faith and tenacity, Hollis spurs other women to live with passion and hustle and to awaken their slumbering goals.
Frequently bought together
Frequently Asked Questions About Girl, Wash Your Face: Stop Believing The Lies About Who You Are So You Can Become Who You Were Meant To Be
Books like Girl, Wash Your Face: Stop Believing The Lies About Who You Are So You Can Become Who You Were Meant To Be
Book Reviews
(5)
Did you read Girl, Wash Your Face: Stop Believing The Lies About Who You Are So You Can Become Who You Were Meant To Be? Please provide your feedback and rating to help other readers.
EVERY WOMAN needs to read this!

Derived From Web

, Dec 15, 2018

You really feel the impact of this book when you listen to the audiobook version, so I recommend it. I think every woman needs to read this book if they are not in a place to listen. Over and over and over! I have listened to it about 5 times. To improve my life, to reset my brain, to appreciate what I have, and to get the tough talk I need, I need these words repeated and engraved into my brain. Even though Rachel's message is hard to swallow, you love her and she is your best friend. She's right. She tells it the way it is. I' ve seen her present to a group and she's genuine and funny and lovable and one tough cookie. You need her, you need her!
Use your Discernment

Derived From Web

, Sep 6, 2018

I really didn't like this book. Her theology is self- righteous and she ignores the problem of sin. The attention this book has received is sad because I don't think the truth of the gospel is stood for in these chapters.
Rambling and cliche

Derived From Web

, Aug 25, 2018

Couldn't finish the book. Rambling humblebrag with lots of advice. She was annoyed by her casual use of scripture. Tone was familiar because of her lack of vulnerability despite her claims to the contrary. I wish I could get my money back, but I didn't.
Entitled and Preachy

Derived From Web

, Aug 21, 2018

I was sucked in by the hype of the book. I am so shocked, NO. Rachel is a type of person that I don't like. The book was all about me. They didn't offer insight to real problems. The book made me angry, which I think is the opposite of what it was supposed to do.
I wanted to love it...

Derived From Web

, Aug 16, 2018

Like many other reviewers, I wanted to like it. Many of my friends have nothing but praise for the book and so I bought it. I was disappointed from the start. I wasn't able to finish the book because I was annoyed. As another reviewer pointed out, I felt like it was too much of a brag and humility.