Buy 3 Get 1 Free
Our Best Sale Yet! Add 4 Books Priced Under $5 To Your Cart Learn more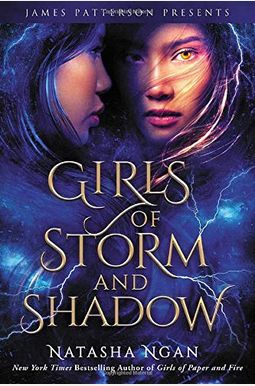  
Girls Of Storm And Shadow
Book Overview
This Description may be from another edition of this product.
In this mesmerizing sequel to the New York Times bestseller Girls of Paper and Fire, Lei and Wren have escaped the oppression of the Hidden Palace, but their freedom comes at a terrible cost.

Lei, the naive country girl who became a royal courtesan, is now known as the Moonchosen, the commoner who managed to do what no one else could. But slaying the cruel monarch wasn't the culmination of her destiny -- it was just the beginning. Now Lei, with a massive bounty on her head, must travel the kingdom with her warrior love Wren to gain support from the far-flung rebel clans.

Meanwhile, a plot to eliminate the rebel uprising is taking shape, fueled by dark magic and vengeance. Will Lei succeed in her quest to overthrow the monarchy, or will she succumb to the sinister magic that seeks to destroy her bond with Wren, and their very lives?


The explosive Girls of Paper and Fire was named:
A 10-week New York Times bestseller
#1 on the Indie Kids Next List
B&N's Most Anticipated LGBTQAP Books of 2018
Buzzfeed's Books You Need to Pick Up This Fall
Goodread's Ultimate Fall YA Reading List
Shondaland's Fantasy Novels You Need to Read
Bookriot's Must Read Asian Releases
Bookish's Most Anticipated YA SF List
Frequently bought together
Frequently Asked Questions About Girls Of Storm And Shadow

Books like Girls Of Storm And Shadow
Book Reviews
(10)
Did you read Girls Of Storm And Shadow? Please provide your feedback and rating to help other readers.
Good

Derived From Web

, May 23, 2021

The second unfortunately did not live up to expectations. I couldn t find interest in any of the new characters and got annoyed by some of the choices our heroines made. I'll still read the third when it is released.
Hi

Derived From Web

, Oct 1, 2020

In general, I like the book and characters, but I feel like it would be if it were de opposite, where Wrenn or Lili fell in love with the king or a nice soldier instead of just another lovers, but I put it aside, I liked the rest of the book that's all.
Mixed feelings.

Derived From Web

, Mar 25, 2020

I loved the first, with the second I had very high expectations and were definitely met! The death of one of my favorite characters broke my heart, but I await the third eagerly! *BEWARE THE ENDING ITS A CLIFFHANGER ENDING ITS A BOOKMARCH ENDING - read the series until the third is out.
Full of heartache and cliffhanger

Derived From Web

, Feb 16, 2020

This book broke my heart again. In this case, Wren and Lei's relationship is put to the test completely. A lot of non-stop action, character deaths and tension. I really enjoyed this one, but it stopped at a major cliffhanger beware. Glad that Lei didn 't automatically become a slapping machine. The author appreciated that the author made her train for it. She is still not perfect and I am completely fine with it.
Lots of big chaotic things happening here.

Derived From Web

, Feb 8, 2020

It doesn't have quite the same magic that girls of Paper and Fire did, but it kept me hooked right up to the end until the honest-to-goodness cliffhanger end. I adore *shudder* things I loved * Character development and high drama. * * The use of different narrators to give us different pieces of the story. The complex relationships that are not always what they seem. While this book did not quite grab hold and refuse to let go the way the first did, it is an excellent piece of high fantasy and I can 't wait to see how everything plays in the final book.
Hard book to read through because I didn't want it to end

Derived From Web

, Dec 30, 2019

The plot twists and character developments are the reasons why I awarded this 5 stars. Moreover, I felt so sad whenever a character died because the author's writing made me fall in love with them from the beginning.
Sigh

Derived From Web

, Nov 30, 2019

I wanted to give this one five stars, but there were some missed opportunities here. This felt more like letting go as much space as possible as opposed to moving much of the plot along.
This book was awesome

Derived From Web

, Nov 28, 2019

I don 't know how many fantasy books I have read, where the heros pretend they are outnumbered and on the run. All the while sailing through fight after fight kicking the crap out of bad guys. The main character who has never picked up a weapon before becomes an unstoppable bad ass, cutting enemies left and right. This book was not like that. This book felt real ''. I felt all the panic, all the desperation, all the rage that Lei felt as she and her friends fled the king's men. The losses suffered by the group were hard. The real ups and downs of Lei and Wren's relationship also felt emotional, not just to add relationship drama to an already established couple. In short, this book was the real deal. I never had to suffer like Lei has, but this book gave me some insight into what it would be like.
Left me anxious and excited for the final book!!

Derived From Web

, Nov 26, 2019

By accident, I discovered the first book shortly after it was published. I could not take it down and devoured it immediately in days. Although this sequel did not inspire me the exact same emotions as the first, I loved it immensely and again could not put it down. The growth of Lei was both heartbreaking and incredible, as it was truly beginning to understand Wren. Usually by now I have a pretty decent idea of how a series will end or play out, but with this I'm in the dark. Knowing that it is almost certain that it will be a year to find out what happens after that cliffhanger is most likely unbearable! I also kinda hate Lova. I may have been a little bit of a hate toward her. But the writing in the parts with her and everything she symbolizes was so well that it was impossible to feel what Lei was feeling.
Great sequel

Derived From Web

, Nov 16, 2019

Totalle enjoyed it, recomend it as much as the first. Can 't wait for the next one!