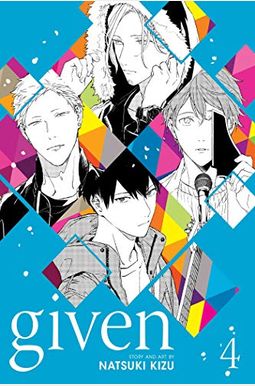 
 
Book Overview
Sometimes a song can save your life.
Love of music unites the four members of the band Given: hotheaded guitarist Uenoyama, playboy drummer Akihiko, gentle bassist Haruki, and Mafuyu, a singer gifted with great talent and burdened by past tragedy. Their struggles and conflicts may drive them apart, but their bond to the music--and to each other--always brings them back together again. As the band focuses on creating new songs and preparing for a music festival tryout, Haruki grows more and more intimidated by the talents of younger members Mafuyu and Uenoyama. Worried that he's holding them back, he accepts his ex-girlfriend's request to play in her band. Meanwhile, Akihiko realizes that Haruki has fallen in love with him, setting the stage for a major change in their relationship.
Frequently Asked Questions About Given, Vol. 4, 4
Book Reviews
(7)
Did you read Given, Vol. 4, 4? Please provide your feedback and rating to help other readers.
Haruki deserves better. SO MUCH BETTER

Derived From Web

, Jul 24, 2021

You know I am all for angst and whatnot, but I don 't believe in abuse of any form. Haruki DIDN 'T deserve what happened to him. Akihiko should have been begging on his hands and knees until they bled for forgiveness. 3 stars because I'm tired of the abuse in BL glossed over. Where is accountability? Oh, Akihiko's ex is also gross for abuse. They're both terrible.
One of my favorite series

Derived From Web

, Mar 20, 2021

Why are these books so difficult to find? Volume 3 is almost non-existent. I think my collection will always be incomplete ( LOVE GIVEN THOUGH!!!! ).
The cover is ripped and spine is curved

Derived From Web

, Mar 18, 2021

I don 't know how this can happen. The cover is curved and the spine is ripped. I was so excited to finally get it and then came in this condition.
Very happy

Derived From Web

, Feb 9, 2021

For the shipping aspect it came in perfect quality! I bought all four separately and they were all consistently great. No rips, bends or bad odors. Would recommend ).
😔🥺

Derived From Web

, Nov 29, 2020

I love the given series so much because the storyline is really amazing and we 'll write it. But it's really interesting and gives a good perspective on characters.
Love the book but the handling of packaging is unsatisfactory

Derived From Web

, Nov 13, 2020

Love This Series '', but the only thing I am not happy about is that the book I ordered pre-ordered... has a crease on it. The cover has obviously been bent! This is the first time my order looks like that. I am very discerning when it comes to my favorite books, so I expected that since I bought it new it will be in pristine condition and not even a bent cover.
This is so good

Derived From Web

, Nov 10, 2020

I read the book and I pre-ordered it as soon as I woke up! The author is very good at moving the story in a natural way that doesn 't feel forced. I want more now!